Hello to all pioneering steemians!!
Presenting : the miniQuiz. light-weight, steeming fun.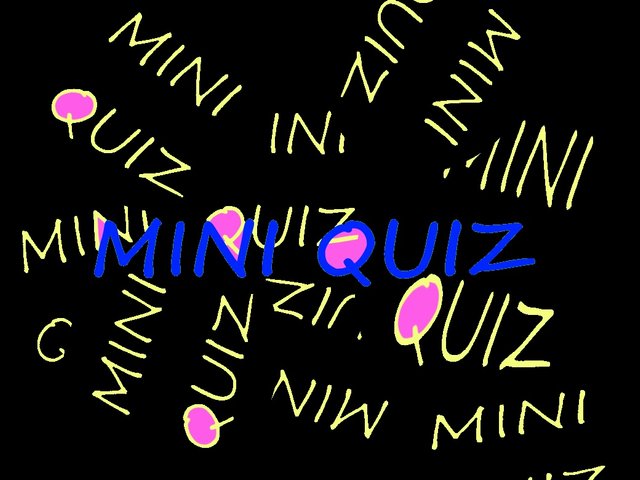 UPDATE: AS PER NOVEMBER 27, 2018 16:00 UTC, WE HAVE REACHED MY LIMIT OF 12 miniQuiz MAKERS! THANK YOU SO MUCH! MiniQuiz MAKING IS CLOSED!
-HASTA EL 27 DE NOVIEMBRE DE 2018 16:00 UTC, HEMOS LLEGADO A MI LÍMITE DE 12 FABRICANTES DE MINIQUISAS! ¡MUCHAS GRACIAS! MiniQuiz LA FABRICACIÓN ES CERRADA.
NOW, EVERY STEEMIAN IS INVITED TO PARTICIPATE IN THE MAKER'S QUIZ: JUST CLICK ON THE LINKS IN THE COMMENTS BELOW TO ARRIVE AT THE 12 QUIZ POSTINGS! YOU CAN PARTICIPATE IN ALL 12 QUIZZES, THUS WIN 0.5 SBD IN EACH IF YOU ARE LUCKY! GOOD LUCK ALL!
AHORA, TODO STEEMIANO ESTÁ INVITADO A PARTICIPAR EN EL PREGUNTO DEL FABRICANTE: ¡HAGA CLIC EN LOS ENLACES DE LOS COMENTARIOS A CONTINUACIÓN PARA LLEGAR A LOS 12 ANUNCIOS DEL TESTIGO! ¡USTED PUEDE PARTICIPAR EN TODOS LOS 12 QUIZZES, ASÍ QUE GANAR 0.5 SBD EN CADA UNO SI TIENE SUERTE! ¡BUENA SUERTE A TODOS!
EXPIRED: 10 steemians are invited to create a short miniQuiz on your own blog - with immediate reward of 1 SBD plus 0.5 SBD prize pot to be awarded by you to your winner(s) of your quiz (@leeuw sends you 1.5 SBD of which you must transact 0.5 SBD to your winner(s))
comment/reply under this post with a link to your miniQuiz steemit posting

your miniQuiz must be posted between now, today 25/11/2018 and 3/12/2018 and expire 7 days after your posting date. Steemians must use comment/reply on your miniQuiz-posting to participate in your quiz.

after you posted your miniQuiz, @leeuw evaluates the posting for a basic quality and transfers 1.5 SBD to your wallet (1 SBD reward for you, 0.5 SBD prize pot)

after expiry of your quiz, you make a results-posting, listing the winning steemian on your steemit blog and you transfer 0.5 SBD to the winning steemian, congratulations!
A quiz can be anything, from funny
'miniQuiz: Why are bananas yellow? Two funniest answers each win 0.25 SBD.'
to very serious
'miniQuiz: Explain Einstein's relativity theory in max 20 words. Best serious answer wins 0.5 SBD'
etc etc ...
@leeuw supports maximum 10 miniQuizzes. Limit 1 miniQuiz per steemian. Steemians who post a miniQuiz can still participate and win in other's miniQuizzes of course. Making - and participating in- a miniQuiz should be open to all steemians.
miniQuiz can be in English or Spanish, if Spanish, kindly include English (machine) translation.
Let's hope worthy steeming pioneers are going to take back some of @leeuw's curation rewards (10 x 1.5 SBD) and have a little fun in the process. Good luck, maybe we see you in a.... miniQuiz!