Fifty-word Contest: Winner and New Prompt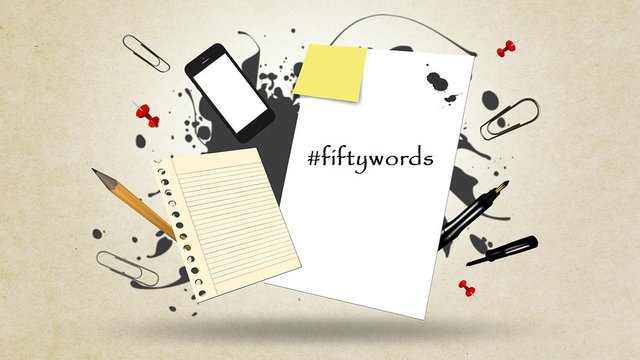 Welcome to the #fiftywords contest
Thank you to all who participated last week:
@gaby-crb, @barski, @bex-dk, @theironfelix, @wems, @razel, @wordymouth, @manoldonchev, @creatr, @jewlzie, @road2horizon, @kaelci, @imaluv54, @jonknight, @felixgarciap, @joeylim, @thinknzombie, @anixio
The quality of the stories submitted for the "gift" prompt was tremendous! Thank you all for your entries.
About the Fifty-Word Short Story Contest
Each week I post a new one-word prompt for the #fiftywords contest (formerly "the 50-word short story challenge," — see the announcement post). There is one winner each week, and for the moment, the reward is 1 SBD. Note: I do plan to increase the reward soon!
Fifty-word short stories are fun and challenging to write. If you're just trying it out for the first time, welcome! Here are a few FAQs:
Does the story have to be exactly 50 words? Yes, if you want a chance at winning.
Are there any other rules? Yes. You must not use images you don't have permission to use. (See the rules below. It's all spelled out, and there are some great image resources for you.)
What does it to win? As we all know, critique of the arts is subjective. That said, I have a few metrics for choosing the best entry:

Is the story well-written and edited? (A compelling story line, and no spelling or punctuation errors.)
Is there some kind of conflict? It could be a conflict between people, an inner conflict or deep desire of a character, fear or other emotion, or a big challenge such as an oncoming tropical storm.
Is there a resolution of the conflict? This can be anything that helps to close the story in a satisfying way. For example, the character might walk away from the conflict, breathe a sigh of relief, or write a love letter.
If you are not sure how to write a compelling story, see "
Writing resources
" below. You can also have someone else read your story and help with your storyline, grammar and punctuation. There are multiple writing communities here on Steemit to help you:
Writing resources
Each week I write a short workshop post about fiction writing: Mini Writing Workshop. The topic for this week is "What's the point?" The discussion is about getting into the heart of your story as quickly as possible. This is especially critical with 50-word stories because there's no time to waste. We need to know who the story is about, and what that character is dealing with, right away.
The Mini Writing Workshop post also includes a complete collection of past workshop topics.
Winner the week
There were so many great stories this week! Having read them all through several times, I've chosen @thinknzombie's touching story, Holiday Booking, as the winning entry of the week. I will share it here:
Holiday Booking
The line for the best-selling author was long. Toby hadn't seen him for ages. "Come back next time," said his assistant. "But--" "He's a popular man." She handed him a card. The bookmark was signed by his father. "Sure. Next time." He dropped it in the trash as he left.
This story is such a wonderful example of the "show, don't tell" mantra of writers. The author doesn't ever say "Toby felt abandoned by his father," or "Toby's father only cared about his career as a famous author." Those themes come through in the action of the story. We come to understand that Toby is waiting in line to see his father, just like the herd of fans, and the hollow hand-out of a signed bookmark is worthless to him. All of the disappointment and frustration he feels comes through when he tosses the bookmark in the trash. Additionally, the story has all the important elements: a character, a conflict, and a resolution.
Great job, @thinknzombie! Your SBD is coming your way!
Thank you again to all participants. I look forward to your continued participation.
New 50-word short story prompt and rules
The new prompt for this coming week is "clean." Where will this prompt take you? A clean break? A clean start? Clean laundry as a metaphor for new beginnings? I look forward to seeing what you come up with!
The deadline is Saturday, December 29th, with a grace period until the new contest post is up.
Contest rules
Write a story in exactly 50 words and post it to your blog.
Use only artwork that you have the right to use, and attribute it properly. See "Use of images" below.
Use the #fiftywords tag, and post the link in the comments of this post.
You can use any posting tool, e.g. Busy, Partiko, or Steampeak. Just please publish it on its own, not combined with any other contest.
Note that you are not required to upvote or resteem this post, nor are you required to support other participants. Entries will be judged on merit only. But active community participation and support of your fellow writers is, of course, strongly encouraged.
Use of images
You are welcome to illustrate your story with an image, as long as you have the right to use it. One of the following must be true:
The image is public domain, or under creative commons licensing. See the resource links below.
It is your own image.
If it is not one of the above, you must have actual permission.
Be sure to properly attribute the image's source or mention that the image is yours. And if it's not public domain, under creative commons license, or your own image, be sure to state that you have permission.
Here are some creative commons and public domain image resources:
Good luck Fifty Worders!

---
Posted from my blog with SteemPress : https://jaynalocke.com/2018/12/24/fifty-word-contest-winner-and-new-prompt/
---