50 Reputation Achieved | 2nd Giveaway | $10 worth of Prizes
Hi Steemians
---
It was a treat to watch when I wake up this morning and saw my Reputation Score hitting 50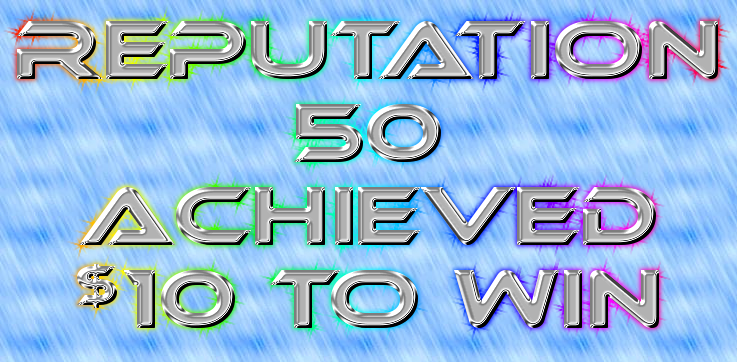 I am very happy for this achievement because it was very hard journey from 40 to 50. I would like to thank to all my followers that made it possible.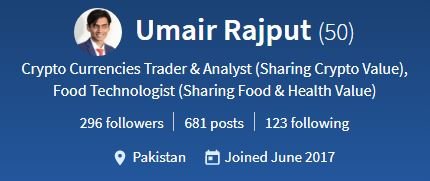 To celebrate this little milestone, I am giving my 2nd giveaway to my followers. The purpose of giveaway is to encourage my followers and new steemians to keep going and never give up.
---
100% Post Earnings to my Followers
---
Rules
You have to be my follower
Resteem this post and mention in comment
Upvote this post if you want as it will increase earnings and rewards to all.
I will assign a number to your comment and 100% of the SBD earnings will be shared to 5 randomly selected winners after reward is received.
To encourage all, I will upvote 1 of the post (worth $0.10 to $0.20) of every follower who will Resteem this post.
---
The more upvotes, resteem this post will get, the more will be the reward. So lets do it to help all the new steemians.
---
Few of my contributions and giveaways to communities are given below and you can check them out.
---
---
---
If you like my posts and they help you in any way, you can send your love through a donation !
Steem or SBD : @cryptokraze
Bitcoin : 16eQnbj6AsnFEj9weVDjKr6dXDTFga89si
---

---
Regards
Umair Rajput
---
@aarellanes @adama @affltr @aijaz555 @alot-of-lore @alphacore @always1success @ammarch06 @anurag @aunj @benberxo @bhaveshm94 @bigmanbigting @bigriches @blissandbusiness @blogstar @bluerabbit @breaktheinternet @brendanmcpherson @breshepard @brothermic @bryguy @carlobelgado @cashout @cha-ching @cikxaijen @clssimple @coffeelovers @contact95 @coollinuxthomas @crampersmco @cryptfx @cryptogolf @cryptomydollars @cryptopet @cryptopizza @cryptopreneur @cryptorag @cryptoriddler @cryptotour @cyberbreath @dafahd @dali.soh @david307 @dawidrams @deanoza @diebaasman @doctalk @donmed @drogs @drrustham @dydot @dzjay @eco-alex @edekadam @ehujra @elborris @empath @erikmagner @fcbnews @floridagypsy @fran.hardwicke @fun-along-theway @fwaheedq @gadgetworld @gamani @gentcitaku @gflexofficial @ghulammujtaba @gimperialg @giraffepumpkin @glennmcgarry @globaldoodlegems @greenman @hamzaoui @hemlal @hengist-horsa @henrickos @hilarski @ijehangirkhan @illimattic @imagediet @imdadhussain @imrantaj @innita @interpreter @inventor16 @irphotography @isacoin @itzpriya @izbing @jackmiller @jahidkhantuhin @jamie-smith @jarray @jatala @joanaltres @johnprunchak @jrose1010 @kachi @kashikash @kingdomman @krystiangraba @lahiru @lautenglye @lesterlim @lifted @longshot @lozonjarja @luke490 @lupo @lyra @maochitse @marco-delsalto @maxer27 @michelnilles @miketr @mindblower @moneymaster @mortmort @mrstaf @muneerkhan13131 @netuoso @niklasbrink @nobert @nollza @nonamer @olivercuico @onepics @parigope999 @pedramhd @pistox @piyushakbari @prashanthn @presino @primzy81 @princekayani @ptytrader @qasimwaqar @quintomudigo @raftingmagazine @rajdharma @robertbentley @robinmathew @rudyrun @salena @satx210 @savagee @schlijk @scrooger @sebastianjago @shariezar @sherinrosita @shimelin @shivani @shleser @simonpeter35 @simonsess @sitetalker @skjones57 @skrapa33 @sky227 @smartinvestigate @sologimi @sonny808 @spikykevin @st3llar @stackin @steem.engine @steemaway @steemlinks @steemt @sudutpandang @suziescorner @svfarms @sweetgirl @sylviamiller @tahmid22 @tarakcryptocrazy @tarikbangash @taspingo @tastetwist @technium @thecynic @theluke @thenightflier @thetopiciscool @thirumaran @tinnilaraung @top-one @tripjammer @tryto @usami @vargapauline @veegold @velmar @viewpoint @vishalanand @warrenvee @webdeep @wipgirl @wolf3x6 @zeeshan51214 @zeroshiki @zimway @zulfuadi
---