Crowdmind highlights: join the Bananafish quest!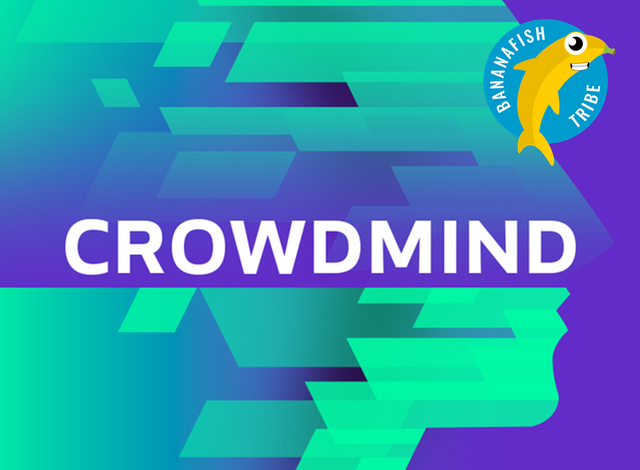 As you all know, our
@crowdmind
's radar keeps monitoring the Steemit multi-verse, in search of cosmic events expressing the power of the crowd. Sometimes, we detect one of those special sparks: that's when our task force comes in, ready to sustain worthy crowdsourced initiatives. Today, dear supporters, we bring to your attention one of the most original and fun crowd-based projects on the platform: the Quest In The Realms, by our partner
@bananafish
.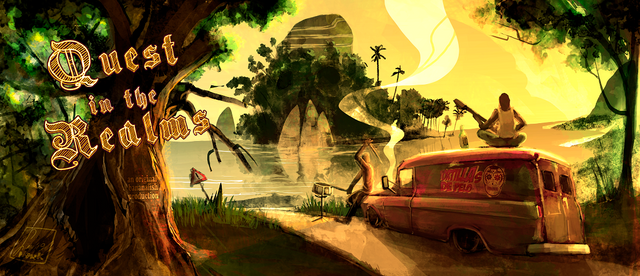 Perhaps, the observant among you already spotted this Quest In The Realms (QITR) project in our announce of partnership or in this recent official launch by the well-known, bizarre potassium deity of fiction writing: the Bananafish.
Some say that it's a contest where you can win big time, some others say it's a dangerous yet hilarious adventure. Where's the truth? We abducted for you @f3nix, the Bananafish whisperer, right when he was writing one of his Finish the Story contests... let's see what he has to say!
@f3nix, can you explain to us what makes this project unique?


Of course (just untie me a bit and ease the ball gag strap, if you don't mind)! Dear Crowdmindites, in short, our QITR is a contest with a legendary pot of 30 STEEM and 30
@steembasicincome
shares and, at the same time, an adventure where you will have to choose your own path and decide your own fate: a bizarre death or a glorious success? The QITR can be also seen as a unique playable format which combines a multiple-endings adventure with a treasure hunt. The result is a contest where you will try to survive through a 55 episodes story and, at the same time, get your boozy old hands on a treasure chest of 30 STEEM! Allow me to post here below our "Adventurer's guide", a scroll which will easily clarify the ingenious mechanism of the quest.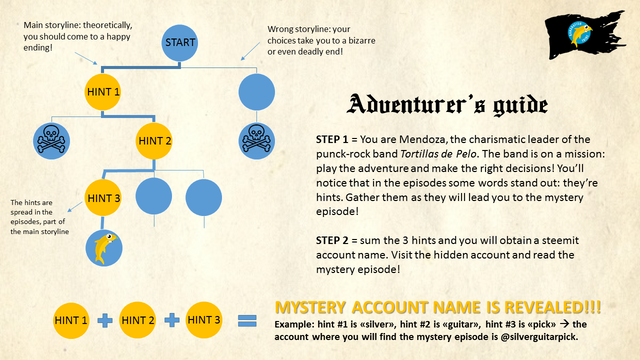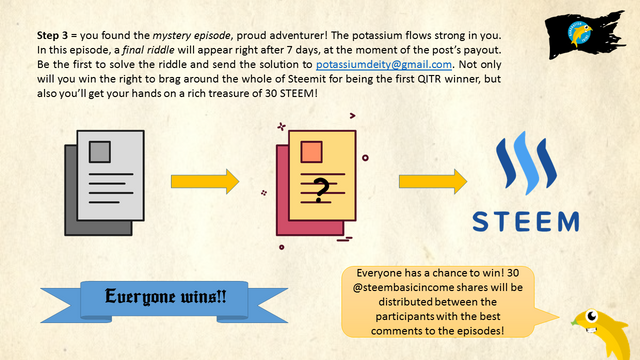 You can see it as one of those multiple-ending books we played with when teenagers, but with the boost of an appealing treasure chest!
What about the project genesis and development?
Credit for the starting idea goes to
@tristancarax
, who popped out in our core-members discord channel with the idea of a co-writing project about a multiple-ending story. We were all enthusiasts from the beginning of this idea. We thought that it could bring a gust of novelty on Steemit and keep the Bananafish tradition going on, that of co-writing amazing fiction stories (no, not that other one. That one is not for such an official post). We soon realized, thanks to
@brisby
's research, that some multiple ending stories have already been tried on this platform but that they didn't gather the level of engagement we were looking for. That's when I decided to spice things up and created this original format, which is a blend of the traditional story in multiple forks and endings and a treasure hunt driven by two levels of riddles. I also have to say thanks to
@hidden84
and
@gwilberiol
for the tips that took me to create a final mystery episode.
Let me add that this massive and ambitious co-writing project would have never been possible if not for the quality work of our skilled writers @cyemela, @marcoriccardi, @tristancarax, @ntowl, @brisby, @theironfelix, @michaias, @calluna, @dirge and @gwilberiol, a.k.a. the Bananafish Knights.
Having the honor to write with some of the best authors on steemit is my utmost satisfaction when I see how the Bananafish project grew, from the Finish the Story contest held into my personal account to a whole happy family of creative minds.
Obviously, we're all very grateful to the @hidden84 and @svemirac, the @crowdmind leaders, for their support in covering a good part of the QITR pot and constantly sustaining us!


What can we expect when we'll play the Quest In The Realms?


Fun, adventure, mysteries and rewards for everyone. It's a damn real party! The adventure talks about a crazy punk-rock band and their strange encounters. Sometimes, I think about it as a sort of a mashup between Scooby-doo and Tenacious-D, with a touch of Myths of Cthulhu (and actually many other touches that you will discover). The story is soaked with humor and easy going. It's made to be played and dedicated to the readers' fun. Thanks to
@ntowl
, our pro editor, all the episodes created by the core members have been polished and refined. We believe that literary quality can hold hands with an experience accessible for everyone and, most of all, a fun one. One that people would read whether the STEEM system is involved or not. We wanted to give the chance of a prize to everyone. In fact, other than the final 30 STEEM reward for one lucky Steemian, we will distribute an overall amount of 30
@steembasicincome
shares to the participants that played the adventure, sending us the QITR solution, and to those with the best comments to the episodes!
---
Thank you to @f3nix and all the @bananafish knights! We understood that there's plenty to catch up on in this Quest In The Realms! All we have left is to wish good luck to everyone and, of course, happy treasure hunting!
11 February 2019: the adventure begins. Mark the date!