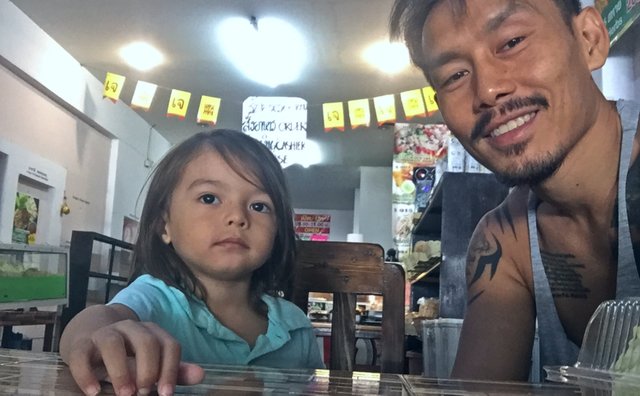 Wat saun dok vegan buffet one of our fav spots to get tasty grub in Chiang Mai 💚
Last weeks reality check really did me some good, this week I've been busy stoking my fiat generating streams. Feeling much better now about re-prioritizing my focus and thankfully after some fiddling around have retrieved my delegations and initiate a safety powerdown! Phew. Which is another reason I didn't bother spending any precious moments on Steemit until I was sure my time investment was retrievable.
Not that I don't care about the STEEM, I do. Just that much like those let off in the 70% sacking, we all have families to feed and we all have to scramble to revise our mistaken estimations. 😅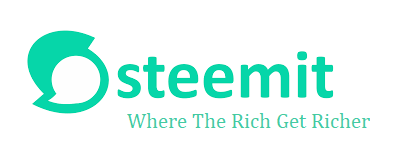 ---
Stinc is not Steem, they simply hold the largest stake.
So after having almost a full week to simmer down I feel centered and motivated. The biggest personal lessons for me over the weekend were to detach Stinc from any and all expectations to do with STEEM. Ned has made very clear that they are a private company focused on blockchain performance and while they benefit from our stats data, engagement and content on the chain.
Since I see everything these days as potential content. For better or worse that's the reality in the attention economy, time more than ever is money. I'm not gonna repeat myself, simply use it as a chance to promote a friendly community and share awareness simultaneously.
Here's a chat we were having with some fine and loving people #naturalmedicine discord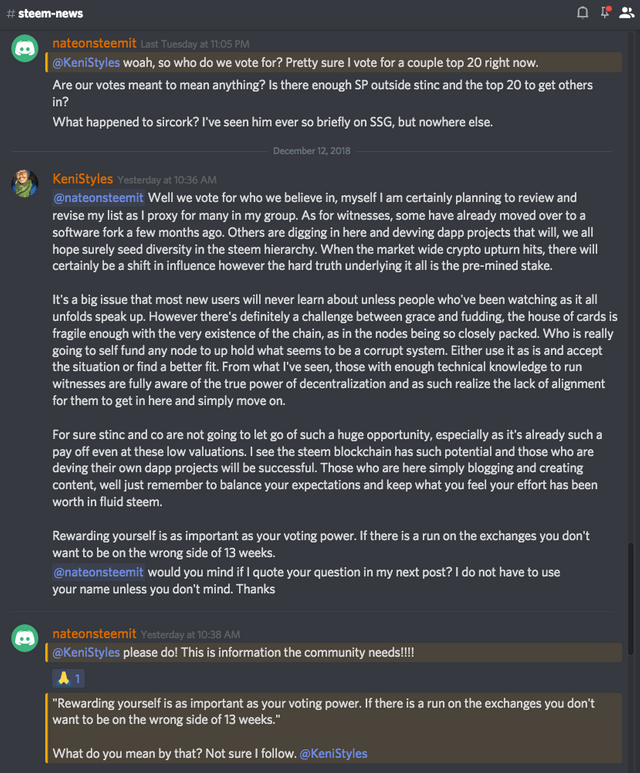 As pretty boy ned exercises his right to privacy and doubles down bukkake style in the center of the whale jerk. His refusal to reveal the Stinc accounts who are bleeding our Steem value and reward pool dry speaks volumes. Not even able to meet his own word on the next and then rescheduled live streams is a huge disappointment.

I personally see his his actions add fomo to the fud and a severe lack of leadership shows lack of faith from the hierarchy. Which puts us all in a tricky situation through the most pivotal time in Steem history and the depths of the longest slump.
With so many counting on this "experiment" living so close to the line, including witnesses outside of top 20 spots. I feel much safer in liquid STEEM for the coming run.

As we learned through Ned's infamous alt account here. Many of those who are supported by the "official" pre-mined stake are also in powerdown regardless of what is stated about their interests for the good service to the whole community. Don't misuse those tags though, says some poor sod tasked with cleaning the deck as the ship seems to be sinking?
---
Who the Fuck are the Spaminators!!?🖕 - Hello, I wonder what I'll post about today? Oh I dunno, perhaps I'll check replies first.. What the..? 🙀 Oh the shaaame LOL.. Well now I know what today's post will be. Having just spent my valuable creative time responding..
---
Powering down is not selling!
I personally see the large accounts powering down on our collective investment as a warning sign. It isn't selling, it's putting your bags by the door. I am not selling yet, I am simply powering down and holding in safer liquid. Monkey see.
So I'll continue sharing awareness about it as I learn and observe more. The witness racket also has a direct effect on how "decentralized" this platform is. As well as any fork implementation that would create a fairer environment. To that end I will be revising all my witness votes as I am proxy other users in my community and must honor due diligence.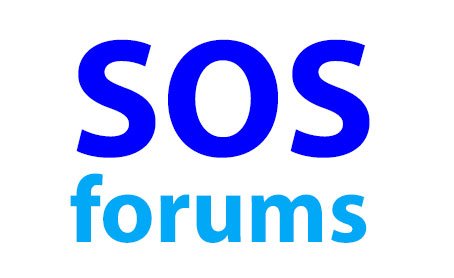 Very inspiring to see the community rally to the rescue!
I missed the live so looking forward to the replay. Click for more details.
SMG is even more important now than ever in what seems to be the end days or at least a low value hibernation period. Those paying please feel welcome in my comments to add or refute what I am saying. I am simply here to educate and inform others who like me have set high hopes on succeeding by blockchain blogging.
---
Who is the Sharing Mastermind Group? - Who is the Sharing Mastermind Group? We started as a group friends who met on Aspiring Steemit Whales and Dolphins. ASWD was one of the first Steem related discussion groups on Facebook and quickly grew..
---
Most of us are tiny in relation to those stinc backed entities, however together at least we can collect dust, prepare for any negative manipulations and grow as a collective. By observing the infrastructure, politics and systems at play, we can best prepare ourselves as well as help others with our shared awareness. Those are my thoughts from this days chores.
What has everyone else created today?
Business as usual?
Steeming on?
Keni 😊
---
🙏💚
Wholeness is Balance

Join our mutual support & co-curation community on discord by clicking here.
My recent posts on Whaleshares:
STEEM-ING STINC FUD!! 💩 - Soon as the shit storm passes, the flowers may bloom! 🌻🌹🍄 So I have restarted this post many times.. This will be the one and when I am done, onward focus for-words! Perhaps it'll be a rant, I don't know. That's been happening..
The Mysterious Motives Of @MisterDelegation? 18MIL. SP 💸 - Hi fellow content creators, How quickly does the shit roll down hill? 💩 Do we even pay attention to blockchain politics? Someone once said that the bots will kill Steemit..
Who the Fuck are the Spaminators!!?🖕 - Hello, I wonder what I'll post about today? Oh I dunno, perhaps I'll check replies first.. What the..? 🙀 Oh the shaaame LOL.. Well now I know what today's post will be. Having just spent my valuable creative time..