Part 2 of Our Plan to Onboard the Masses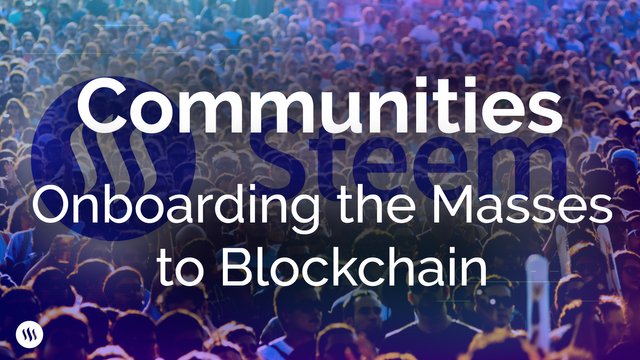 In our first post about our plan for onboarding the masses to the blockchain we explored, on a very high level, how we think about solving the problems that blockchain still faces, and the important role that both Communities and SMTs play in our proposed solutions. In today's post we want to dive a bit deeper into one of these solutions: Communities.
When Communities launch on Steem, for the first time ever people will be able to create communities, on the internet, that they own. We think that's a very big deal, and a value proposition that will excite community leaders all over the world.
Priority #1: Blockchain Onboarding
As we pointed out in our previous post, our #1 priority has always been onboarding the masses to the blockchain and we think that in objective terms, we have done more than any other team to further that goal. No other blockchain has even a fraction of the poets, artists, musicians, and of course, writers, that Steem does.
Finding Like-Minded People
But how do we take this to the next level? When Steem and steemit.com were first released, growth was explosive because for the first time it was possible for a community of like-minded people to congregate on the Internet on a platform that they could earn a stake in. We bonded over our shared passion for Steem which lead to a strong and rapidly growing community.
Diverse Interests
When we're talking about onboarding the masses, what we're really talking about is onboarding people who aren't into crypto or blockchain at all. They are, by definition, into something else. Our passion is what drew us to Steem, but if we want to attract even more people to Steem we have to offer them a home for their passions. That's why we believe Communities are such an important part of the future of Steem, and we believe, the future of blockchain generally.
Aligning Incentives
We know that we can use this technology to align the incentives of the members of a community. Our "beta test" of this technology was "version 1" of the Steem protocol which could store usernames, stake, content, votes, etc. Steemit.com was the beta interface we used to run this experiment.
From these experiments we learned that, yes, a blockchain could be used to store social information, distribute tokens among community members by leveraging crowdsourced stake-weighted voting (a/k/a Proof-of-Brain), and this could be done in a way that supports the bootstrapping of a digital currency. Over one million accounts created, 50,000 daily active users, and a token featured on many exchanges is proof that a community-backed token can deliver a ton of value.
Steem: Leaving Beta (Metaphorically)
Communities are about leaving that first phase. We're taking the knowledge we've gained as a community and using it to build new tools that can be used by any community that is interested in retaining ownership over their social information and rewarding their most valuable community members.
When Communities launch on Steem, for the first time ever people will be able to create communities on the internet that they own. We are leveraging the same cryptographic technologies that enable the ownership of digital tokens, to deliver ownership of digital communities. And because Communities are a "2nd Layer" solution, changes can be pushed as they are ready, instead of having to wait for hardforks. Enabling these capabilities is why Hivemind is such a critical (and we believe undervalued) piece of software.
Although the changes for Communities will roll out in phases, the end result will be every bit as disruptive as the original release of the Steem blockchain.
Incentives
One of the keys to Steem's success is the fact that it has the unique capability to autonomously align the incentives of community members. We are all so passionate about Steem, because we have all worked so hard to add value to this ecosystem, and have received some amount of stake for our efforts. But again, not everyone is interested in Steem, let alone capable of adding value to it.
In order to really scale Steem, we have to not just create features that allow communities to form around non-Steem interests, we need to enable those Communities to determine for themselves who is adding value, and reward those people with stake in that community. That's where Smart Media Tokens come in, which we will discuss in a future post.
Communities Feedback
At Steemit we are 100% committed to building open source tools that benefit every project that leverages the Steem blockchain. We want Communities on Steem to be part of every Steem app, not just steemit.com. That's why we have already released a Communities design document that lays out how we are building Communities on a high level, so that other developers can understand why we are making the decisions we are, provide feedback on those decisions, and suggest additional features.
We are still eager to integrate feedback from 3rd party developers on Communities. We invite anyone with ideas, suggestions, or questions about how we can make Communities work for all Steem developers, to share their thoughts in the comment section below.
The Steemit Team