Waking up the bull
Idea | Intro | << #blockchaincat >>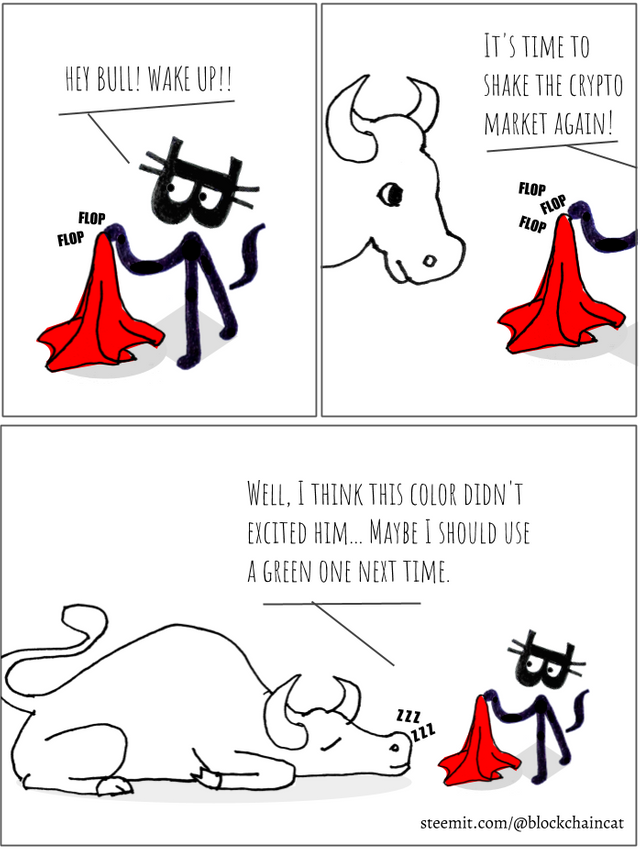 Hi steemians! It's been quite a long time since the last post but here is the new Blockchain Cat's adventure. After travelling really far and got lost near a dam this time Blockchain Cat tried to meet a new friend but in an intimacy situation.
With all the world's attention to the Bitcoin astonishing down bringing togheter many other cryptocurrencies, some people say it's related with hard forks, Blockchain Cat have already met with an annoying fork before but this time the decision was to wake up someone that everyone believe would change the market. And it did not demand an expensive trip, like he did when the opposite happened. It looks that meeting with the bull wasn't like we saw in an open sourced friendship or in the chinese new year of the dog party, but it was really quiet and peacefull like the talks with Slothicorn and even with the fearful bear friend.
If you want to change the dialogues or images and create you own new stories with Blockchain Cat, it's under Creative Commons attribution license. Anyone can copy, distribute, display, perform and remix the work if credit the original creator. To make new versions easier, there is a shared public Google Presentation file that you can copy and edit if you like.
Thank you very much and good luck again!
11/23/2018 @wagnertamanaha
The author is also an user of Earn.com, Presearch, Birdchain and Minds, plus this story is published in Supload and Refind. In these sites you can answer emails, search, share SMS messages, images and links and earn bitcoin or cryptocurrencies.
Log on to Steemit and take rewards for your content too >>>
Idea | Intro | << #blockchaincat >>