Happy chinese new year of the dog... dogecoin!?!
Idea | Intro | << #blockchaincat >>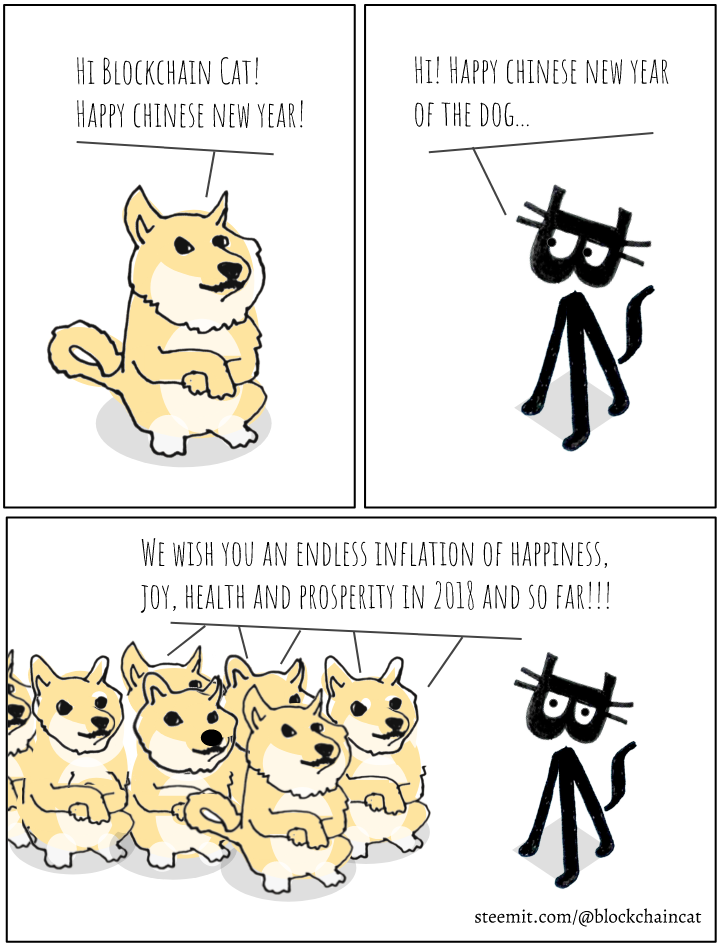 Hi steemians! After starting the solar new year with a lot of working on the resolutions for 2018 now Blockchain Cat met some famous cryptocurrency mascots that match very well for the chinese new year celebrations.
Last year our friend visited China and even met other pet like and famous blockchain natives, yes, we are talking about the Cryptokitties. But this time, it is inspiring to see this cross species event with the symbol of cuteness, meme and infinite supply cryptocurrency by the entering the lunar new year of the dog. We are not sure if our fellow steemian and Dogecoin's creator @ummjackson know about this diverse meeting but we wish you all: xīnnián kuàilè!
If you have other ideas of the dogecoin chinese new year greetings and want to create new stories with Blockchain Cat, it's under Creative Commons attribution license. Anyone can copy, distribute, display, perform and remix the work if credit the original creator. To make new versions easier, there is a shared public Google Slides file that you can copy and edit (with a Gmail account) the way you like.
Happy chinese new year of the dog and good luck again!
2/16/2018 @wagnertamanaha
---
This story is also published in Supload and Refind, share images and links and earn bitcoin or cryptocurrencies.
Log on to Steemit and take rewards for your content too >>>