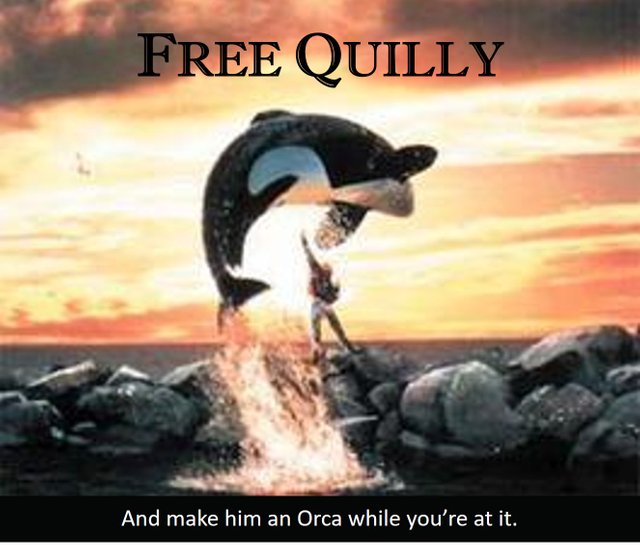 This is an entry into both the Concoct-A-Verb Contest organized by @blockurator and the @comedyopenmic #42 Contest.
My concocted verb is: followcumventing ... a combination of the verbs 'following' and 'circumventing.'

My Entry
Freedom of Speech … perhaps the most precious right of citizens in a democracy. But not all agree. Some would shackle the words of their fellows, silencing their eloquence. Just like in Orwell's, "1984."
Take this Contest, Concoct-A-Verb, for example:
… your task is to write a very short story (no more than 250 words) where one of your characters acts out your verb, but you can't use the verb to describe your character's actions.
If you break the rules, you get no STEEM (hear that @quillfire?)!
I've always considered word-count-limits 'suggestions,' guidelines to which you apply discretion. And, I have created some damned fine literature for Block's contests … but at the expense of word-count (by several-thousand-percent, but let's not be pedantic). Nevertheless, it would seem that Block has decided to bring-the-hammer-down.
In earlier lives, Block was a Military-Officer and I was Other-Ranks. The Other-Ranks often know a great deal more than the officers but still have to follow their orders. After a while, though, one starts to get creative … complying with the 'letter-of-the-law' while 'skirting-its-intent' … and thereby continuing to live.
By way of example:
Most people are familiar with the Biblical story of the Tower of Babel. Most, however, are unfamiliar with the 'Library of Babel.'
The latter is an online-database containing everything that has ever been written … or which could ever be written: From Shakespeare ... to the book you'll write in ten years.
Here's a screenshot (top-right of screen … 3-horizontal-bars … magnify):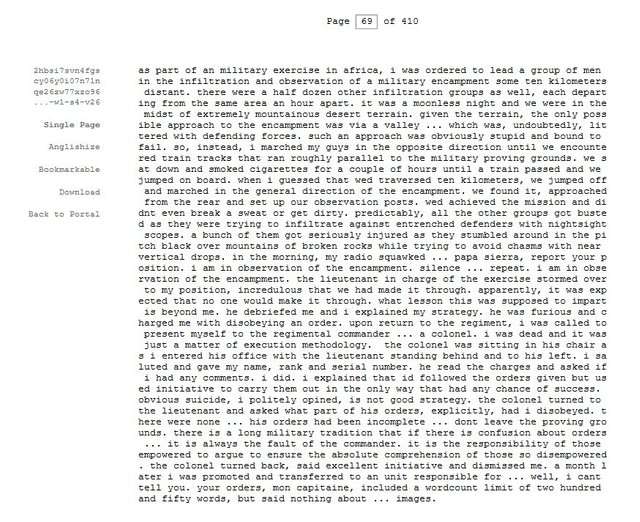 Entry Wordcount: 250 Words ... plus 1 Image

PostScript
For those who don't know, the recent switch in HF20 from Bandwidth to Resource Credits ... was an effort to 'force me into brevity.' Apparently ... I am the'scaling problem.'
@ned (69) . 57 days ago
Listen you dufus ... you're crippling the f***ing blockchain. Just say, "Nice Post," like everyone else. You're creating a scaling nightmare.
@quillfire (56) . 56 days ago
Ned, so nice to finally meet you. I think we should both take a deep breath and remind ourselves that we are crypto brothers-at-arms. With respect ... "crippling" ... that's a bit hyperbolic, don't you think?
@ned (69) . 55 days ago
Hyperbolic!?! What would you call a 20,000 word reply-to-a-comment?
@quillfire (56) . 54 days ago
... Chapter 1. :-)
I put in a smiley face but he didn't further respond. Anyway, I guess that's when they decided to adopt the new Resource Credit system. My apologies for whatever problems it may have caused for the rest of you.
And the artillery barrage is relentless. Check this out (Trigger Warning: You'll be flabbergasted): Jack and Jill
Look, here's the thing: I go to a lot of trouble to delight legions of readers (at least a dozen) with my seemingly unique ability to utilize ten words where one would suffice. Poetry, prose ... in posts, comments and replies. Many have queried, "How does Quill do it?" Some say it's an Art Form unto itself.
If I am reduced to saying, "Nice Post" ... won't something beautiful have died?
And equality ... everything's about equality these days, right?
On average, women speak 20,000 words per day. Men ... 7,000. Who else do you know who's doing more to even up the odds?
And hence, I am organizing a Petition called:
FREE QUILLY
The FREE QUILLY Petition, if adopted, would exempt me from all contest character- and wordcount-limits while pegging my allocation of Resource Credits to the inflation rate of the Venezuelan Bolivar.
That's fair, right?
So, if you're in support of this Petition, Upvote at 100%, ReSteem and Comment. If you're not, Upvote at 100% and ReSteem.
Quill

You guys know the drill. Be verbose ... but articulate.
And remember ...
Go Love A Starving Poet
For God's sake ... they're starving!