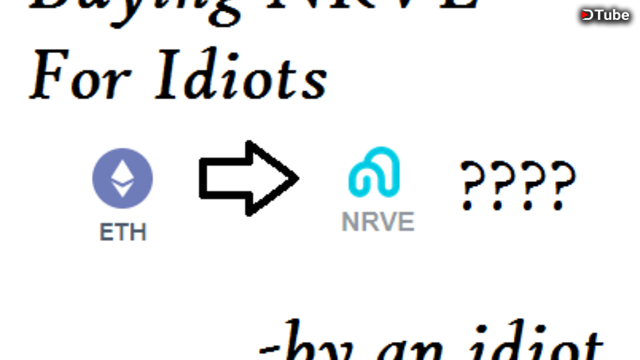 ---
---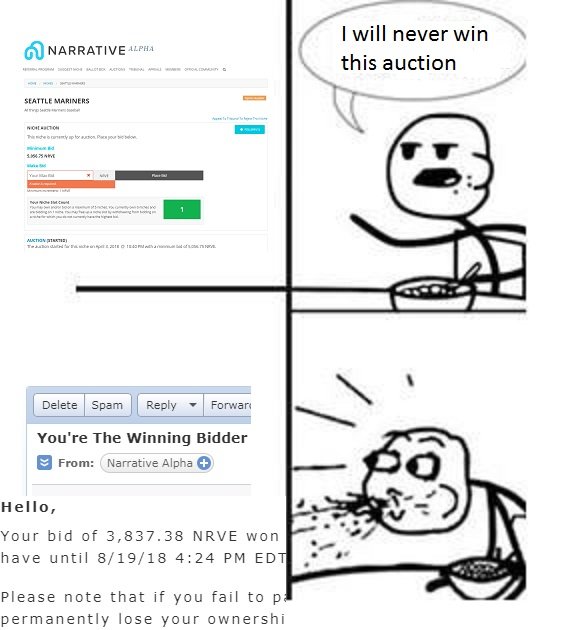 So, if you're like me, someone sent you a referral link to Narrative, a new competitor of sorts to Steemit that is still in early alpha. It's built on a NEO token called Narrative (NRVE). Anyway, after I signed up, I poked around a bit, and there's really not much you can do. The site looks like it will be centered around the idea of subreddits communities, so right now you can suggest new communities or vote on the proposed communities. The other thing you can do is bid on these communities to be the owner. Why would you do that, you ask? Well, there are three things about me you should know:
I'm impulsive
I'm an idiot
I hardly ever have any idea what I'm doing
So naturally, I bid on a couple communities. I never expected to win. But then I got the e-mail saying I did, and I panicked! Now I owed these people money.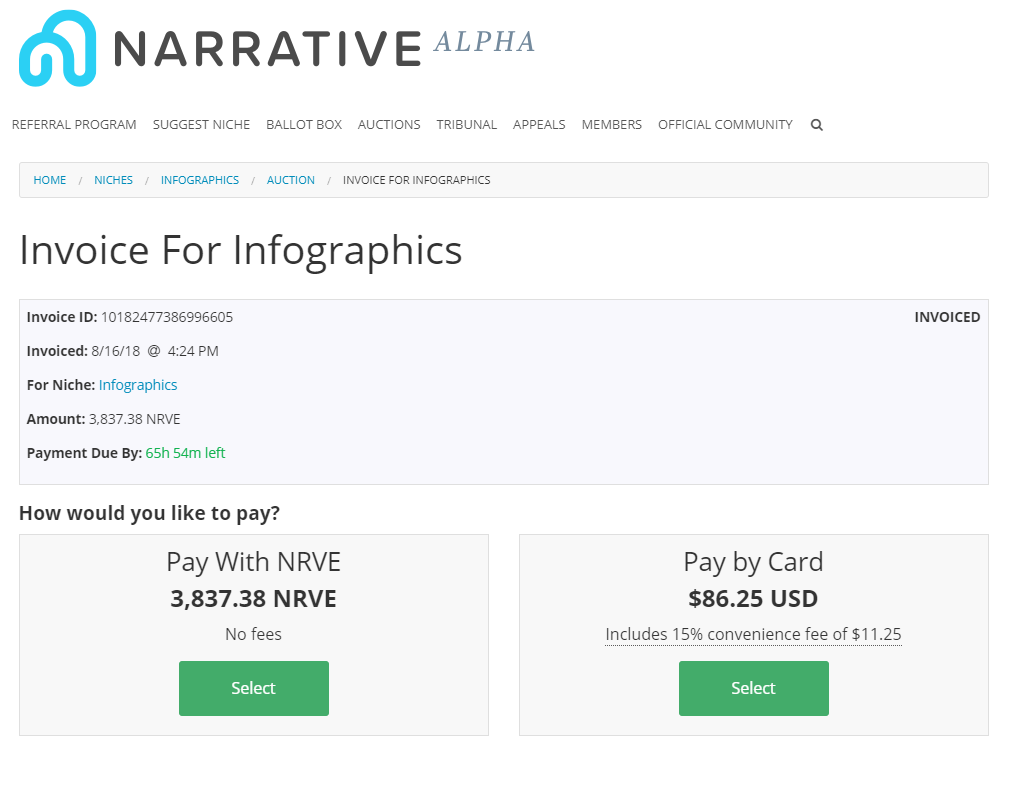 A fourth thing you should know about me:
I know next to nothing about cryptocurrency
So when I was presented with the option of paying for my community with a credit card, it was tempting. But I'm always up for a challenge, so I decided to go the other route and pay for my community with their crypto currency. After almost 24 hours of pain and personal anguish, I have finally completed the process, and now I'm here to help you through it!
The video in the link is an overview of the steps involved, created and narrated by a team of cryptocurrency experts from around the world. For those of you who don't feel like wasting 7 minutes of your life listening to me make a fool out of myself (see numbers 2 through 4 above), here's a handy pocket guide. Oh, and the Narrative team put together a much better and more thorough how-to guide which you can find here. Seriously, mine here is just for laughs - if you really need help go read this. It's what I followed, and I manged to be successful, so take heart! So can you!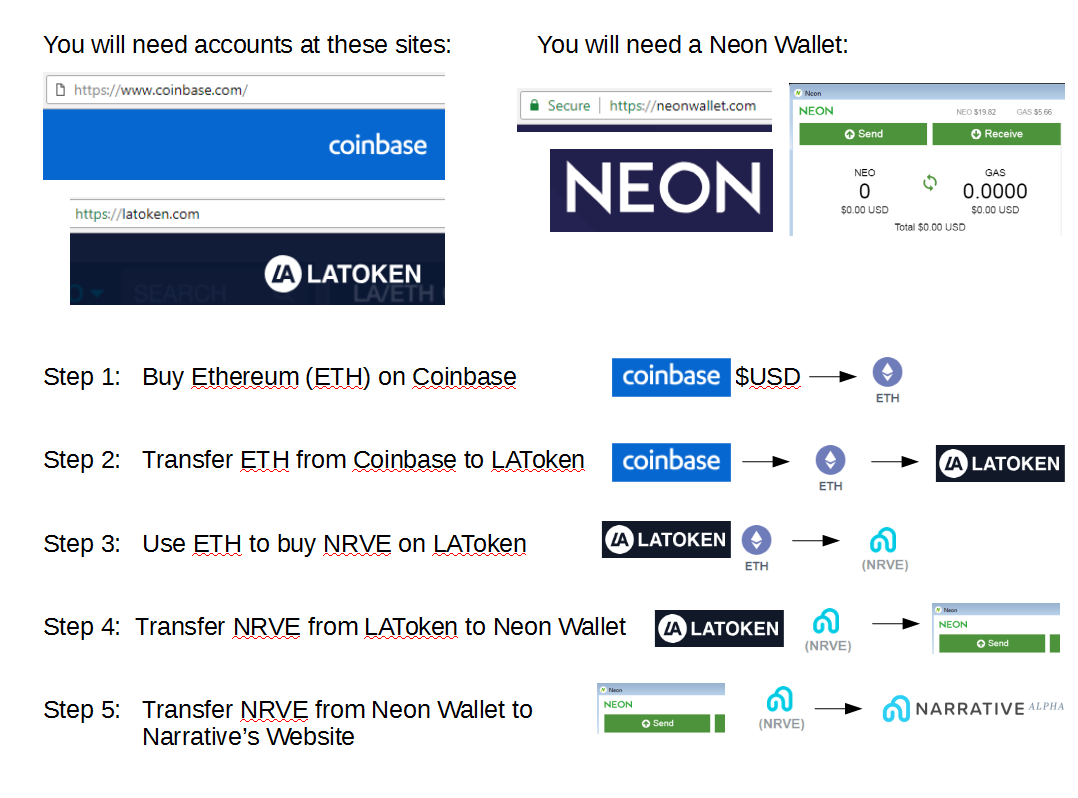 Also, word to the wise: the transfer from Coinbase to LAToken took a whopping 14 hours to go through. Just something that freaked me out that you might want to know in advance.
If this was helpful to you or you have some extra NRVE or ETH laying around after shuffling your coins across the internet, I would gladly accept a donation in lieu of an upvote!
ETH Wallet: 0x7AA2393920A85c6d972a1e6752e599Fa5baccDe8
NRVE (NEO) Wallet: AKGu5aLUmmsTfCdXH4vcu3vEFfkj77DDZ2
---
This was my entry for Round 27 of the Comedy Open Mic contest. Since he was my inspiration for making this video (still love that "I steemed my balls" video!) and since he's been slacking as of late, I nominate @bobaphet. I also nominate @steveblucher because I am sure you have some hilarious stories to tell and I would love to hear one.
---
---
---
@DollarsAndSense is a father, veteran, participant in the rat race, freelance writer, and volunteer EMT. Want to read some of my previous comedy entries?
A Few Army Stories (Comedy Open Mic Round # 26)
A Scholarly Exposition of the Dark Message Behind the Children's Book "Goodnight, Moon" (Comedy Open Mic Round # 25)
Awesome Stuff Named After Crappy People (Comedy Open Mic Round # 24)
Epic Stir Fry Timelapse (Comedy Open Mic Round # 23)
An exposition of the deeper meaning within this Dr. Seuss book - Comedy Open Mic Round # 22
Unless otherwise noted, all text and images in this post are my own and may not be reused without my permission.
---


Join us @steemitbloggers
Animation By @zord189
---
▶️ DTube
▶️ IPFS