Today's Thursday Green is going to be a little different from my previous #colorchallenge posts.  Let's dive into the world of green correctors!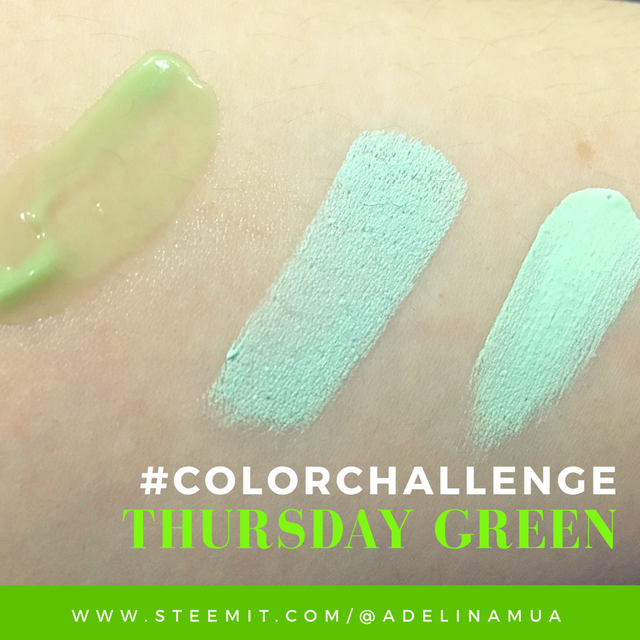 Here I have 3 different green products that work to colour correct skin discolourations.  In makeup, colour correcting is based on the colour theory.  So for the colour green, since it is directly opposite red in the colour wheel, it tones down and neutralizes the shades of red on skin.  This works well to cover acne, red scars, broken capillaries, rosacea and strawberry birthmarks.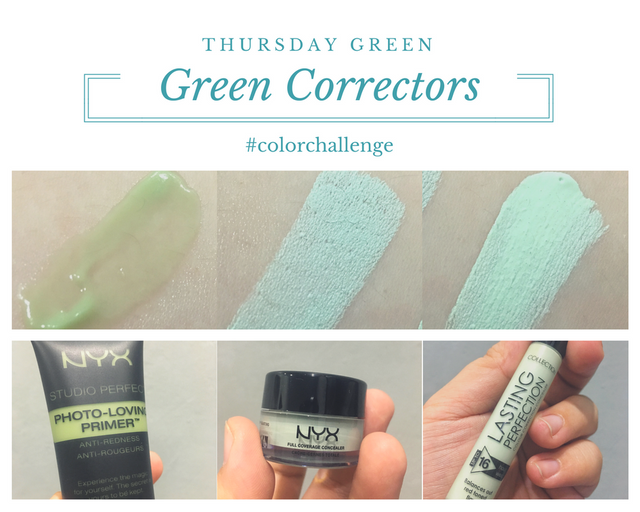 From Left to Right:
NYX Studio Perfect Photo-Loving Primer - SPP02 Green
NYX Full Coverage Concealer - CJ12 Green
Collection Lasting Perfection Colour Correction Concealer - Green
Green correctors are available in the form of primer to tone down overall redness in the complexion as well as cream and liquid concealer for targeted application.  Keep in mind when using green correctors, to use less than you think you'll need.  Blend into skin to cancel out redness and dab concealer or foundation that matches your skin tone to finish the base.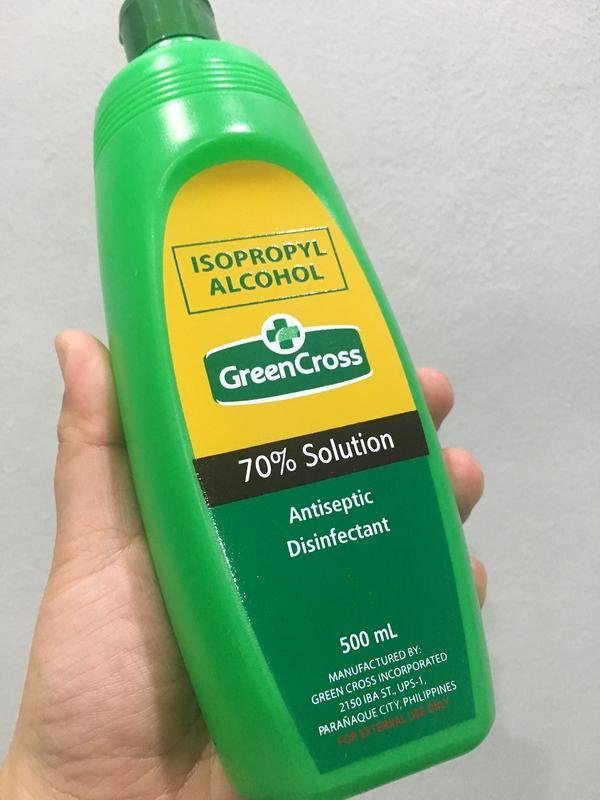 I'm throwing in an extra beauty related green item -- rubbing alcohol!  The actual product is clear, but the bottle's green is so vibrant, how could I not include it in this post?
Rubbing alcohol is widely used to sanitize makeup tools such as mixing palettes and spatulas, disinfect bottles and jars before transferring products (or repackaging them).  And for those sad broken eyeshadows, blushes and other makeup products, rubbing alcohol is your best friend.   How?  I'll share more in an upcoming post!
---

In the meantime, if you want to participate in @kalemandra's #colorchallenge with me and many other Steemians, head on over to her post here.  The above banner is also from the same post.
---
Have a look at my previous #colorchallenge posts:
Lots of love, Adelina
Website: Make Up by Adelina
Online Store: Adelina Beauty
Facebook: @AdelinaMUA
Instagram: @adelinamua