Bright and sunny, yellow in the beauty industry is a rare commodity.  It's quite a challenge to find a yellow eyeshadow with good pigmentation and great formulation.  After sifting through my stash, I found that I have more gold tones compared to today's color challenge.  Fortunately, I've been experimenting with colour and have at least a couple yellow shades in my collection (phew!).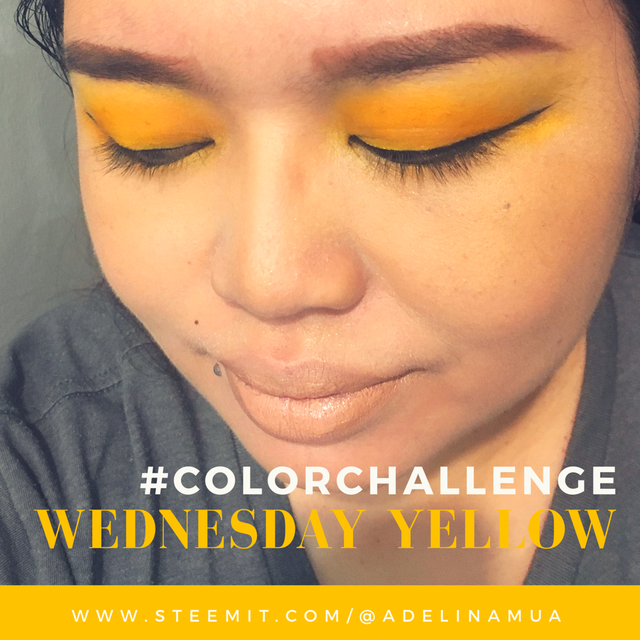 Because yellow is an extremely unusual color to play with, I decided to put an editorial spin to the look and emphasized the yellow eyeshadow with only a sharp winged out black liner.  No mascara, no blush.  On my lips, is an extremely nude shade that basically matches my skintone.
The Stars of the Look: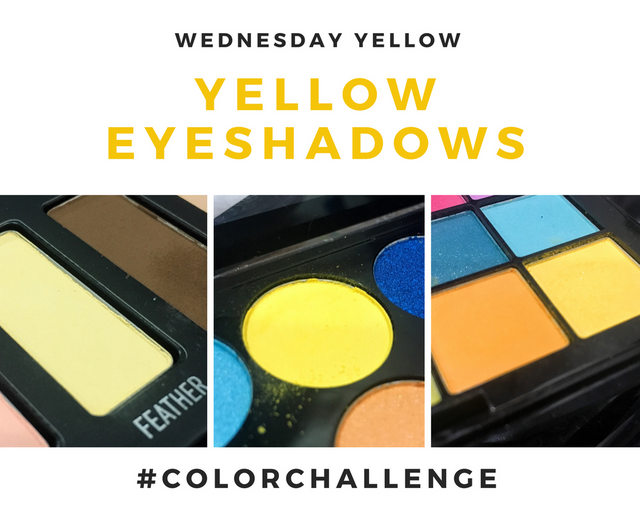 From Left to Right:
Kat Von D MetalMatte Eyeshadow Palette -- Feather (Limited Edition)
MUA Makeup Academy Professional Silent Disco Eyeshadow Palette -- Techno
NYX Ultimate Shadow Palette - USP04 Brights (No colour names available)
I didn't have a yellow cream base on hand (which would've made the eyeshadow colours really jump out!) but applying the products over a base/primer makes the biggest difference.  I've tried swatching the colours without a primer and found that it only placed a yellow tint on my skin and not much else.  Another good option is to use a white base like the NYX Jumbo Eye Pencil in Milk to make the colours stick and appear more vibrant.
---
A DIY Face Mask In The Spirit of Wednesday Yellow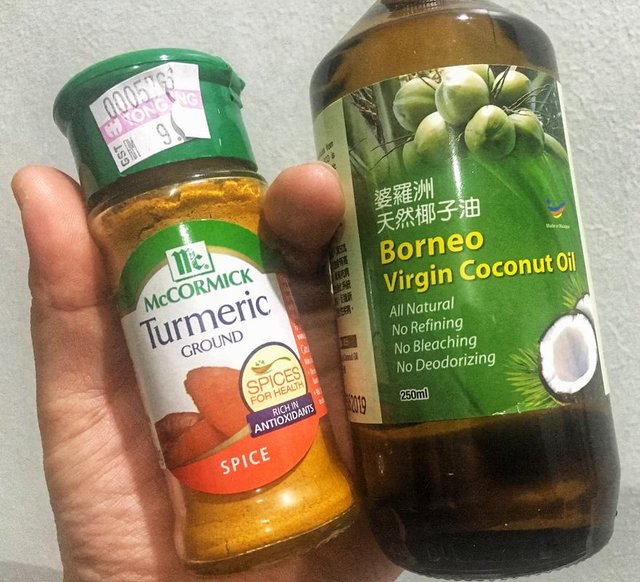 For Glowing and Healthy Looking Skin
Turmeric is no stranger in the beauty world.  For many years, turmeric has been used as face and body masks as well as toothpaste.  The anti-inflammatory and anti-bacterial properties in the spice helps calm redness (e.g. rosacea and acne) and reduce scarring.  In some local cultures, turmeric baths are recommended for bride-to-be as part of the wedding preparations.
Coconut oil is another well loved product since way back when especially in the Asian region.  While the scent may not be everyone's cup of tea, there's no denying the beauty benefits of the oil.  Coconut oil is an excellent moisturizer and works great as a hair mask/oil.  It's anti-bacterial properties makes it a good at combating acne and blemishes.  Did you know it has anti-fungal properties as well?
For glowing and healthy looking skin,
Mix 1 Tablespoon of coconut oil and 1/2 teaspoon of turmeric powder until completely combined.
Spread all over face and neck.
Leave on for 15-20 minutes.
Rinse off with warm water.
Note: Since turmeric is a natural colourant, it may cause skin to look more yellowish.  You can use a face scrub or gentle exfoliating face wash to exfoliate and reduce the yellow tint.
---

If you'd like to join the #colorchallenge initiated by @kalemandra, click here to read her post.  The above banner is also sourced from that page.
---
Have a look at my previous #colorchallenge posts:
Lots of Love, Adelina
Website: Make Up by Adelina
Online Store: Adelina Beauty
Facebook: @AdelinaMUA
Instagram: @adelinamua