Facebook has been expelling political pages and people from it's platform for months now. Is Facebook truly private? Are private companies allowed to do whatever they want? What about when tax payer money is being used to fund parts of their operation? How much money would it take to make Facebook accountable to the public?
This is something we have to understand more deeply when looking at Facebook. Many people have been simplifying Facebook's actions as acceptable because it is seen as a private company that can choose who it associates with, and who to reject, like Alex Jones and now many others. But Facebook isn't purely private to be able to have carte-blanche and cut off access to certain segments of the public.
Fake news has been a target of concern for mainstream media and politicians who want to control the information that is accessed by millions and billions of people, especially Americans. Russian hacking was blamed for the Dems losing the past election. Partnerships have been made between companies like Facebook, YouTube, the mainstream media and "authoritative" organizations in order to "fight" what they declare to be "fake news".
Snopes, Politifact and Wikipedia have come to the front of the battle to quell any alternative news from spreading too far as "authoritative" sources, along with the mainstream media. But Facebook has also partnered with the Atlantic Council, and it's Digital Forensic Research Lab to deal with "real-time insights and updates on emerging threats and disinformation campaigns from around the world". Those threats have determined many of Facebooks actions. This has led to the purging the platform of many pages and accounts, as we've seen with alternative health pages, Alex Jones, Info Wars, Free Through Project, AntiMedia, Police the Police, and more sources of information they deem to be "threats" to the established narrative.
The decisions on how to police the platform has been provided by a think-tank called the Atlantic Council, which is highly funded by governmental, political, military and banking organizations. This includes NATO, the European Union, AIPAC, U.S. Air Force, U.S. Army, U.S. Chamber of Commerce, U.S. Department of State, U.S. Marine Corp, U.S. Navy, Lockhead Martin, Raytheon, JPMorgan Chase, Rockefeller and Co, Rockefeller Brothers Fund, and Soros' Open Society Initiative for Europe.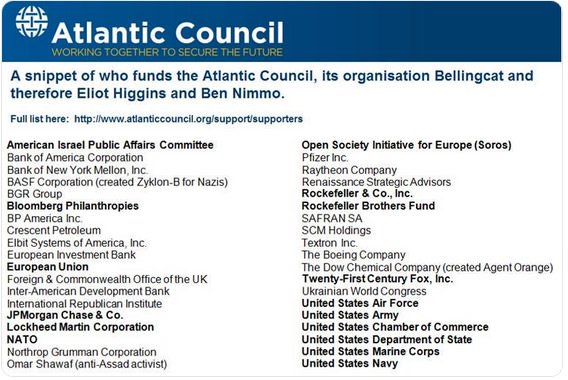 Source
The Atlantic Council is not a private endeavor, but rather publicly funded through tax payer money and is a 501c3 nonprofit with tax-exempt benefits from the government. And their partnership to determine Facebook's censorship policies means Facebook is being directed by publicly funded think-tank. The source that pay for the think-tank and arguably paying for how it "thinks" are engaged in fostering a certain narrative about the world, and manufacturing wars across the planet. This is how Facebook's "threat" data and censorship decisions are being decided, from a political propaganda arm of NATO, the arms industry war-machine, and banking. Is Facebook truly private then?
One example of direction the the Atlantic Council is pursing is that a former NATO press officer, Ben Nimmo, is also an Atlantic Council board member. He claimed some people who were critical of NATO were paid Kremlin trolls, and bots. When one of those people came forward to prove they were human on Sky News, Nimmo didn't apologize for his spreading of fake news, and neither did the mainstream media hold him to account for his falsehoods. He tweeted:
Interesting to see the real face of Ian56789, rather than the David Gandy one, at last.
Not a troll factory account. Rather, a pro-Kremlin troll (definition based on use of someone else's picture, systematic use of Kremlin narratives, and repetitive abusive behaviour).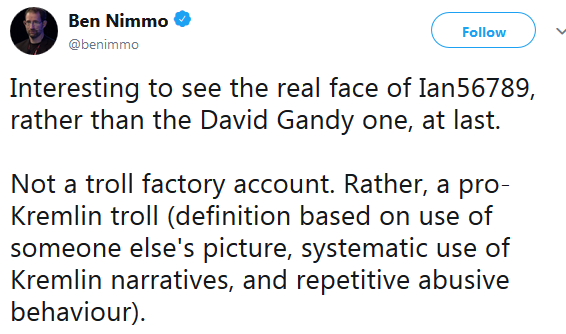 Source
WikiLeaks was the one that called him out on his bullshit though:
You literally produced, with money from weapons companies and dictatorships, a fake news story that spread all over the world, defaming a very British retiree, who wants to reduce arms company profits, as a Kremlin bot. So who's the paid troll?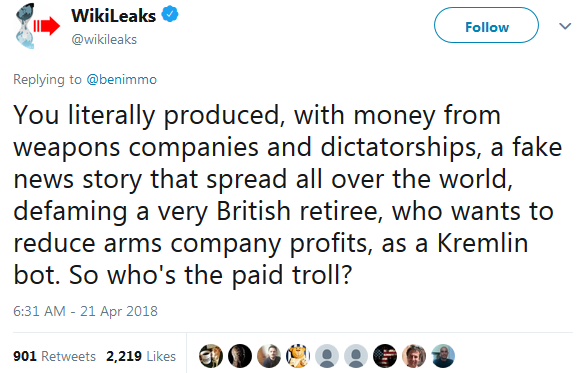 Source
This is the source of Facebook's (or Fakebook's) decisions on who is deemed a "threat" to "real news" and "truth". They have a propaganda fake news creating think-thank calling the shots to keep the pro-war and other establishment narratives alive and determining the opinions of masses of the public consciousness. People aren't being allowed to access certain information that contradicts the "reality" they want to construct.
Facebook has government-funded groups running parts of it's operations, and that makes it a deeply ingrained government corporation, not a purely private one. Censorship is steadily becoming the norm of society. The information hubs that used to have many voices challenging the status quo and established narratives are no longer the free thinking places they used to be. Will the masses continue to accept this, or can we change it?
---
Thank you for your time and attention. Peace.
---
If you appreciate and value the content, please consider: Upvoting, Sharing or Reblogging below.


me for more content to come!
---
My goal is to share knowledge, truth and moral understanding in order to help change the world for the better. If you appreciate and value what I do, please consider supporting me as a Steem Witness by voting for me at the bottom of the Witness page.