:: Cyber Capital Invest :: Modern Cryptocurrency Investment Fund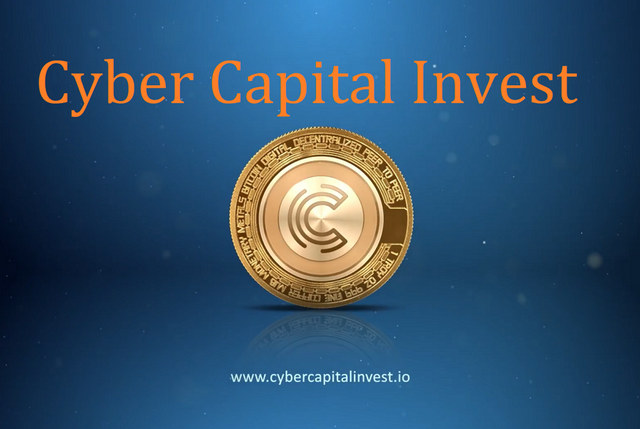 ---
Cyber Capital is a decentralized cryptocurrency platform that aims to enter the invest fund market.
Many people want to enter cryptocurrency but either don't know how to, or are not able to watch the markets often. This easy to use platform will allow anyone and everyone to enter the market regardless of experience level.
The cryptocurrency market is a multibillion dollar industry and so there is a lot of room for Cyber Capital to gain control over the financial trading. The platform is designed to have experts enter with investing/trading knowledge and give opinions and options for investments. In this way, if users are not watching the market, they will have a good idea of what coins have potential.
---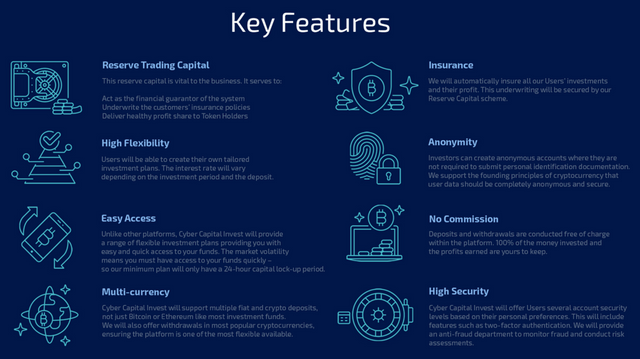 https://www.cybercapitalinvest.io/
---
CCI Introduction Video
---
Currently in the market, users who make deposits to purchase cryptocurrency cannot withdraw the money quickly. This causes a lot of users to lose money as they put in a request to withdraw and the market declines after it.
Typically with investment funds, users are required to keep money in the funds for 300 days before they are able to make a withdraw request. Fees are a huge problem in the current market, and often times funds charge a fee for deposits, and withdraws. Some of these funds even charge commission fees on top of these extra charges which causes the users a lot of financial losses over the course of their investing careers.
Privacy is usually absent from fund platforms and customer data is collected due to KYC and AML regulations. The user's data is stored in centralized servers which allows hackers to exploit the system. The data can also be sold to third party systems, and the users might be unaware of it. Often times in the traditional market, users are not given the choice to close their account and when an account is open, it is open forever. This allows the platform to hold user information and save it in a place where security on traditional central servers are very poor, and information is not guaranteed to be encrypted - leading to an entire host of new modern day problems involving data theft.
---

---
Users within the Cyber Capital platform will be allowed to withdraw their coins every 24 hours, allow for faster cash outs and short term trades. With Cyber Capital - commission fees are a thing of the past. Cyber Capital wants to put the users back in control of their money, and so commission fees will not be charged at all on the platform.
Users on the Cyber Capital platform are allowed to create anonymous accounts, and there information is safe. Information of user activity is not saved, so third parties are not given private information. Cyber Capital also gives users the option to close their account, which means when the account is closed there is no more information that is saved on any servers allowing the users to have a piece of mind. Withdraws and deposits that are requested on the platform will also be anonymous giving the users full privacy.
Cyber Capital Invest [CCI] Pre-Sale Live!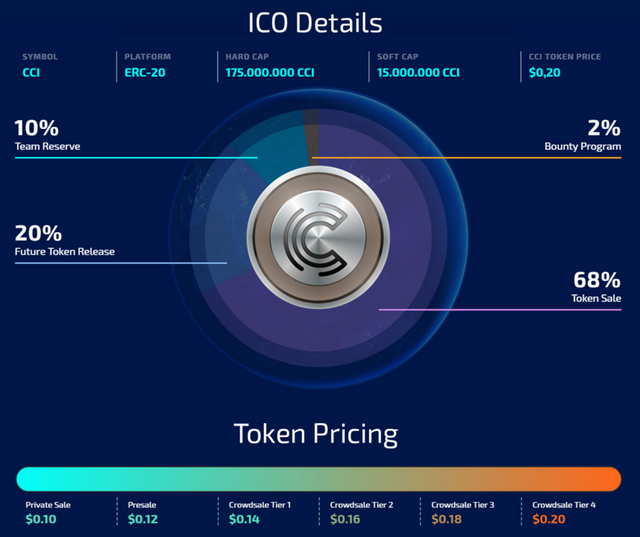 ---
Additional Investor Information
Website: https://www.cybercapitalinvest.io/
WhitePaper: https://www.cybercapitalinvest.io/documents/CCI%20WhitePaper.pdf
1-Page Pitch: https://www.cybercapitalinvest.io/documents/Onepager%20CCI.pdf
BitcoinTalk [ann]: https://bitcointalk.org/index.php?topic=4529009
Telegram: https://t.me/cybercapitalinvest
Social Media Links
Twitter: https://twitter.com/invest_cyber
Facebook: https://www.facebook.com/cybercapitalinvest/
Medium: https://medium.com/@cybercapitalinvest
YouTube: https://www.youtube.com/channel/UCt9DPnt1rQzy7S5lTxZ-NTQ
LinkedIn: https://www.linkedin.com/company/cyber-capital-invest/
Reddit: https://www.reddit.com/user/cybercapitalinvest/
Discord: https://discord.gg/u4C2tSm
Instagram: https://www.instagram.com/cyber_capital_invest/
---

---
---
BitcoinTalk user: Mr.Ease
User link: https://bitcointalk.org/index.php?action=profile;u=803528
Eth Address: 0xfd797888c66DfEbf7bA5A6927a50F2F75Ad7175e
Follow Me for Upcoming Token Sale Information