The Best 10 Person Tents For Camping And How To Choose in 2019
So you want to take your family out camping, and you want to pick a suitable tent or shelter big enough accommodate all of you? Often there is confusion for some people when they have to decide on the type of tent to get. When you search for tents on the web, you will come across options like 4-person tent, 6-person tent, 8-person tent, and undoubtedly a 10 person tent and so on. As the monikers suggest, these tents can accommodate the number mentioned in the title.
However, if you are looking for a tent to accommodate more people, it's time to start looking for a bigger tent, and here we take the bite out of the research for you. There are multiple advantages to choosing bigger tents over smaller ones.
Should You Opt For Large 10 Person Tent Or Smaller Tents?
Outdoors camping with a large group demands a sturdy and spacious accommodation like a ten-person tent. A bigger has a far more comfortable sleeping area and additional storage area if there are less than 10 people. Various things figure into which tent will be perfect for your camping adventure and these 5 reviews attempt to reveal what's important.
When you have a tent that is specifically designed for ten people, you need to be sure it will stand up to everything that's pushed at it from a busy group.

What You Should Look For In A 10 Person Tent
There are several factors and things to look for when buying a family sized tent or any tent for that matter. Below are what you should be looking out for.
Doors
When buying a tent, don't forget to check the simplicity in the zippers and the shape of the door. We highly recommend YKK zippers as they don't snag and break easily. What is more, you should choose the tent with multiple entrances so you can quickly get in and out.
Ruggedness
Ruggedness is what you should look for first in a tent. As camping outside isn't always as beautiful as you see out on the internet. In unlucky situations, you could encounter heavy rains, terrible winds or even hail storms. The more rugged the tent is the higher the protection it delivers.
Look for a tent with high-density and quality fabrics simply because they are thick, rugged and durable. In an aim of reducing the occurrence of leakage, you should seek for seam tape.

Ventilation
When you are camping in hot areas, the tent will eventually trap heat inside. Therefore, you need a well-ventilated tent to help dissipate the heat. Tent manufacturers provide ventilation with mesh panels, ceiling, and multiple windows. If you camp in hot and humid climates, choose a bigger mesh panel for better ventilation.
Rainfly
It is an additional layer which is in charge of protecting your tent against rainwater and retaining a little bit of extra warmth in the cold nights. There are two types of rainflys - full coverage and roof-only. In contrast to full coverage, roof-only version delivers more light visibility; but it can't deliver maximum protection as the full coverage does.
Poles
Most ten man tents are often free-standing, there, staking to assemble isn't required. In case you need a quicker setup, let find fewer color-coded corners and poles. It is more straightforward when affixing poles to clips. You should buy aluminum poles for more durability and strength.
Weight
Please keep in mind that the heavier the camping tent is, the more high-quality and durable it is.
Flooring
When it comes to camping, especially camping in the rain, flooring plays an important role. Tents have 2 types of the floor - bathtub floor and regular floor. The bathtub floor is good at keeping the rainwater out during the heavy rain.
However, this is also its drawback. As since the water gets in, the bathtub floor will keep all the water inside. Hence, if you are going to pick up a tent with a bathtub floor, please be aware of your wet accessories such as a raincoat or wet boot.

Extra Features
If you are longing for camping in the rain, an extra-space tent with a vestibule is suitable for you. When camping in rainy days, you could have sufficient area to put your muddy gear. There are several small factors that we usually don't take into consideration, but when you are camping in undesired conditions, you will appreciate these little things.
Also, you should search for interior loops to hang small items such as a lantern. The interior pockets can help you arrange your stuff better. Generally, high-end tent manufacturers offer guy out loops to help put a stop to fabric-flapping during fierce winds.
Armed with all this knowledge you can pick the best tent suited to your liking. We have already done some of the legwork for you by picking the best of the best. Without further ado, here's our pick of the best 10 person tents for camping: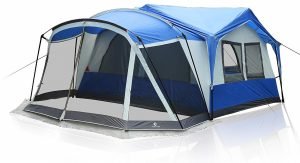 Alpha Camp 10 Man Tent
This excellent tent is made of advanced materials to prevent leakage and block moisture so you can expect a completely dry floor. What is more, the Alpha Camp will bring your camping trip to a new height. There are a bug-free lounging and a large front awning that offers you a camping portico with weather protection and sun protection.
Like other large tents, this tent also provides excellent ventilation as it has a sizeable D-style door, 5 windows, and a top mesh panel. It also holds up to strong winds due to its high-grade steel poles. Plus, the mesh layer makes sure you and your family have a sweet sleep without mosquito and insects' disturbance.
This tent is multi-functional. It has sufficient room and large side pockets to keep your belongings organized. All members could enjoy their privacy thanks to the room dividers. Moreover, camping at night is much more fun and comfortable with the reflective tent rope.

PROS
It's accompanied by a very detailed instructions
It is fully equipped with a rainfly, tent poles, tent stakes and carry bag with wheels
It is good at preventing leakage, mosquitos, moisture and adverse weather conditions
Highly suitable for camping at night
Easy entry
Can withstand a storm
Fairly sturdy
CONS
It only has 1 color to choose
The price isn't expensive but it isn't as low as other tents' price
Browning Camping Big Horn Two-Room 10 Man Tent
For those who are seeking a wallet-friendly and easy to set up the two-room tent, let take this Browning Camping Tent into your consideration. The Browning owns numerous outstanding features that all families want to have. First of all, thanks to the unique hub design, it is super easy for 2 people to set up. The Browning has 2 large doors for the sake of easy entry. To add extra strength, the manufacturer designed a free-standing structure with steel uprights and fiberglass poles.
What really matters most, it is equipped protective awning that covers each factory-sealed fly, door and floor seams to deliver stronger weather protection. As other ten man tents in the market, the Browning tent has the extra tall center height to create more spacious space. Its straight side walls also allow more room for camp furniture and cots. It also has a wall divider to separate two rooms.
To enhance durability, it is made by 150D polyester floor with 2000mm coating. Plus, the tent has six windows, two doors and a mesh roof which help deliver excellent ventilation. Last but not least, it is fully equipped with a polyester fly, mesh storage pockets, steel stakes, and guy ropes.

PROS
It is spacious, and it has 2 individual rooms which make much more comfortable for the whole family
It is tall compared to other large tents
The tent is relatively easy to access
Great ventilation
CONS
The design is not best for prominent families with small children and dogs
It will be better if the manufacturer adds more pocket storage
The zipper design is inferior so be careful if you go camping with your kids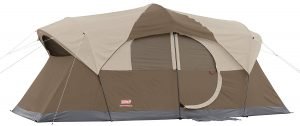 Coleman WeatherMaster 10 Person Tent
The Coleman WeatherMaster will keep you dry and rested on your next camping trip. It has a very resilient waterproof floor with welded floor seams to not allow water from seeping into the tent from the ground. The WeatherMaster is light and very easy to set up. The tent also has a large hinged door that's so simple to use that it almost feels like being at home even though you're in the great outdoors. For privacy, a room divider is available that divides the tent so that you can have one big room or two 8.5 x 9-foot rooms. Parents and kids maybe, or boys and girls, it's up to you.
However just because the tent is called Weathermaster it will still need sealing and weathering like any other tent to get the best out of it. Coleman Weathermaster 10 man tent If you find erecting a tent a real chore then you will also appreciate the color-coded pole system. It's a simple touch but this kind of attention to detail can be seen throughout the tent. Like many tents, the Coleman performs best when used for leisurely camping in good weather when your focus is on relaxation and not defying the weather just for the sake of it.

PROS
Hinged door for easy access
Easy set up with color-coded pole system
Doors to the front and back
Proper ventilation keeps you fresh in the summer
The proper internal height allows you to stand up instead of stooping
Can fit 3 queen air mattresses in at a push
Includes a 1-year limited warranty
CONS
A bit pricey but there are deals to be had on Amazon
Has flimsy metal and plastic stakes. You need invest in some better Coleman steel pegs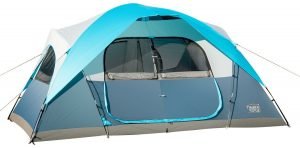 Timber Ridge Large Family 10 Man Tent
Timber Ridge is not a very well-known outdoor brand but has never failed to attract campers all around the world as it helps deliver superb and unique outdoor experience. Before flooding the market, all Timber Ridge's products are subjected to strict tests on multiple extreme environments. As a result, there is nothing to love when this brand has won numerous campers' hearts. This Timber Ridge Large Family Tent is no different and is favored by a bunch of camp lovers.
About its structure design, it has 2 D-shape doors and 1 room divider which help provide privacy. With the support of the top mesh panel and five windows, ventilation is a must-have factor for the Timber Ridge. Additionally, a removable seam-sealed fly is provided to increase the weather protection level.
The Timber Ridge is a multi-purpose tent so you could use it for a barbecue or camping. Timber Ridge also backs their products by offering a 1-year manufacturer warranty to ensure their customer's maximum satisfaction.

PROS
Easy to set up
It is multi-purpose and high quality
It offers numerous accessories
Roomy and has a room divider to create privacy
Super cheap
Can take some rain beating
Easy entry
Tall enough inside standing
CONS
It's not a dependable structure
The room zipper is easily broken so be very careful to use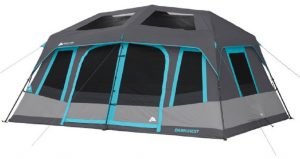 Ozark Trail Dark Rest Instant Cabin
If you are keen on camping in the rain and finding a large and smart tent, we highly recommend the Ozark Trail Cabin Tent. We confidently guarantee that this Ozark Tent is the fastest set-up tent in the current market. Setting up the Ozark Trail has never been as easy and only takes less than 2 minutes to set up. So no assembly is needed. What is more, thanks to innovative dark rest technology, Ozark delivers a lot of darkness regulation and privacy.
Ozark tent is exceptionally spacious; it can contain 2 queen airbeds. It also includes a hanging gear organizer and deluxe gear pockets to stash your gear. However, according to attention California Residents, this tent contains chemicals which cause life-threatening diseases such as birth defects, cancer or reproductive harm.

PROS
It is roomy and high so a whole family could live comfortably
It has ceiling panels and skylights for a great view, air circulation and stargazing
No assembly is needed
Convenient hanging organizer and gear pockets
Well-ventilated due to its eight large doors and 2 D-shaped door
Lots of darkness regulation and privacy
CONS
To add stability, you may need to purchase sturdier stakes
It is claimed to contain chemicals causing cancer, reproductive harm and congenital disabilities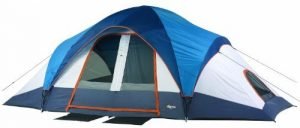 Mountain Trails Grand Pass 10 Person Tent
The light-weight Mountain Trails Grand Pass was designed with the devout camper in mind. A detachable fly plus large roof vents and zip-open windows help keep the air in the tent fresh and cool during warm nights. It features a Dutch "D" designed doors with interior scoot windows provide you plenty of personal privacy. Realistically, up to ten people can sleep comfortably well in this tent, so it is perfect for any group camping.
PROS
Lots of space to walking around
Fantastic airflow
2 large D-style doors
Proper ventilation even without opening any windows
Sturdy construction
Shock-corded fiberglass frame
Reasonably priced
CONS
Cheap stakes
Entry zippers can be awkward to use
Questionable durability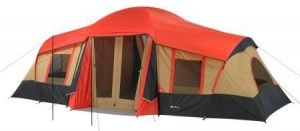 Ozark Trail 3-Room XL Vacation Tent
With 184 square feet of usable floor space and 78 inches of headroom at the center, you will have plenty of room for the entire family and all your gear in the Ozark Trail 10-Man Tent. With two detachable room dividers, you can create three rooms. This tent is big enough for three queen-size air beds. The Ozark features red, black, and beige colors for a fashionable look.
The Ozark Trail has seven zip windows and mesh roof for fantastic airflow. The canopy zips down for privacy. The tent also has a built-in front dirt mat that assists to keep the inside of the tent clean. The front canopy helps to add extra rain protection at the door. This three-room tent also comes with a rugged zippered carry bag for ease of portability. Overall it's a beautiful tent that offers plenty of space for your family and friends.

PROS
The tent is huge and perfect for families
Easy to set up by 2 people
Great design
Sturdy construction
Very tall and roomy inside
Nice room features
Great airflow
CONS
Mesh areas sometimes allow rain into tent
A little pricey but there are deals to be had
Zippers a little difficult to open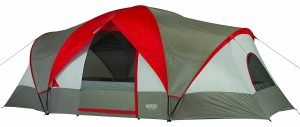 Wenzel Great Basin Tent 10 Person
The Wenzel Great Basin is a large, three-room family dome tent which will sleep up to ten people. The heavy duty polyethene floor has welded seams, like the Coleman Weathermaster, for durability and waterproofing. The mesh roof increases airflow on hot nights while the polyester fly covers most of the tent and will keep you dry on wet weather. There are detachable room dividers that make it easy to divide the interior space into one, two, or three rooms perfect for various sized families or mixed-sex groups. Four windows, the mesh door, and the three mesh roof vents provide sufficient ventilation even at the hottest time of night.
The Wenzel Great Basin is a good quality and well specced ten-person tent.

PROS
Plenty of space
A great size for a large family
Easy to put up and take down
Smartly constructed
Easy to carry
CONS
The door zipper can come off its track easily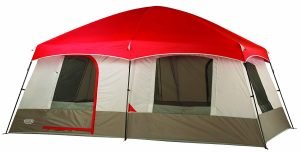 Wenzel Timber Ridge 10 Man Tent
The Timber Ridge is more of a cabin style tent rather than a dome as with the Great Basin model. With a standing height of 93 inches, this tent gives you some room to stand. The Timber Ridge employs a rainfly for the roof for wet days and keeps you dry. The tent also has two entrances and six windows. It gets plenty of light and ventilation because of these features. With 160 square feet of floor space, you can sleep ten, but you'd be better taking a smaller group and enjoying the living area too.
The design is relatively easy to set up for two people. It incorporates sturdy steel uprights and light and durable fiberglass roof frame which are connected via a central hub. This results in a sturdy construction that will withstand rough weather.

PROS
Incorporates a room divider
Fits four queen size mattresses
The tarp-like floor material helps keep the floor puncture free
Easy to put back in the carry bag
Equipped with an E-Port for electrical ports
Includes steel stakes for secure placement
CONS
A few buyers have complained about tearing upon setup it's best to keep the poles a little lose to avoid this
Advisable to treat with camp-dry or similar before your first camp trip
The mesh roof keeps insects out but there's also no hanging storage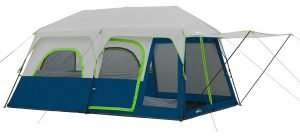 Campvalley 10-Person Instant Cabin
If you are in search of a ten-person tent with hassle-free setup and a lot of space for you, your clothes and the entire family, the Campvalley 10 person Instant cabin tent is an excellent choice. You will love how easy it is to set this ten-person tent up, even if you are a newbie in camping. The roomy Instant Cabin Tent is well-waterproofed and you will love camping with either your family or friends in it.
PROS
It can be set up in a matter of 1-2 minutes by unfolding it and extending the pre-attached poles which easily click into place
The tent is very spacious
Can fit two queen air mattresses and sleeps, ten adults
Has an easy removable water-resistant rainfly and a large awning
An added side door for easy access
Can be converted to feature a front screened room with oversized windows for a beautiful view and proper ventilation on the
Room divider to separate sleeping spaces
Electrical power cord opening
Ground vent
Handy storage pockets for your gear and devices
An oversized carry bag
Screened ceiling
CONS
Can't fit an AC unit due to the lack of a vent which is large enough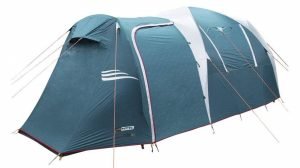 NTK Arizona GT Camping Tent
If you want a waterproof ten-person tent, the NTK Arizona is no doubt one which you can rely on to keep everything dry even on the heaviest rainfall. This great ten-person tent can withstand all the rain and wind which nature has in store for you when you go on a camping trip with family or friends. You will never need to worry about getting puddles and wet gear and clothes if you choose to buy this ten-person tent form NTK.
PROS
100% waterproof due to the double layer polyester that is laminated with 2500mm polyurethane
A lot of space in this dome-shaped tent
Can sleep up to 10 people in sleeping bags
Easy assembly with color-coded poles and pin and ring assembly system
Very versatile – you can convert it into a two-room tent quickly with the zippable divider
Two large D-shaped doors and three windows for easy access and proper ventilation
No see, breathable mosquito meshes to keep you bite-free and happy
A heavy duty antifungal floor
Carry bag with ID label and compression straps
Very sturdy frame based on Nano-flex technology
Weighs only 26 lbs.
CONS
The windows can only be closed from the outside
Conclusion
Camping and outdoor trips require a decent amount of planning, ensuring that you have all the necessary items and preparations taken care of. Amongst the essential things to consider, you must ensure that you have the right kind of tent always ready, without which, the camping experience is incomplete and of immense discomfort.
For a large family, a 10 person tent is the right option for you. Keeping the demand for such tents in mind, many companies came up with different kinds of 10 person tents allowing you to choose the right one for you.
The latest designs encompass easy installation, high-end features like increased ventilation, ample room space, etc. and most importantly they are very durable. Given that, there is so much in the offering; it is wise to go with the best of the brand, you can refer to the products mentioned above and choose the one that suits you the most.

WHAT'S YOUR FAVORITE 10 PERSON TENT?
Previously Posted at Always Wanderlust - The Best 10 Person Tents For Camping And How To Choose in 2019