How to Create Byteball Assets: The Issuer
The need for issuers
A Byteball asset is a digital representation of anything that has value for example shares, loyalty points, precious metals, collectibles, gems etc. An asset can be purely digital without any manifestation but in many cases it represents something in the real world. The philosophy of Byteball Market is that a digitized asset is a promise that by presenting it to the entity that created it will provide the real world object, certificate or a unit of service or some other digital goods to the presenter. The entity that digitizes such an asset is called an issuer and in that sense assets has a meaning and value in the domain of their issuer. For example you may want to create a digital asset for trading gold called GLD. You can only assign the value of gold to the digital asset if every issued GLD is backed by real gold (of a certain weight, purity etc). Or you may want to issue loyalty points with the promise that each 100 points returned to you will allow the presenter to get a small free item in your shop.
Of course, these promises may be exchangeable to other promises and traded on exchanges, some may become a medium of exchange and have digital money like properties but their real value is always backed by the original promise the issuer made when the asset was issued.
In some cases, however, a digital asset may not be based on any promise whatsoever. Those assets will most likely have no monetary value or if they will, that is purely speculative. One might argue that such assets could be created in a global scope without the need to bind them to an issuer, still the creator of such asset would control the distribution of it and from that perspective it would be unfair to others who would want to see a different distribution method but the asset name was already reserved preventing them from issuing it.
For these reasons, Byteball Market always associates an issuer to every asset.
Creating your own issuers
Byteball Market distinguishes two kinds of issuers:
a verified issuer proves that the name they chose legitimately belong to them in some way. It can be a person's real name, a business name, a website address, a social media account name. In any case, the issuer has to prove they have a relation to that name. Assets of verified issuers will be visible in user wallets.
an unverified issuer can chose any name, you can name your issuer as US Federal Reserve Bank if you like and issue assets named US dollars, but your asset name will only be visible in the asset directory listing of Byteball Market. They will never be shown in users' wallet connected to the most popular hub (byteball.org/bb). The asset will only show up with an unfriendly unique hash code of the asset definition unit.
Assets issued by unverified issuers are the wild west of digital assets where scams and fraud dominate most likely.
For test purposes, creating assets with unverified issuers is fine, but if you want to create a useful asset, you want to go for the verified issuer. Here are the main steps to follow:
log in by connecting your device with Byteball Market. This will allow Byteball Market to securely communicate with your Byteball wallet and request proof of your identity.
go to My Issuers screen and click the "Add attested issuer" button. Byteball Market will send you direct message into your wallet with further instructions. 
follow instructions in your wallet to confirm your chosen identity.
Log in to Byteball Market
This step should be fairly straightforward. Go to the login page and scan the QR code with you mobile Byteball wallet or if you are already using your mobile phone simply click the CONNECT WALLET link. It may take a moment until you get signed in.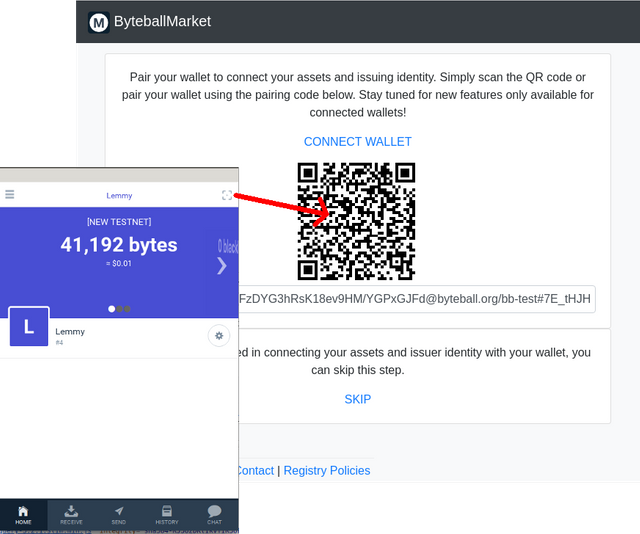 Add attested issuer
Automated issuer verification is done via Byteball's built-in attestation feature. Byteball supports a number of attestation methods such as real name, email address or Steem user attestation. Byteball Market is working towards to support the current and future attestation methods. For now, let's assume at this point that you already attested one of your Byteball addresses with the real name attestor. Navigate to the My Issuer screen and press the "Add attested issuer" button as the screen below shows: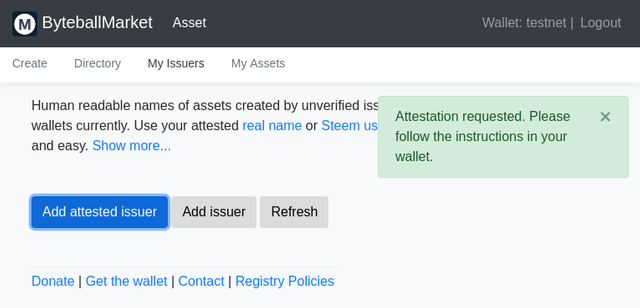 This will send a message to your wallet and ask you to insert the address of your attested profile. Normally you would have a single address wallet (a wallet that does not create new change addresses for every transactions) that you used with an attestor to create your attested profile in the DAG. If you have a profile with real name attestation, the procedure follows as below: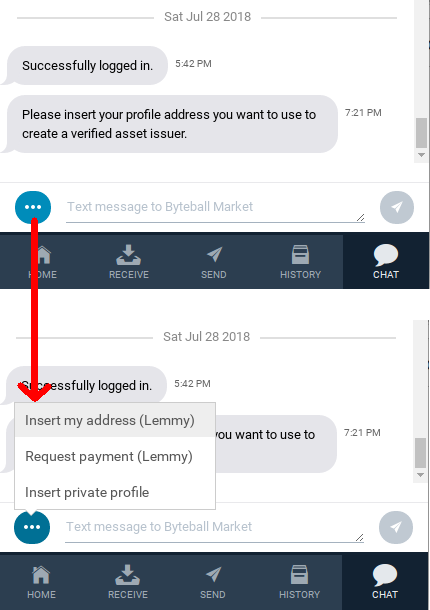 After inserting your address, Byteball Market will check if your profile is private or public. Real name attestations are most likely private since you would not want to expose your private data publicly in the DAG, so in order to verify your privately stored name, you will be asked to share you first and last name with Byteball Market: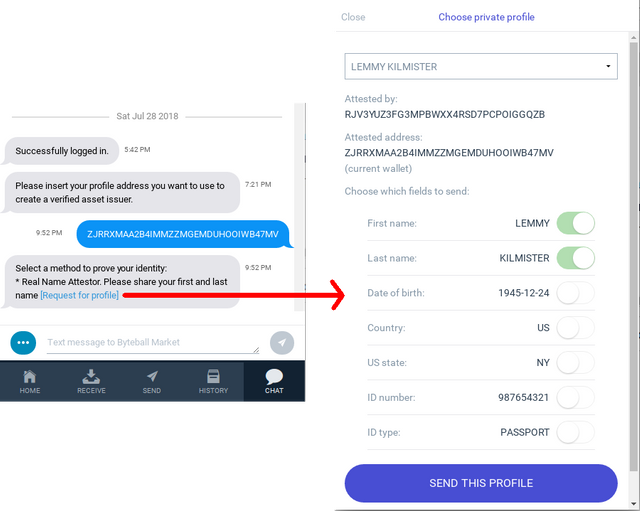 You can see that your first and last name is pre-selected so all you need to do is to press the "Send this profile" button and then send the encrypted profile message back to the chatbot.
Next, Byteball Market verifies your profile and confirms that your issuer is created. Now, if you go back to the web site and press the "Refresh" button, you will see your newly created issuer that you can use to create assets and publish their metadata into the DAG and sync it to user wallets once they receive some of your asset: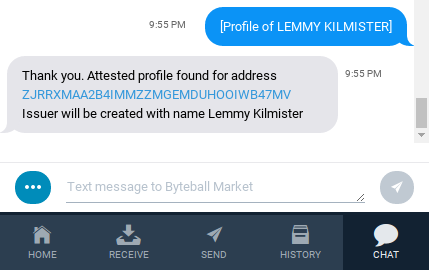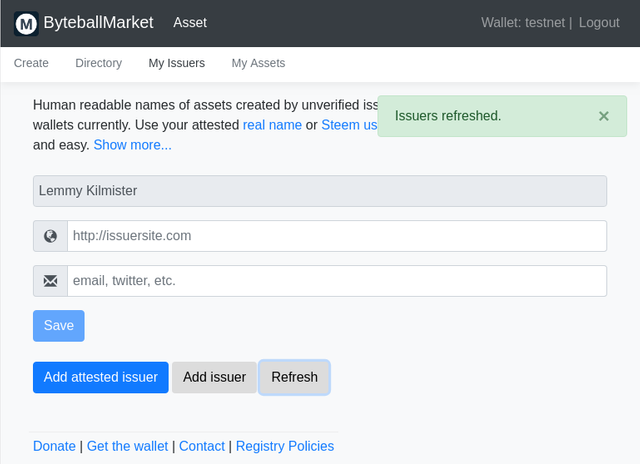 Final thoughts
As you can see, creating a verified issuer is very simple, you are guided along the process. One thing you have to keep in mind though is that as soon as you publish an asset with your issuer, the asset name and metadata will contain your verified issuer name. That means it will be stored in the Byteball DAG publicly, irrevocably, forever in a decentralized database all around the world.