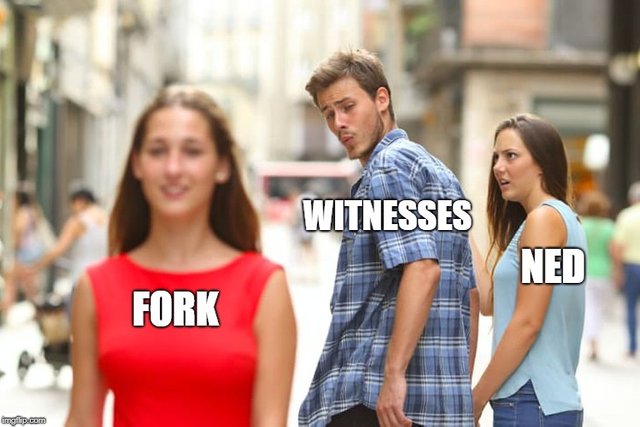 notice, they are just looking, no touching.
The short description:
Little drama playing out on Steem. Here's the bullet point version.
Someone dropped a HF21... Which was just a copy and paste of some old code.


The highlighted text says it all.
Apparently seeing this upset Ned who came out of hiding.. (Where he had been for a few weeks)
Ned thinking there was a loaded gun pointed at his stake, started a power down of 34 million Steem from the SteemIt account, in addition , he undelegated SP from several projects.
Some people entered into talks with Ned to look for ways for Ned and the Witnesses to work together. But the witnesses may have acted wishy-washy on whether or not they would leverage the "code" to fork out Ned.
What has followed has been the biggest melt-down of adults I have seen outside of a Bar Fight.
Aside from the fighting, the first installment of the power-down 2+ million Steem have been sent to exchanges from the SteemIt account.
A few thoughts
Remember even direct cut and paste conversations can be taken out of context.
Remember most of this conversation was happening off chain.
Now that it is on the chain, It has turned into a public drama seeking community support.
Remember you don't have to take sides, but you can if you want to.
How I am viewing it
I know from experience who has been working with and supporting community efforts.
I know who only showed up for the fight.
Anyone who wasn't on my side (community side) still isn't.
Everyone should evaluate the risks and make a decision what you do.
I'm cringing and embarrassed for all of us. :)
To sort out who is who in a propaganda battle, just consider how have they acted prior to the battle.
Actions speak louder than words.