The Road to Steem Fest | Business or Pleasure?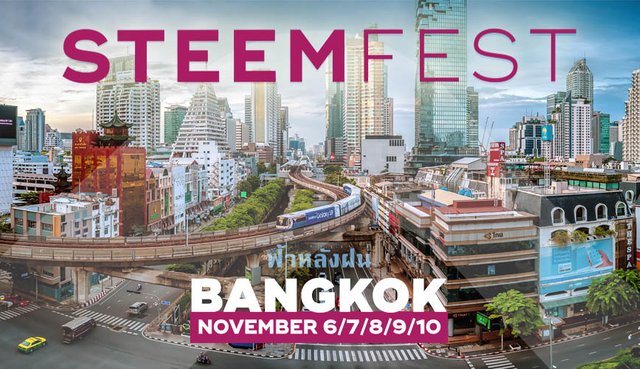 Did you know the whole Steemit Inc crew is attending Steem Fest? Check out the Latest event update here!
This week's topic is... Business or Pleasure?
Are you going to Bangkok because, like me, expect to find a crypto babe wealthy as hell and win her heart?
So you want to attend Steem Fest 4 because you need funding for one of your projects?
Do you want to go to Thailand so you can meet a whale who can get you out of anonimity?
Is this trip your opportunity to go go to a new country and explore its touristic spots and get to know the local culture?
Is jumping on a plane to this Steem massive meet up your chance to meet all those people you spend countless hours a week conversating and fooling around in the different chat rooms?
What are you going to Steem Fest for? Business or Pleasure?
Make a post about this topics and share with us what's on your mind!
It's your chance to share what are your motives to attend this Steem Fest"
Share it with us so we get to know you a bit better and perhaps start having conversations about this, so when we meet in person we feel like we are already friends!
Business or Pleasure
Small set of rules:
You have until Sunday 29th of September to post about this topic.
Use the tag #roadtosteemfest and #blocktradescontest so we can all find the posts and get to vote on our posts to help out our funding for the trip.
This #RoadToSteemFest initiative, just like last year's, will run until the previous week of Steem Fest. There will be around 16 topics regarding the #roadtosteemfest so make sure to try and join every one of them because...
...everyone who joins in on at least 75% of the topics, will be eligibile to win a big surprise in Bangkok. This surprise will be revealed later down the road and only people who attend SF will be able to receive it.
Remember, you have until Sunday, September 29th to publish your Business or pleasure post.
---
There is already two contests to win Steem Fest tickets + Accommodation in Thailand sponsored by @blocktrades and @actifit and @steemhunt check the actifit one here and check the @steemhunt one here.
Thank you everyone who makes a post about this. Any vote or resteem is appreciated, since all the liquid rewards from this post will go to fund one lucky Steemian's Steem Fest 4 entry ticket.