BuildTeam - Staking Performance Review of the BUILDTEAM Token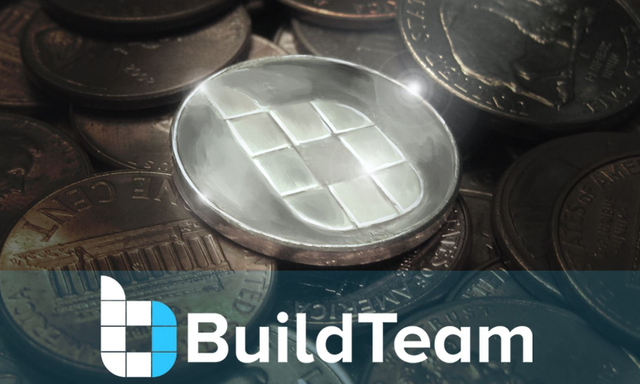 A Brief Explanation of the BUILDTEAM Token
BuildTeam has a payroll structure similar to an average corporation, except instead of traditional fiat remuneration, we compensate our builders with our own cryptocurrency called BUILDTEAM tokens.
Holders of BUILDTEAM tokens are able to stake them for a discretionary percentage of the company profits in a semi-monthly (twice per month) distribution process. STEEM is distributed on a proportional basis depending on how much each participant has staked.
For comprehensive information about the BUILDTEAM token have a read through our 'Tokens' page and Token Announcement:
https://buildteam.io/tokens.php
https://steemit.com/buildteam/@buildteam/buildteam-token-announcement
Why should you consider staking BUILDTEAM Tokens?
Buying BUILDTEAM tokens is a relatively easy process which can be done on the secondary through the Bitshares exchange here: https://wallet.bitshares.org/#/market/BUILDTEAM_BTS
Please note that BuildTeam does not engage in direct token sales and all tokens are distributed as bounties to workers and builders of our services.
There are many reasons why you should consider staking BUILDTEAM tokens:
1.) They provide regular rewards via STEEM staking payments made bi-monthly to stakeholders.
2.) They are a way to fund BuildTeam's continued efforts to build on the Steem ecosystem.
3.) The tokens have a limited supply and low maximum distribution rate of 5000 tokens per month, which means they have a lot of potential to increase in value quite easily and quickly given the right market conditions.
4.) BuildTeam itself has ambitious plans to add to the use case model of BUILDTEAM tokens in 2019!
Past performance of the BUILDTEAM Token
Let's take a look real quick at the top 25 stake holders of BUILDTEAM tokens as per our public Google staking spreadsheet and how much STEEM income they have received since they first started staking their tokens: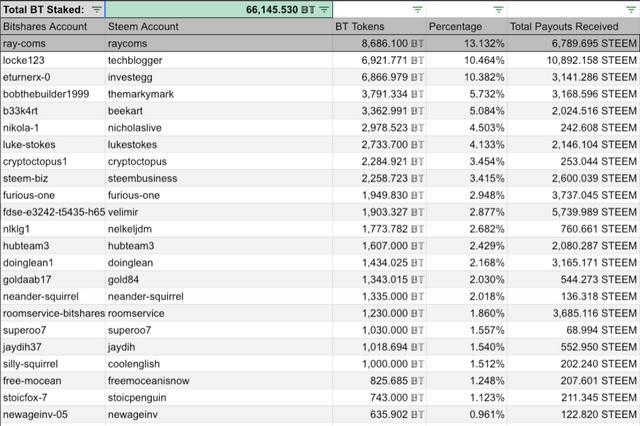 As you can see there are just under 70,000 tokens staked at the moment, which actually bodes quite well for stakeholders.
The top BUILDTEAM token holder at the moment is ray-coms with approximately 8,686 BUILDTEAM tokens staked. Over time, he has gradually received STEEM tokens from the semi-monthly distributions and has collected circa 6,789 STEEM in total.
Techblogger is the second largest holder of BUILDTEAM tokens and he has received a total of 10,892 STEEM.
The moral of this story is that the longer you stake your tokens the more STEEM you receive from the semi-monthly distributions.
Eventually the amount of STEEM received will outnumber the total BUILDTEAM staked for any given holder. This makes BUILDTEAM token an outstanding choice for longterm returns while still retaining the capital value of BUILDTEAM tokens themselves!
Wrapping it all up!
Few tokens offer the steady and stable returns that BUILDTEAM token offers, even during the current crypto bear market.
BuildTeam encourages all crypto holders to take a minute and review the BUILDTEAM tokens page here:
https://buildteam.io/tokens.php
Have a look at the services BuildTeam provides, like MinnowBooster, @GINAbot, Steemvoter, QuickSteem, as well as the upcoming Tokebb Steem powered forums project and think about the Steem ecosystem and what new blockchain services you'd like to see built on it.
Then after you've done all that. Grab some BUILDTEAM tokens and stake them to be a part of the movement!
Leave your thoughts and ideas below about what you'd like to see BuildTeam build in the future and we can work together to make Steem the greatest blockchain ecosystem the world has ever seen!
---

| Visit our website for more! | Subsribe to our YouTube Channel |
| --- | --- |
| | |
Set it up today and contribute to building a better tomorrow!


( Want an easier way? Use our SteemConnect proxy link! )


Get support and connect with us and other BuildTeam fans!



---
This is a @steemvoter subscription payment post. Thank you to Steemvoter customers for allowing us to use your Steem accounts to upvote this post by virtue of your free subscription to the Steemvoter.com bot service. @steemvoter is proudly a @buildteam subsidiary and sister project to @steemsports, @tokenbb, @ginabot, @quicksteem, @minnowbooster and @minnowmonsters.