Breaking The Silence - An Autism Journey - Part 1
Autism is a condition, not a disease. Most don't care. Most others treat people with Autism like shit, like it's the cooties— hey, just being honest. It's rarely overt. Often it's subtle. And always, it's painful.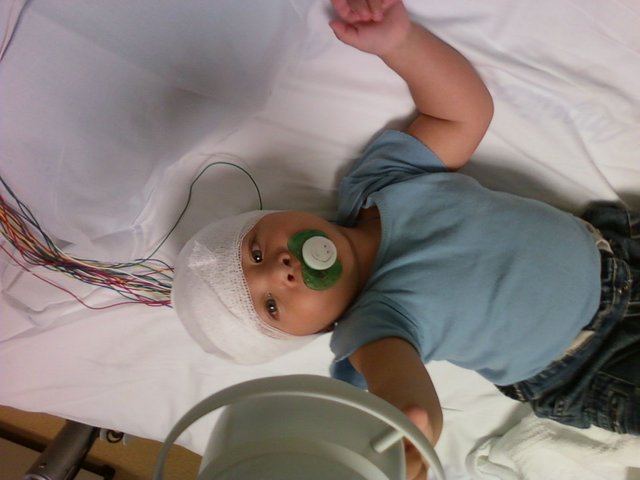 Last month I introduced Steemit to my daughter Kiki. She goes live on Facebook and Twitter through my mobile app quite often. She sings songs that she makes up herself. She dances and greets her friends that are watching her streaming. Then birthday parties roll around, and she doesn't get invited. Such is Autism.
This is all just a preface...
The above photo is of my son Joseph. He's a baby here. This photo was taken after I rushed him to the hospital after having several long seizures. He never had a seizure before. At this time, he wasn't diagnosed with Autism. Before this photo was taken, everything was normal.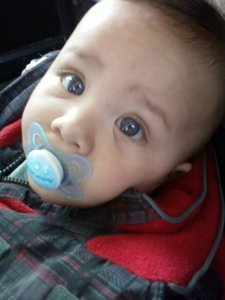 These seizures were not the first though. They happened once a week for about a month. I was confused and the doctors got him referred to Children's Hospital neurology to test if he was epileptic. Back and forth from the hospital, I wondered if something more was going on each time. They never spoke to me. There was never results. Just more tests.
After a while, he would just sleep. I hate to use the term, but the word in America (as insulting as it is) is vegetable... he was in and out of consciousness for weeks.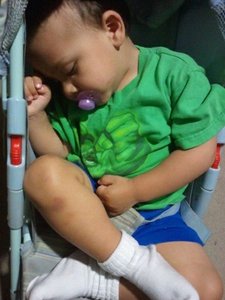 He started developing rashes all over his body. He got a fever. The doctors said he had HFM (which is a virus) but later we found out— after symptoms persisted, he had contracted a virus in the family of scarlet fever. My family thought maybe this was related to the MMR vaccine, but Joseph didn't get his vaccine. There was too much going on for me to have him inoculated in addition to all the other issues we were dealing with. Sometimes I wonder if we had gotten him the vaccine if he would have never contracted this virus.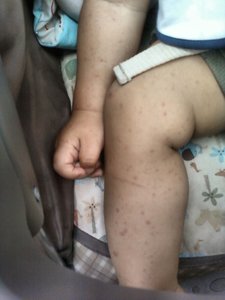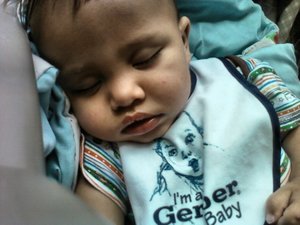 Joseph recovered fully after this. And it was a relief. However, the doctors never really told me what happened. The approach was more, "It's over now so don't worry about it." His seizures stopped. And after a year, I almost forgot about the ordeal.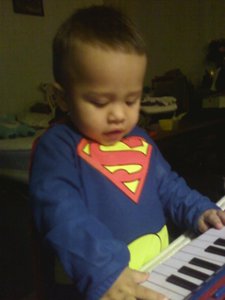 Joseph hit his milestones. He started walking and talking normally. But then just before he turned 3, I noticed something wasn't quite right. Joseph would experience spells where he would forget. He would space out. He became clumsy sometimes. It would only last for a few moments at first. Then those moments got longer and longer.He couldn't control his hands anymore for moments at a time. And he would sink into his own world and seem confused. It was if his brain was unwiring.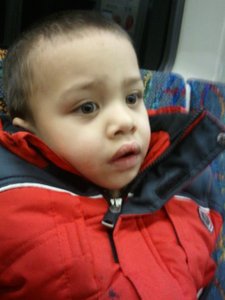 He was still a happy kid most of the time. In between these episodes, he was seemingly normal. I scheduled another appointment with his doctor to report these anomalies. "Are the seizures going to come back?" "Does he have a brain tumor?" I needed answers. But the doctors did test after test again and didn't have any answers.
Joseph started losing his words. He stopped speaking as much or answering in shorter and shorter phrases. Prior to this, I was using a program called Your Baby Can Read to help teach him words. And while he could still read words, he stopped being able to use them productively. Eye contact reduced. And he started doing strange things like walk in circles, rub himself on walls, avoiding touch, and flapping his arms.
He was still a happy kid. But by this point, I had developed severe anxiety. Accident proneness became regular. And I had to use a large playpen to keep him safe. The playpen was really a play-gate that navigated through the whole house. The gate was so big that there was more house inside of it than outside of it.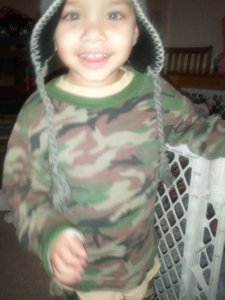 The doctor had set us up with an appointment at Mass General Hospital. After a slew of tests, Joseph was diagnosed with Autism.
"What is Autism?" I never heard about it before then. "Can he die from it?" "No" they said. But he would have a different life than I thought. And I didn't know what they meant at the time.
Time passed. I learned more about Autism. I had a daughter. And Joseph was in Early Intervention. I had quit my job. I had quit Music. I gave up my Record Deal. And I took all my savings and music money, and lived off it. I cashed out of Crypto. I shut down my shops. All I wanted to do was focus on Joseph and my daughter.
Taking care of an Autistic child in Early Intervention is quite extensive. I spent 40 hours a week in and out of various therapies with him. It was a full-time job. In between, I learned to code websites and my only income was working installing Wordpress. I found clients by word of mouth, and cold emailing every day.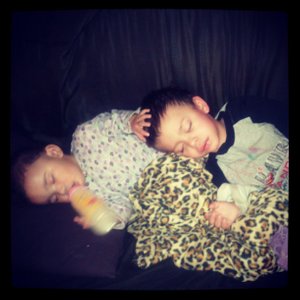 The stress was too much on our family and I found myself single again. Still, my commitment was making sure that my kids have as normal a life as possible— as loving a love as possible.
Over a year past and once again our life was resembling some sense of being under control. Joseph said Mommy for the first time. And he was making great progress learning to speak— more on that in part 2.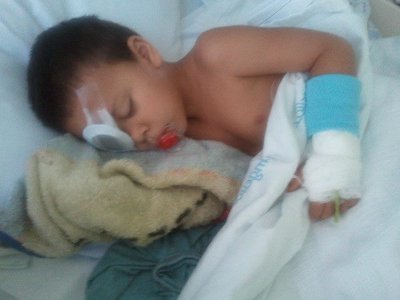 Joseph had a spasm while eating and accidentally stabbed himself in the eyeball with a baby fork. He had surgery that day, and it exhausted all of my savings. We were lucky that Joseph didn't hurt his lens, but he fully lacerated his entire eyeball across. Gratefully, the wonderful doctors at Mass Eye and Ear Infirmary saved his eye.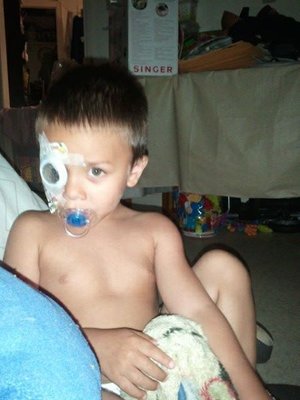 He spent almost a year as Pirate with an eye patch. We lost our place. Depression set it. I stopped being able to do so much. I'd lived almost 5 years off everything I'd earned for my entire adulthood.
Thanks to my friends and family, Joseph got his first pair of glasses.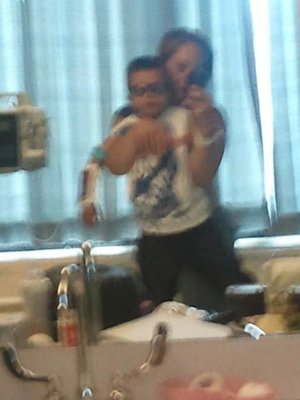 It's a deeply humbling experience to be on top of the world, completing college and making money, thinking you'll have a family and live happily every after... thinking you'll be a rockstar in so many ways, touring the world with big names.
Then your dream ends. Or rather, it changes.
For this was just the beginning of my journey with Autism. My son, the first of 3 diagnosed on the Autism Spectrum. My daughter, the second. But I'll leave that and more for later...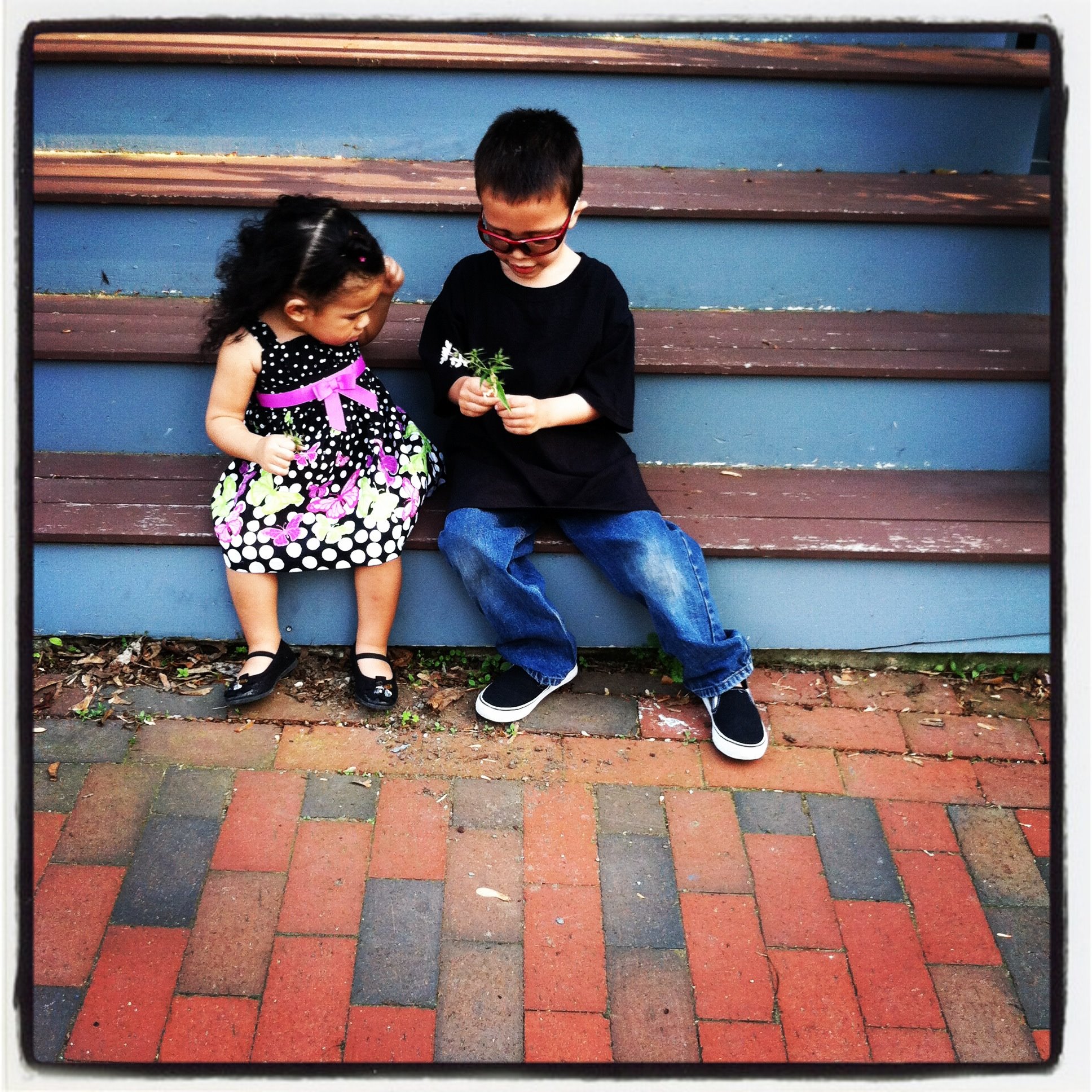 While many have watched our Journey on Facebook over the years— side by side, it can seem at times incredibly tragic. But despite all of this, it's also been deeply rewarding. In fact, Autism diagnoses saved me from a life of delusion and fantasy— a fast life that would have likely resulted in my early undoing. Live fast, die faster.
My kids are my angels. All THREE of them. Yes, I have three kids— my eldest (from my first marriage) is 23 now. He had a different mom (the old me) than my younger two.
Autism as a journey has been one of transformation— while challenging, for the better. It's not something kids are just born with that comes with preparation and a nurse telling you beforehand what to expect. You don't know until things start going wrong for the worst. And you have to adapt really fast to the changes in your life and lifestyle or things could go in the wrong direction fast. Luckily for us, we have gotten this far.
Before I end this part one, I just want to say that this doesn't have an unhappy ending. Oh, on the contrary. No worries. Joseph has grown to be a fine young man, with a bright future. He's integrated in school. He's at the top of his class. And he's Mensa! He wants to be an astro-physicist! Can you believe that?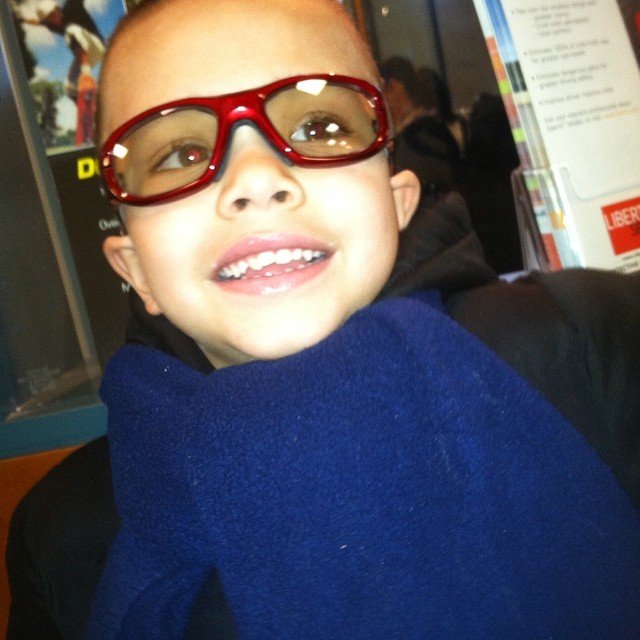 In later blogs, I'll be talking more about our journey and stories but also about the cutting edge work we've done, studies, and treatments we're using as a family to not only thrive with Autism but excel.
I now believe Autism, no matter how severe, is not a curse but a blessing in disguise. I no longer believe in curing Autism but accepting it and bringing it forward into the world as a variety of new people with unique (and often hidden) gifts.
Thank you for reading. Until next time!
---
If you want to follow our story, you can follow me on Steemit. We would love it if you Resteem or share this post for exposure as we raise awareness about Autism this April. April is Autism Awareness month.
Keep loving, and as Joseph says, "Keep Gaming!"
---
Are you online every day? Do you use all of your Steem Power?
If you can spare to loan 1 SP while I build up my own,
it will keep this little Minnow swimming.❤
Delegations are 100% refundable.