It is harmful to health, the habit of drinking soft drinks, know how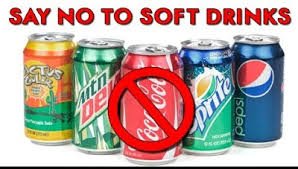 At present, consumption of soft drinks has increased greatly. Many people get addicted to soft drinks and it is very difficult to get rid of addiction.
In most soft drinks, such substances are mixed, which can overuse your health completely. Apart from this, a lot of sugar is dissolved in soft drinks, which can cause many serious diseases of the heart, liver, kidneys. So it would be better that you drink fruits juice,
lemon water or any such natural drink instead of these drinks. Let's tell you what are the disadvantages of drinking more soft drinks:
Weight and Diseases Will Increase
Excessive sugar-containing beverages such as soda, etc. are the major causes of obesity.
Almost 600 ml soda contains about 240 calories. If you drink a canned cold drink every day, then your weight can grow up to six and a half kilos in a year. Higher weight increases the risk of diabetes, certain types of cancer, arthritis, heart disease, stroke etc.
Heart diseases
Increasing weight can lead to heart disease. But at the same time, the elements present in the soda can make you very sick. Sodium and caffeine present in soda are very dangerous for the heart. Sodium works to prevent fluid in the body, while heartbeat and blood pressure increases with caffeine.
The risk of diabetes
Let me tell you that a lot of sugar is mixed in cold drinks. If you drink them, then your blood sugar is greatly increased. To balance it, your body starts to build up a lot of insulin. In this way, your blood sugar is chanted and you start consuming soda or other substances to complete this deficiency. Over time, the amount of insulin starts decreasing in the body or the formation of insulin stops.
Dental Problems
If you want to avoid going to a dentist, completely reduce the consumption of soft drinks. The bacteria that grow in your mouth grow on the sugar. They eat it and make such acids that destroy the teeth of the teeth and then creates cavity. Doctors say that if you rinse the water immediately after drinking soft drink, you can reduce the risk of cervical cavity by about fifty percent.
Arthritis problem
Tell you that gout is the situation when excessive uric acid is accumulated in the body. This leads to very strong inflammation and irritation in the joints. According to an analysis by the American Medical Association, drinking a sugar drink daily increases the risk of gout.