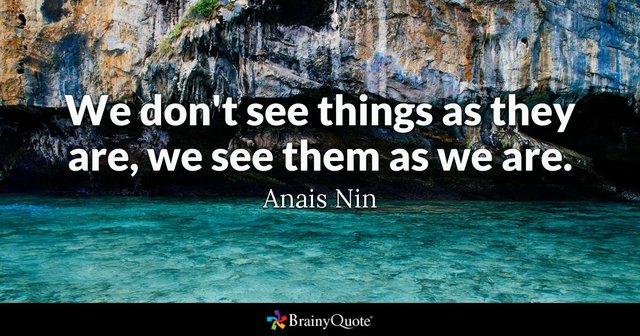 image
Seems I'm only posting reflections, so one might assume I sit all day thinking. It's not far from the truth - my brain just has trouble shutting up sometimes. Some days there is random thinking, and others there are realisations.
Today, whilst washing the dishes this idea of perspectives, truths and misunderstandings played in my mind again.
I know of this one particular incident involving three people. Person A had an opinion about a person common to the three. Person B felt those were biased and unjustified. Person C steps in to keep the peace, but is told off by Person B.
You see each were right. A in something he had experienced with this common individual. Doesn't matter what was the truth, his experience of it was already forged by his perspective. And so with noble intentions he spoke to Person B.
Now B had a whole other experience, knew quite a bit more about this common individual and felt it was not a fair judgement. Sure, this individual was not always easy, but B felt it necessary to defend this person. Again born from noble intentions.
C only wanted all to be at peace. So stepped in with good intentions, but got blown off.
When we look at each narrative from each POV (point of view) - they are each very fair.
The only unfortunate thing is that only a sliver of our true intentions are ever revealed. And so we grossly misunderstand and sometimes have altercations that last far too long.
It is uncomfortable when human relationships breakdown - and downright heartbreaking when this is with strong bonds like friends and family.
But if only we could step back and consider all the possibilities, we will realise we have no right to any assumptions - because the best way to ever get to the truth is to communicate with the person in question.
Though we think we know someone, there's always so much more we will never know about anyone.
In our life journey, many a storms would have shaped our perspectives. We each have our stories. But what is most amazing about the stories is that it can be rewritten not once or twice, but till we are satisfied. Our perspectives shift, we grow, we forget, we learn, we forgive. Not all things remain the same forever.
Even cold dead relationships ... Given a chance can rise from the grave if only we are willing.
This is not to say we need to force ourselves onto people who want nothing to do with us. Or the more likely version - we don't really want to spend anymore energy on people who can't or won't reciprocate a mutually uplifting relationship. We don't need to invite toxicity into our lives.
But what we can do is to understand our own perspective and realise we don't see the whole picture or know the absolute truth, and accept others may have a perspective we do not understand and be willing to be open to that.
And also perhaps, no matter how hard we try - it's not always easy to convey our POV - and sometimes, it may not be necessary. We need to pick our battles - if there are times when we know what we say will not get across, then it may be a good time to evaluate - what the final outcome is that we desire in a relationship, rather than forcing our thoughts and opinions onto someone.
Hmmmm, I guess this is that social intelligence skill everyone is talking about these days ;)
An old proverb comes to mind - "The road to hell is paved by good intentions." In each of our minds - our intentions seem pure, but we will never know the outcome of the trajectory we take with our thoughts and intentions till the results meet us face to face at some point in the future.
We can only hope that we have the memory and awareness to realise our hand in the whole unfolding of events so that we don't feel "victim" to LIFE's "unfair" circumstances; and instead learn to be more honest and authentic with our intentions. If we can't be transparent with ourselves it's going to be quite a Herculean feat to be transparent with the outside.
We will not perfect it as yet - getting aligned with our intentions, but at least - we do become more conscious of our choices and get better practice at the kind of outcomes that better serve us.