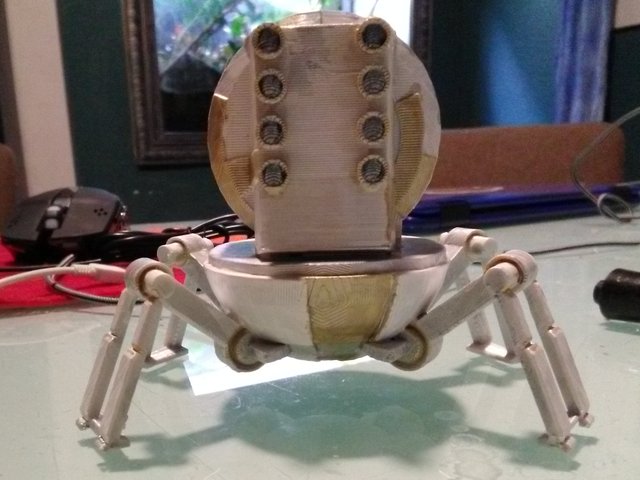 3D printed robot used for scale
As some of you know my sons and I have been working on a game project as a part of their education. The game will include various STEEM network integrations as well as all sorts of geeky goodness once its complete. The development is going as well as can be expected during the holidays and given the amount of time we have to work on it. Now that we're back to the grind stone its time to consider things for the next leg of the journey, and one of the biggest non technical issues any game has, the name. When the project first started I didn't consider name overlaps but in hindsight "STEEMBots" isn't going to get us very far. To be fair the name was always considered a place holder as the original concept was called "ScanBots" and as we removed the bar-code scanning concept and added in the STEEM bits we simply replaced the first part of the name and called it good. After very little research we found no less than 4 other projects with the exact or similar names to "SteemBots" including "CryptoBots" which uses the Etherium network.
---
So now what?
We're playing around with names at the moment but I've come to like the idea of naming the games after the birth place of the bots "Alloyia" a planet deep in interstellar space where organic life was replaced by the cybernetic. This leads to many more possibilities in story telling. How did the original inhabitants of Alloyia die? Why did they send the seeds out into space? Do the bots still have a connection to their home world? Are they scouts,researchers, or refugees? All questions that could be answered in game or in some sort of narrative that accompanies the game. In the end the mechanics of the game remain the same. We will use STEEM content to generate parts for the robots within the game. Each robot will be unique (within reason) and will be used to complete missions, explore the world, and battle other bots if needs be.
Here are some of the name ideas:
Alloynian Seed (I have a affinity for putting the word seed in names)
Terra Alloy
Children of Alloynia (could be a good second game name)
What do you all, my readers and followers think? Is there a name you would choose from the list? Have a better suggestion? Leave your thoughts below.
About STEEMBots
STEEMBots is (or will be) a free to play Monster Rancher inspired bot building game built around the STEEM blockchain and ecosystem. If you want to find out more about the project or how you can help check out our fundition page here. We are looking to fund it on a monthly basis and even just a dollar a month will go a long way to making the game a reality.