---
Before I start, I will like to appreciate @ericvancewalton for the Blockchchain Memory Project initiative, putting memories on the Steem Blockchain has been Therapeutic, healing some old wounds and making people see the other perspective about life through comments and feedbacks.
A TRIP TO NOWHERE FOR LOVE
This
Love makes us do unspeakable things ordinary person could not find the zeal to do. They say love intoxicates like booze. So many things have been done in the name of love across the universe; I have journeyed a thousand mile to another city that I have never been before, no friends or families that could have sheltered me.
In my youth service year, that was a couple of years ago. A mandatory National Service every graduate must go through provided you are still under thirty years. Funny thing is that, you meet over 40years old folks at the orientation camp and you wouldn't help but wonder why people at that age want to go through that kind of stress, or maybe they want adventure so bad.
Stressful in the sense that you are transferred to any part of the country, long distances away from your home and families. It is a daunting task, a year filled with a lot of stories to share for anyone who had undergo it, but I needed the most as a getaway, because that was the period I lost my dear mom.
My placement came and I was shipped to the Niger Delta part region of my country, this is a crude oil producing region and very unstable based on past and present atrocities that have been committed there. So many violence and kidnapping have emanated from this region, and here I was posted to do my one year compulsory service.
After about three weeks and some days at the orientation camp, I was placed temporarily to a village, it is called Place of Primary Assignment (PPA), then from there I was placed farther in a remote village in Delta State with three oil wells. For this reason, too many hooligans reside in this place depending on pipeline vandalization and illegal Crude oil tapping- oil bunkering.
A very scary place to be, especially if you are in some form of uniform. The only thing to do is not stay away from such place if nothing serious is happening there. So on a faithful day, I decided to visit the Federal Capital Territory Abuja for the very first time to see a lady, my then girlfriend.
Not a short journey as I envisaged, about eight hours from my location to my destination. From the confluence town, this is like the boundary between the North and Southern state. My girlfriend went incommunicado, I was mad and mesmerised the same time because the person I had embarked on this long trip for bailed out on me when I was almost at the Country Capitol.
Till I enter the city, she was not reachable both on mobile and on chats. So I had made up my mind upon getting to the Bus Station where I highlighted, street sense in me kicked in and I made a call to my cousin who was schooling 3hours away from the Federal Capital Territory. After narrating my ordeal to my cousin, and enduring the next few minutes of jabs and sour jokes from my crazy cousin, I embarked on another 3hrs trip back to another town, a failed attempt to see my love.
By 19:00hrs I was with my cousin, partly relieved and extremely furious at how a girl could be so callous. According to her, she was given an apartment at her place of work so I had planned to spend few days with her and then go back to my PPA.
By midnight, she had bombarded me with missed calls and apology messages with no concrete reason as to why she went off the grid. But, you have to forgive and forget is what they say right?
A year later, I came to realise that she had made up stories about her apartment, she was actually dating one of her boss then who has an official apartment where she stays, that was her apartment and that was why she went off the grid and not reachable, she had done that for me to be discouraged and find alternatives!
---

---
Hello friends, how is your day going? Check out some of my latest Steem Blockchain writing below. I appreciate all the support I have gotten from you all!
---
---
---
FOLLOW-UPVOTE-RESTEEM AND MAYBE DROP A SUPPORTING OR CONTRARY COMMENT.....It's your friendly Neighbor @oluwoleolaide for Steem-Lagos-Nigeria-Africa-World!
---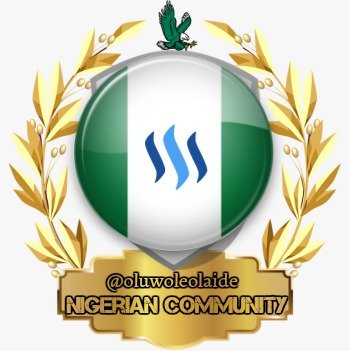 Badge was a Gift.