BLOCKCHAIN TECHNOLOGY UNLOCKS THE EVENTS OF 9/11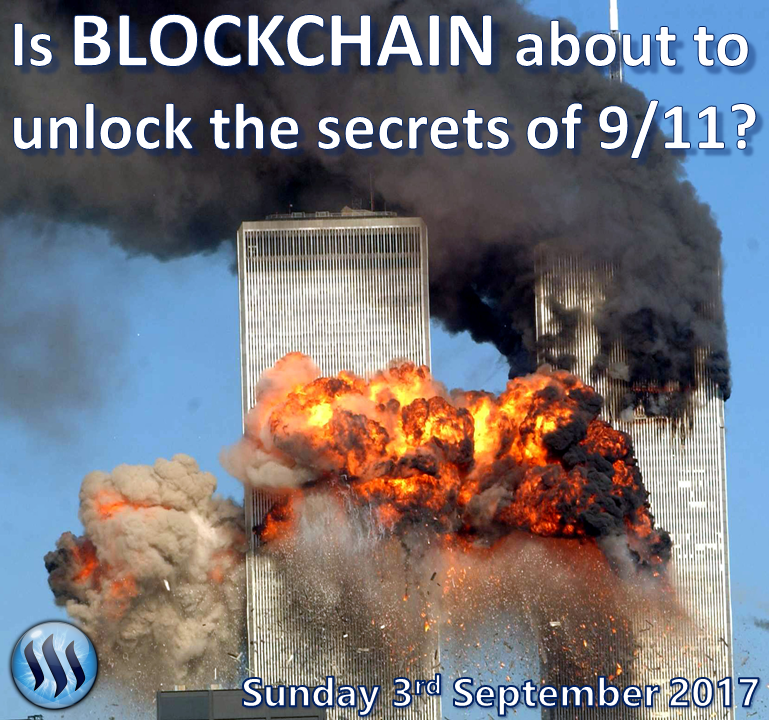 BLOCKCHAIN TECHNOLOGY AND THE EVENTS OF 9/11
What we need to know is how those buildings came down.
There are so many unanswered questions and that is quite scary.
No proper Scientific Test, Data Analysis and Eye Witness Investigation was ever done and no fully comprehensive investigation was ever carried out.
The official explanation was dead wrong.
With over +30 years experience in Construction, Heavy Engineering, Finance and Data Analysis I wanted to share with you my thoughts on the events of 9/11.
WHERE DID ALL THE STEEL GO?
September 11, 2001 was a day that changed history when two planes crashed into the twin towers of the World Trade Centre and several columns were severed on impact.
Jet fuel ignited and caused office fires on multiple floors and the both buildings soon collapsed rapidly and destroyed beyond recognition.
On the day, nearly 3,000 people lost their lives and since that day countless have lost their lives from the inhalation of asbestos particle dust that so many were exposed too.
According to official reports it was fires that caused the structural steel columns to weaken that caused the buildings to come down in a total collapse.
WTC BUILDING 7
Unknown to most people, a third building, WTC 7, also a steel framed and concrete building came down that same day, later in the afternoon, again almost in rapid free fall decent and also completely destroyed.
The building was built with approximately 40,000 tonnes of structural steel work and yet it collapsed as though there were none.
The official report for building WTC 7 collapse was again due to scattered office fires fuelled by office furnishings.
The building fell within approximately seven seconds at near free fall speed, falling straight down, symmetrically and to within its very own footprint.
Falling at this speed, the only way that this could be achieved would be by zero resistance and one that would need all steel columns to be severed at the same time simultaneously.
In a beam failure and floor collapse this would create a pancaking effect where one floor would resist the weight of the floor above and thus result in a jolting effect.
This never happened and building came down at the near speed of gravity.
Even if a single beam and column did fail it would not have caused a systematic failure of all the other beams and columns in the building.
This systematic failure of all columns and beams at the same time could only be achieved by secondary explosions or accelerators.
I can accept that a damaged building built of structural steel and concrete could fall in an irregular pattern or even fall over, but cannot accept that it could just simply evaporate.
Evidence shows that when WTC 7 building collapsed the centre core columns failed first bringing the penthouse area and roof down first. Followed by the whole complete building.
The collapse of building WTC 7 has often been referred to the smoking gun of the event.
REMOVAL OF STEEL AND MATERIALS
400-500 trucks full of steel and material were removed per day and little or no evidence was retained.
In normal structural failures photographic events of each beam, each column, each piece of debris would be photographed, picked up very carefully and records taken for evidence.
This was never done.
EXPLOSIVES AND ACCELERANTS
During the official investigation the evidence for explosives and accelerants were never looked for and investigated.
High rise buildings simply do not collapse due to fire.
In the history of steel framed buildings, not one building has ever completely collapsed to within its own footprint due to fire, let alone evaporate into dust.
Previous office fires may cause a buckle, asymmetrical or part collapse but never a complete collapse and one that would see the concrete and steel pulverised into dust.
FIRES
Despite official reports saying that the structures were weakened by office fires caused by jet fuel the majority of the jet fuel ignited and was burnt off in the initial explosion and it was gone.
Evidence shows that the fires were not raging and were in fact oxygen starved by evidence of black smoke from the buildings.
These were effectively a low temperature fire.
The burning temperature of jet fuel is 750 degrees Fahrenheit and yet it was supposedly this that compromised the steel.
You could, if you wish, hold a flame under a piece of steel at 750 degrees Fahrenheit and it would not reach a high enough temperature to bend the steel let alone melt it.
COLLAPSING
If the buildings had collapsed due the weakening of the steel as the official explanation suggests you would expect to see the building buckle under the weight.
This official report suggests that the upper section dropped first and it was this that pancaked on the rest of the building.
However when the upper section actually drops it too disintegrates and therefore would not hold enough weight to push the remaining building flat to ground floor level.
The top section even if it did stay intact would meet equal and opposite forces on the floors below which in essence would be pushing back up on the upper section.
Effectively, if the top 15 floors crushed while pushing down on the lower sections, these 15 floors would meet the equal and opposite forces to the 15 floors below.
This would only result therefore in a maximum number of 30 floors demolished as a maximum and not the entire building.
If the official explanation was to be correct you would be looking at a jolting action of the top third of the building only.
It could have been acceptable to have seen a third of the buildings standing as the top sections mushroom out, but in all three collapses the building completely disappeared in their entirety.
ANTENNAS, CORE COLUMS AND ELEVATOR SHAFTS
Before the buildings started to collapse the antennas on both WTC 1 and WTC 2 buildings started to drop first.
These antennas were over the middle of the centre of the building and effectively over the top of the elevator shafts.
These elevator shafts and the centre core columns are a fundamental piece to the integrity of the strength of the buildings.
Each building contained approximately 45 core columns and these core columns surrounded approximately 50 elevator shafts.
The only way that these building could have collapsed at near free fall speed would be if these interior core columns were compromised.
There could have been no other way.
EJECTION OF STEEL BEAMS
Each tower created a 1200ft diameter symmetrical debris field around the base of where the towers stood.
Evidence shows that 1,000's of tonnes of steel beams were ejected sideways out of the towers at estimated speeds of 60 miles/hr as the buildings came down.
Gravity works vertically and not laterally and therefore gravity alone did not eject these beams.
Some of these multi tonne steel beams were projected over 600ft from the towers and some landed in adjacent buildings.
Not only were the steel beams ejected sideways, clear evidence suggests that these beams were pulverised in mid air as they fell.
With a total destruction of both towers to the ground floor this cannot be down to gravity alone as the forces required to do this simply do not match the laws of physics.
PULVERISATION
Should gravity have brought the buildings down then I would have expected to have seen larger portions of concrete and steel beams and at least a large portion of the bottom floors still intact, albeit buckled under the weight of the collapse.
What occurred was a total destruction of both buildings in identical characteristics effectively pulverising each building to dust.
Steel simply does not pulverise to dust due to gravity.
Days after the event and after the dust had settled there is evidence of dust piles inches deep across most of Lower Manhattan.
MOLTEN STEEL
Evidence of molten steel running down the channels of the steel beams even days after the total destruction would not be created by a gravity collapse.
Flowing molten steel was evident in the rubble pile of all 3 buildings at ground floor during the aftermath and would suggest extremely very high temperatures, way beyond what could have occurred by jet fuel alone.
Jet fuel, which is simply kerosene, is not capable of creating the heat necessary to melt steel or iron.
Molten steel needs approx 2,700 degrees Fahrenheit to create lava and this way exceeds the temperatures that can be generated by burning jet fuel.
THERMITE
The only compound available to melt steel at such a high temperature in a fraction of a second is Thermite.
A chemical reaction of Thermite would effectively destroy steel by simply evaporating it and melt it near instantly.
Thermite is the only compound that would instantaneously comprise each column in succession.
There is no other way.
In just little under 2 seconds Thermite could reach temperatures of over 4,500 degrees Fahrenheit and would simply liquefy steel.
Open air fires could never reach temperatures sufficient to melt steel.
Thermite cutting charges in the use of demolition produce low or little noise, as they work by thermal heating, in essence melting the steel rather than an explosive RDX charge which is considerably a lot louder.
Evidence from thermal imaginary over the site of the collapsed buildings showed extremely hot temperatures deep in the ground below the surface, even maintaining combustion under water.
No other element could both melt steel and be combustible under water.
The only explanation of this kind of heat source is an exothermic chemical reaction.
INVESTIGATIVE CONCLUSION
The official story that is told about the fate of the three buildings does not match the irrefutable evidence that is present.
Anyone who has a building, engineering, architectural and explosive expertise should examine the evidence and stand up and be counted as the rest of the World is relying upon us.
The World, especially the American people absolutely need the truth of what really happened.
The next logical step is to go back to the beginning and revisit every piece of evidence logically rather than rely of prefabricated story of events and then come to real conclusions.
STORING THE EVIDENCE ON THE BLOCKCHAIN
An independent investigation that stores all the evidence on the Blockchain is the only real solution.
An irrefutable Digital Distributed Leger that will: Store, Distribute, Verify, Validate and Evaluate every piece of evidence, no matter how tiny or insignificant one may think it is, has to be done.
What happened to those three buildings on that day is not something that will just simply go away.
This is very pertinent to us today and is probably one of the most single important Global Events of modern history.
Such an event deserves a full and thorough investigation irrespective of the outcome.
COMING TO TERMS AND PSYCHOLOGICAL EFFECTS
Most people who have lived with the events of that day have experienced some kind of trauma and it can be very difficult to come to terms with what actually did happen to the buildings.
I am sure that there would be some people who would simply disbelieve if the real truth was not the official story, simply because that they have believed it for so long.
This event had a tremendous impact on the majority of the World Population and despite the overwhelming evidence to suggest that the official story was incorrect some will chose to simply ignore the evidence as they themselves would be unable to process such information.
How people chose to come to terms with the reality of the possibility that the official story is not true will be down to the individual to decide.
When your beliefs are challenged your fear and anxiety take over. For some, it will be so difficult to even begin to challenge what they have been told if the reality of the events on that day had not been as they had been explained.
Effectively most people have felt very secure about what had been told and should the evidence show a totally irrefutable conclusion that the official story was not true it would in some cases leave them with a feeling that their very own security had been taken away.
When our beliefs are challenged to such an extent, it is our own characteristic that denial will kick in and take over.
On other words, if our beliefs choose to not accept reality, our minds shuts off as a defence mechanism to protect our feelings.
By not pursuing the events of that day disrespects the victims, families and all that were effected on that day and humanity owes this event to be re-investigated to a irrefutably scientific and logical conclusion.
Questioning and challenging is what we do best. It is what humanity is built around and not just accept what we are told is the truth.
In order to heal, the World needs the truth, and without this truth, The Wound of The World will never heal.
Is Blockchain about to unlock the secrets of the events of 9/11? I guess time will tell.
Thank you for reading.
Stephen