Blockchain.io - Revolutionary Exchange Platform For The Modern Trader
Are you looking for a secure and trustworthy exchange that supports all your favourite cryptocurrencies?

The Internet of Value will trigger new waves of innovation in financial systems and beyond. It will bring financial inclusion to the billions of people who are still unbanked today.
~ Pierre Noizat, February 2018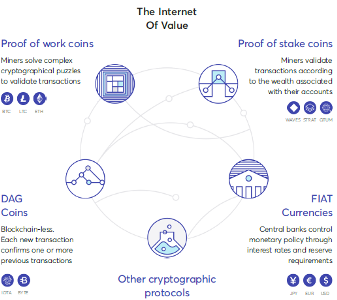 When Bitcoin was invented in 2009 by the mysterious Satoshi Nakamoto, the world was introduced to the blockchain and a new form of value. Value allocated to data. At first economists, investors and the average HODLer were only looking at it from the economic point of view but with different and unique competition like Ethereum it soon became apparent that the blockchain could be utilized in diverse ways.
Today we have blockchains that support and attach value to gaming, medical data, financial services, logistics, aviation, quality content and so on. The blockchain also came with a host of advantages over conventional banking services such as decentralization, transparency, immutability, privacy and security.
But while the blockchain is decentralized the cryptocurrency market is not. traders and investors still have to go to exchanges most times they want to trade or perform transactions with their cryptocurrency. This presents many issues.
Difficult Access to Desired Cryptocurrency - Some Exchanges only support limit portfolio of cryptocurrencies. This means Traders have to register on multiple exchanges to get access to the tokens or cryptocurrencies of their choice.
Lack of Scalability - Some of the earlier developed cryptocurrencies were not designed to be scalable. It was all rosy when a few hundred people were using them but now that we have thousands of daily transactions we tend to see a "network traffic" as transactions pile up on the blockchain. This has now prompted miners to demand higher fees to fast-track transactions. You can also say this is a form of centralization as the richest traders will always get the advantage of speedy transactions if they so desire.
High Fees - Some exchanges charge high deposit/withdrawal/transfer fees. It can be argued that this is in itself a form of centralization.
Dead Coins - There has been a rather large influx of tokens into the crypto-space in recent times. According to Etherscan.io and Eidoo, there are over 18000 tokens in circulation with only less than 600 actually thriving with real practical unique applications. This means that a lot of investors are getting burnt after investing in useless or scam projects due to Fear Of Missing Out(FOMO).
Hackers - Time and time again we have received news of exchanges being hacked and investors funds carted off. This greatly discourages adoption.
Non Compliance - Because value is being exchanged, the law demands a certain level of transparency. Sometimes unfortunate Traders lose their funds to shady exchanges and there is no one to be held responsible. There is also the issue of money laundering and criminals using cryptocurrency to finance arms deals, drug deals or even terrorism.
Outages - Some exchanges fail to plan for the future and in the event of a sharp increase in user activity their servers stall or shut down. This can cause artificial scarcity and has led to investors and traders making losses in periods of high volatility.
Blockchain.io was developed with all these problems in mind and designed to overcome them all.

INTRODUCING BLOCKCHAIN.IO
Blockchain.io is a cryptocurrency exchange Project being launched by Paymium.
Let's look at their introduction video
Paymium is a leading European web-based Bitcoin Exchange company. Paymium provides EUR/BTC exchange service and allows users to send and receive Bitcoins by mail. Paymium has the distinct honour of being the first European exchange, having been founded in 2011. Paymium has always been dedicated to promoting cryptocurrency adoption and in order to achieve that they recently launched the Blockchain.io Project. Blockchain.io will be a crypto-only exchange platform. Users who wish to use fiat will only have privileged access via Paymium.

Paymium - Blockchain.io relationship

WHAT IS THE VISION OF BLOCKCHAIN.IO?
Blockchain.io aims to be the number one digital marketplace where diverse cryptocurrencies will be traded against each other. Blockchain.io will not just offer trading services, but by using the latest and highest technological standards, will secure the traders assets and provide scalability on a level not achieved before.
The blockchain.io team is very knowledgeable in cryptographic technology. They utilized this knowledge to develop a platform that is fully robust and equipped to easily excel in areas where other exchanges normally lack such as security, reliability, compliance, and accountability.

WHAT BLOCKCHAIN.IO OFFERS
Blockchain.io offers the following MAIN Services
Cryptocurrency Exchange - Blockchain.io will allow traders exchange value and trade tokens on its large ledger using High Performance Matching, Basic and Advanced Orders. Traders and Investors will also have access to Transparent Auctions, Peer-to-Peer lending services and a host of other services.
Decentralized Settlement - Blockchain.io will use trustless protocols to allow Atomic swaps (Cross-chain exchanges of value)
Liquidity Services - Blockchain.io will offer listing services, ICO services, and market -making services for new tokens. This services will be available if the aspiring project passes the expert scrutiny of Blockchain.io and is deemed a viable and substantial venture.

WHY BLOCKCHAIN.IO IS SUPERIOR TO OTHER EXCHANGES
SECURITY

Blockchain.io applies cold storage with about 98% of its cryptocurrency reserves offline. That way even if hackers somehow managed to get in, there would be almost nothing for them to steal. The cold wallets require multiple signatures to access and the cold wallet Private Key is split and held by different vaults in separate locations. This maximizes security both physically and online.
COMPLIANCE AND TRANSPARENCY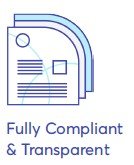 Blockchain.io anticipates that in the future cryptocurrency will likely be regulated. Since the parent body Paymium already complies with European Regulations, Blockchain.io will also apply on a voluntary basis, and comply with European Banking requirements for anti-money laundering (AML) and know-your-customer (KYC) procedures.
SCALABILITY AND SOLID INFRASTRUCTURE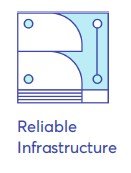 The Blockchain.io platform is designed to handle heavy activity and withstand DDoS attacks. The protocols of all added cryptocurrencies and tokens are scrutinized to avoid anything that may compromise the security of the platform. blockchain has a solid API feature that high volume traders can use. On the physical aspect, server downtime is limited only to maintenance, application upgrades or database migration.
RELIABLE OPTIONS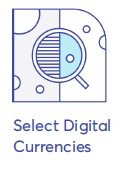 Blockchain.io promises to only host viable tokens. This is to assist traders make good financial decisions and avoid scam/copycat/dead projects. Cryptocurrencies will only be listed after passing through a strict vetting and review process.
GRASSROOT SERVICES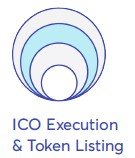 Blockchain.io will offer services to initiate projects, carry out crowdfunding, and provide ICO campaign support and listing services. This will help startups with decent projects to easily reach an active market.
ADVANCED CRYPTOGRAPHIC PROTOCOLS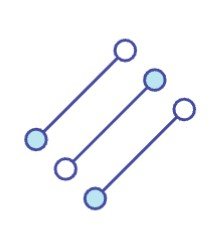 Blockchain.io sets itself apart from other exchanges with its use of superior protocols to facilitate user trade in the most secure and convenient environment. These include
i. Atomic Swaps - Cross Chain transfer of value from one blockchain to another.
ii. Hashed Timelock Contract - Trustless smart contracts that requires both Proof of Payment and Receipt of Payment before a set deadline to trigger a transaction else the transaction is cancelled.
iii. Lightning Network - enables off-chain micro-payments and boosts scalability.
iv. High Performance Matching - Blockchain.io uses a high-scalability trading engine to sustain a deep orderbook on all crypto trade-pairs without server stall or slow traffic.
And many more advanced protocols such as Tumblebit, Payment channels and RSK Sidechains to streamline the user experience.
Blockchain.io uses Elixir Programming language in order to achieve development of Distributed applications (dApps).
USER-FRIENDLY INTERFACE
Blockchain.io platform is available as a mobile application (iOS, Android, HTML 5), desktop application (Mac OSX, Windows, Linux) and web-based application. These make it convenient for access and use anywhere, anytime. You can download the
Download Android app | Download iOS app.
Businesses can Open a merchant account with Blockchain.io to enjoy wonderful benefits such as a free 6-month trial, zero-fraud/chargeback, plugins compatible with e-commerce platforms and low fees.

BLOCKCHAIN.IO TOKEN
The Blockchain.io platform will be powered by its custom token. BCIO Token will function as a utility coin and be used to promote and incentivize the use of the Blockchain.io platform. The tokens will be used to power transactions on the platform as fees and power operations such as creating a User Account.

BLOCKCHAIN.IO TEAM AND ROADMAP
The Blockchain.io project is also run by the Paymium team who have chosen to take their services to a global scale.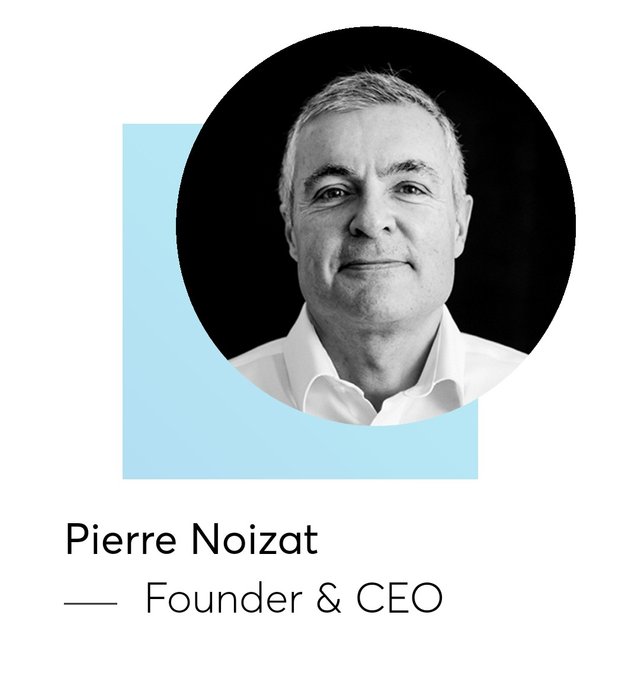 Blockchain.io CEO
Meet the
Blockchain.io Team
.
The cryptocurrency exchange of blockchain was scheduled to launch this 2018 Q4 and the rest of their road map is as shown below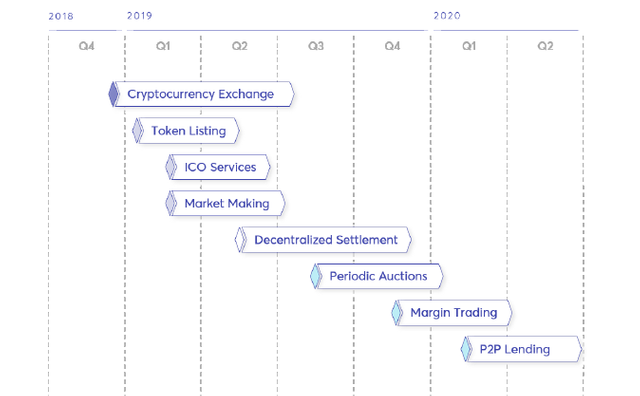 Blockchain.io roadmap

TOKEN SALE
Blockchain.io announced their token sale for BCIO Tokens and it is still running.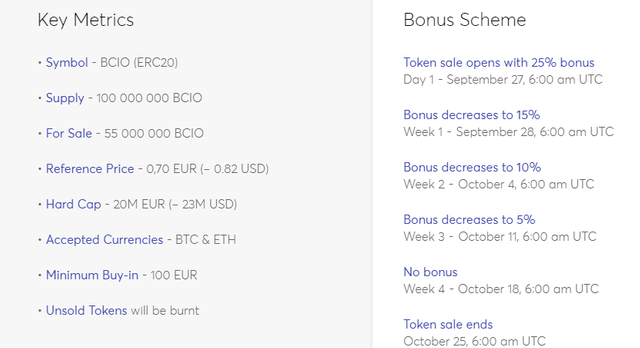 BCIO Token Sale
There is no soft cap as the platform will be launched irrespective of how much is raised during the token sale.
Paymium offered 55 million BCIO ERC20 tokens (55%) for sale. They raised over $1.2 million in the first week alone!
The remaining 45 million (45%) will be distributed as shown below: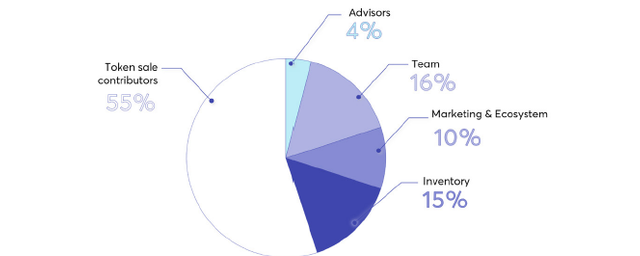 BCIO Token Distribution
Users who pay their operation fees in BCIO are eligible for discounts. The discount is determined by the amount of tokens the holder has. Here is an illustration extracted from the blockchain.io whitepaper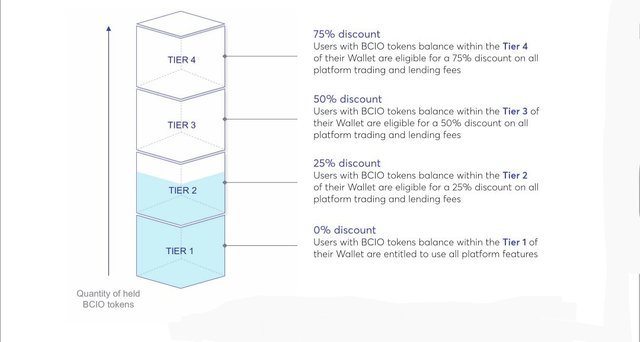 Trading Discount Percentage
Holders of the BCIO token are also entitled to Survey Participation Rights and can earn loyalty rewards.
The Token Sale period began on September 27, 2018 and will end on October 25, 2018.
Tokens distribution will start in December 2018.
You can follow this simple Blockchin.io Token Sale Contribution Guide to be a part of this groundbreaking venture.
Investors that contribute more than 100 Euros in the crowdsale using the referral code "emwinVWrVCzugXiWVP3z" will earn a 5% bonus.

FINAL THOUGHTS
Blockchain.io is bringing a new standard to user trading experience. Their platform is built on the latest technology and they are backed by Paymium, a well known exchange company with an exemplary track record. Paymium has never been hacked and from my research online, I could only find positive reviews. I believe it will be the same case with Blockchain.io.
So feel free to be a part of the crowdsale! Head over to the Blockchain.io Token Sale Page and Details, click Contribute and follow the prompts to purchase the BCIO Tokens.
Blockchain.io has announced they would burn all unsold tokens. By decreasing the amount of tokens in circulation, the market forces of demand and supply should drive the value of the remaining tokens up.
This is information potential investors may want to keep in mind.
To learn more about this wonderful project, please visit the Blockchain.io website.
You can also read the Blockchain.io whitepaper for the technical explanations.
The team is always willing to answer questions and you can reach them on any of their social media accounts.
Twitter | Telegram | Facebook | Medium | Reddit | LinkedIn | BitcoinTalk | Youtube | Instagram

DISCLAIMER: The information contained within this post shall not be taken as financial advice. I am not a financial advisor and none of your investing should be carried out based on any information presented here. You can lose all of your money by not investing wisely. The above information is for educational and entertainment purposes only. Kindly endeavour to DO YOUR OWN RESEARCH.
Image Credits: All images were derived from the Blockchain.io website and the Blockchain.io whitepaper.

This is a submission for the Sponsored Writing contest held here