BITSHARES HELP DESK & SUPPORT RESOURCES - How to get answers fast! OpenLedger included!
Need help with Bitshares? Moved FUNDS to the DEX or from it? What happened with your transfer?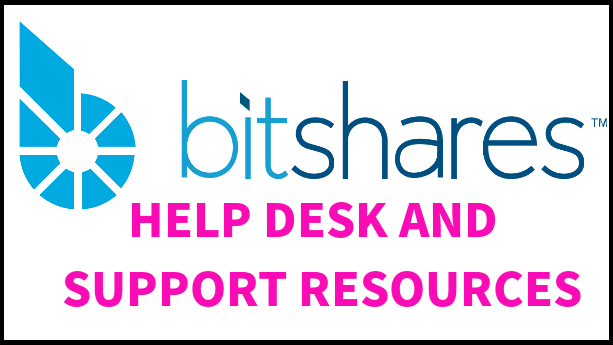 There are odd times when everyone has a question. Getting quick answers is important.
If you have a question with a Microsoft product, you contact Microsoft.
If you have a question for Amazon, you contact Amazon.
Bitshares is decentralized. There is no single point of contact. Who do you contact?
If you created your Bitshares account via OpenLedger, RuDEX, GDEX, or any other way, you might incorrectly think that the wallet creation service will provide technical support to you.
There are hundreds of thousands of new decentralized exchange users getting created all the time. (Not an exaggeration). There are many different ways to move assets to/from the decentralized exchange.
There is PLENTY of help and resources out there to get your questions answered. There is a massive community of volunteers and experienced people who are happy to lend you some assistance.
What do people do?
They contact OpenLedger's ticket system first. They fill it up with any type of question they may have. This should NOT be your first method to get help. If you do, you'll end up causing a backlog of support tickets and end up frustrating yourself.
WHY?
Gateways and Bridges that help you transfer assets to and from the exchange need to run a lean ship so the small fees they take for their services remain small. If they get bombarded with support requests all the time, they'll end up having to hire a massive support network. Would you be upset if you sent 1 BTC to the Bitshares Dex, and after expensive fees, you only got 0.75 BTC worth? Of course you would be mad. (that doesn't happen).
Keeping the Gateways and Bridges like OpenLedger busy at providing the service and only contacting them after you have completely exhausted all other help resources is the best way.
Keep in mind, the blockchain is public. It's an open book. All transactions have transaction ID's, and can be proven. There is a history of everything. So don't worry, your problem can and will be solved.

Time is of the essence. I know this, because when I am moving funds or assets around, when I expect it to happen, I want it to happen. If something goes wrong, I'd like to be on the phone with someone immediately.
Unfortunately because of the sheer numbers of transfers and users, it is impossible to have your own personal paid support representative sitting near a phone waiting for you to call. So that won't happen. :)
---
SO YOU HAVE A PROBLEM. YOU NEED IMMEDIATE HELP. WHAT DO YOU DO?
---
This is what I do, and what I recommend.
1. Don't panic.
Panic does nothing for you, and will screw up the logical part of your mind. Don't turn into a lunatic.
2. Stop and think.
What did you transfer. What is the source of the transfer. What is the destination of the transfer?
3. Make notes. Create your own personal log of the problem.
What amount did you transfer, from what user/account to what user/address or account?
What confirmations or transaction ID's do you have that show it was sent?
What confirmations or transaction ID's do you have that show it was received?
Did you send it TO: the right account? Did it require a memo? Did you type and copy every single thing correctly?
How much time has passed?
4. DO Research.
Are there any network status tweets that have been sent out lately?
Is there a blog post talking about problems?
Is anyone on reddit, steemit, or the cryptomedia news outlets talking about any problems?
Is anyone posting about Bitcointalk about it?
Is there any forums, like bitsharestalk.org talking about this problem?
Has anyone had a similar problem like this before? What happened? How did it get solved?
5. Find a community. Is anyone on Telegram, Discord, Slack, or any other related chat channel
...that could offer you assistance in real time? There's often 100+ people online at any given moment that might be able to hear your question, hear your concerns and help you determine what might have caused this delay. Ask them.
6. Read documentation. Read FAQ's.
Go back and by now take a look and ensure that by this point, your transfer still is in limbo. Was there an email confirmation of the withdrawal you were suppose to click? Is your software up to date? Is the blockchain block ID the same as what it should be? Visit a block explorer and make sure it's updating to the same block number as your own wallet.
7. It's been more than 2 hours, and you are sure something is wrong.
Try another small tiny transfer as a test. Did the second one go through now that you're ready to run a test? Send $5 worth. If the $5 transfer goes through but the earlier one is still in limbo, now it's time to wonder what happened.
8. Ask a question on Bitsharestalk.org.
...then wait 3-4 hours to to see if someone replies to your message. Often people will ask you for your bitshares username and proof of the transfer. You can give that in private message on the forum if you want. Either way, see if someone knows something you don't, or can give you extra information about what might have caused it.
9. Finally after exhausting this long list, if the transfer came from a centralized exchange, put in a ticket with them. * Maybe their node is out of sync with the Bitshares network and eventhough they have a transaction confirmation something went wrong.
10. LAST STEP. Send in a trouble ticket only if you sent coins directly to an OpenLedger created address, or a Rudex created address
...only do this if everyone in the community has tried to help you without success. You should expect to wait anywhere from 1-7 days for a response. Do not panic if you do not get one right away. Sending more trouble tickets or contacting them multiple times is just going to add to their workload. Don't do this, because when everyone does this, it causes even longer delays.
Do you know, as much of 80% of all problems could be completely solved before you even get to step 9 or step 10?
---
If you think this is helpful advice, or would like to add or critique anything I've said, please comment below. :)
---
Also, if you keep hearing about Bitshares and never tried it, read my tutorial on how to get a free Bitshares Wallet