BitConnect Scam: How Many People are Involved? Post 4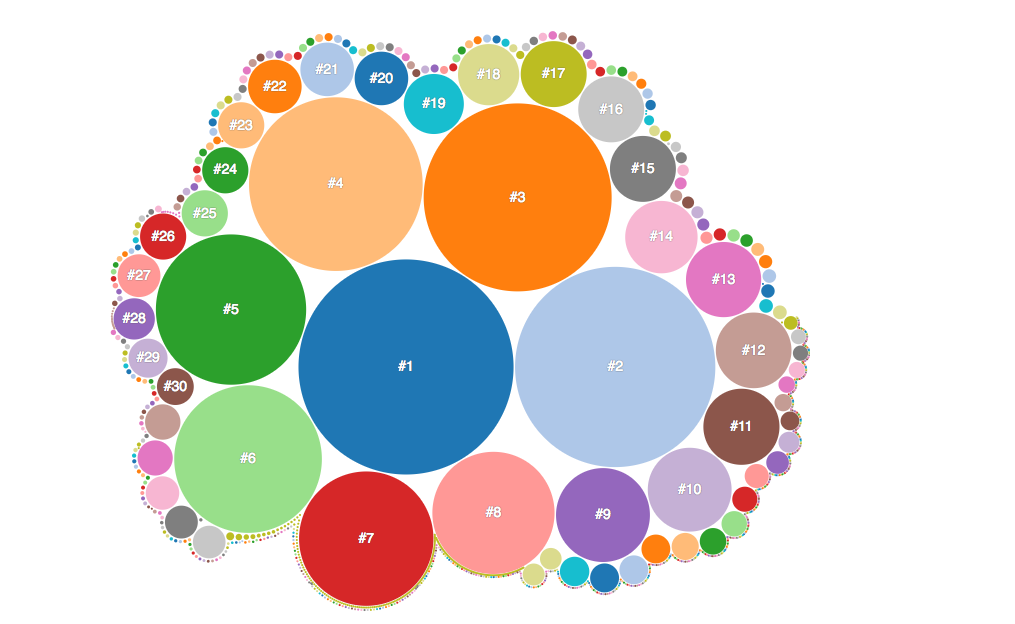 How many people are involved in the Bitconnect Scam? Is it growing? When will it fail?
I was intrigued at the idea that someone could run a pyramid scheme on the open block chain. It would seem too easy to know what was happening and when to go out. So I decided to do a little looking.
BitConnect is a pyramid Scheme. That has been covered in post 1
https://steemit.com/fraud/@cryptick/is-bitconnect-a-ponzi-scheme-post-1
I point out funny bot manipulated market volume in post 2
https://steemit.com/bitconnect/@cryptick/bitconnect-scam-inside-the-bitconnect-trading-bot-post-2
I am taking bets when it will blow up in post 3
https://steemit.com/bitconnect/@cryptick/when-will-the-bitconnect-scam-implode-post-3
I found a really interesting block chain exploration site.
https://chainz.cryptoid.info/explorer/bubble.dws?coin=bcc
You can see who is involved.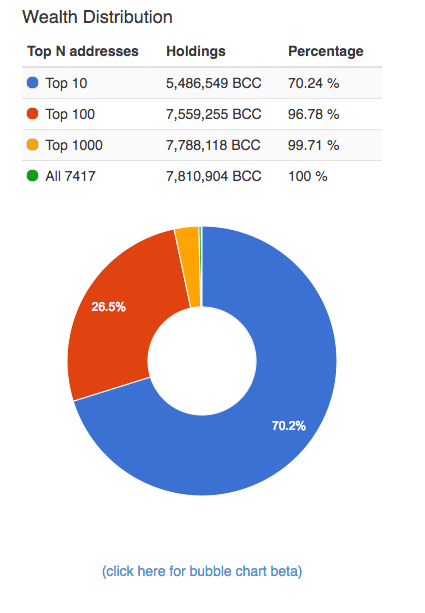 The first thing you might want to notice is that the top 100 people control about 97% of the BitConnect Coin. That means they make the market.
The next interesting number is the all 7,417. That is all addresses/wallets. Some people might have multiple addresses. Some may be out already. Some miners have addresses. However that gives us the best number I have seen to date on how many people are involved.
7,417 people with 7,810,904 coins.
About two days ago that number was
7191 people with 7,796,644
That is an increase of 226 people in about two days.
For simplicity lets call it 100 people a day.
The scam has been going on since the beginning of the year. 7417/270 days is 27.5 or lets call it 30 people a day have joined.
I also found a reference where one American on you tube had about 2,300 people under him on BitConnect. So we may be in the area. If someone has better numbers please share!
A Ponzi scheme will continue until you run out of money and new people to get money from. If we assume this scheme pays 1% a day. It needs 74 people a day. It is currently getting about 100 people a day so it is doing ok.
Now if all of the people invested the minimum $100 this scam is up to 741,000. If they all did $10,000 it would be 74 million. If the all bought in yesterday. It would be like 800 million-based on inflated market cap. I guess the right number is down in the 1 to 10 million range. Others Thoughts?
It might actually be possible to tell, how much "money" every account has by 1) when it was opened 2) how much BCC was in the account at that time 3) what the price was at the time of the account was opened or 4) how much return has been paid on the account. If those numbers were gathered we could predict the exact date of implosion! We could also potential track every interest payment to see if it was reinvested. We could also tell when people sell and know when the stampede happens.
Now one could look at the coin totals; but I warn against that. I suspect the coin totals are artificially inflated as the coin prints money to pay subscribers. The coins have also dramatically shifted in value. Shooting up from around $0.17 to 118.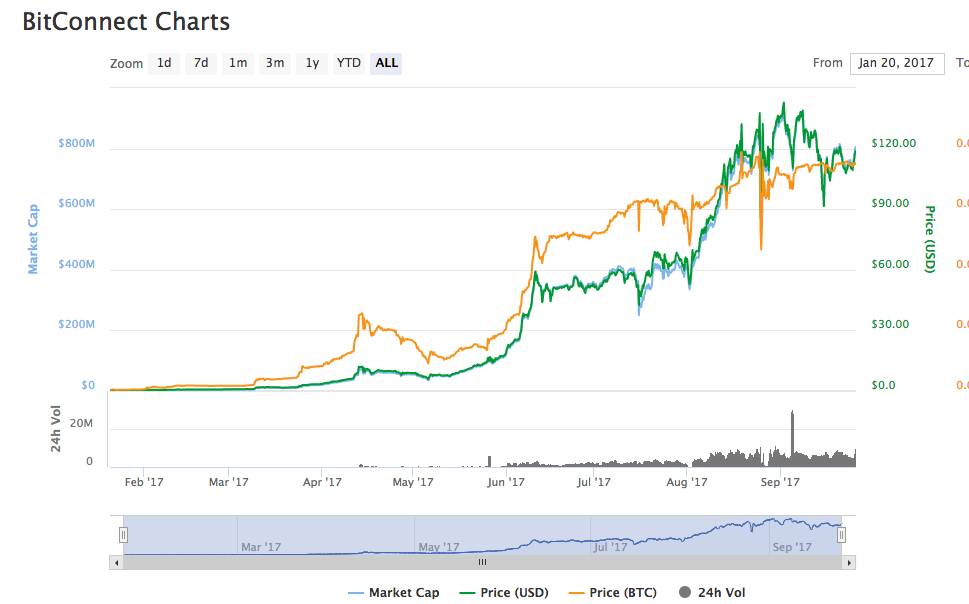 When you have complete control over the currency. You can also set your own price. Because everyone buys the coin as a intermediate step; which is both very confusing and allows for more manipulation, they can put the price wherever they want it.
I like others have called this a Ponzi Scheme. Well when old people cash out they are give coins; which the new people have to buy to get it. Yep. It is a Ponzi Scheme. A good one. But a Ponzi Scheme.
Lets look at some more pictures.
Here is a bubble Chart of of the richest 1000 excluding the top 100.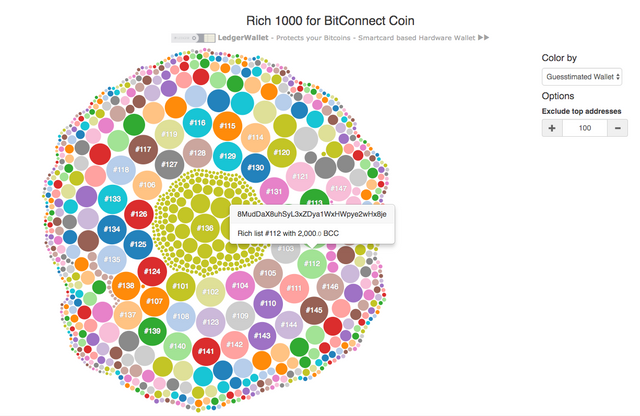 It is sort of cool to see the distribution on who is in on the scam. You can see one dot there represents 2,000 BCC. Such an even number probable does not represent a "real person."
Sense the basis and dates are not really considered, there is not a whole lot of meaning in the numbers. It is cool to play around with it though.If you have money it it you could find your account.
https://chainz.cryptoid.info/explorer/bubble.dws?coin=bcc
You also can explore the block chain. I invite you to see if you can figure it out! We could know when everyone got in, what price they got in at and when the scam is going to blow up. I have not been able to figure it all out. Some of these features are experimental. I did find the bots driving up trading volume. It also bothers me when I see things like this...
https://chainz.cryptoid.info/bcc/block.dws?178680.htm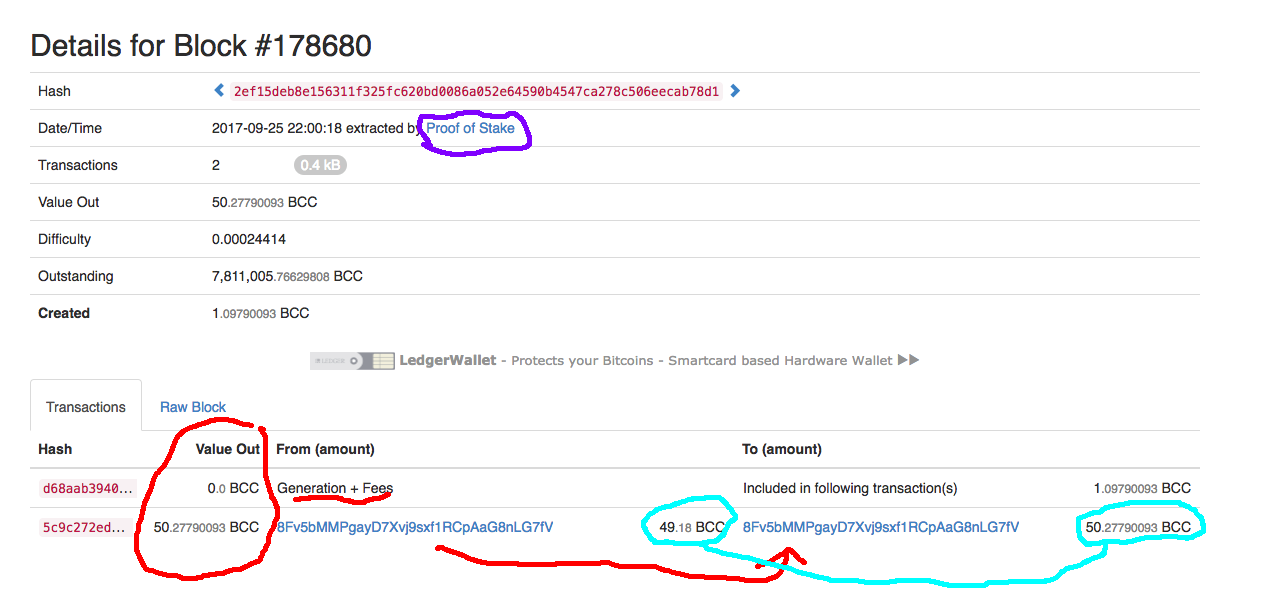 To me that looks they are are just printing money. The address is the same, but the money goes up! The Bot goes by and increases the amount of money in the account! I must be in the wrong business! I mean this is like printing money without having to deal with dirty paper or ink!
Yeah. I would like more public scrutiny on the BitConnect Block chain. Maybe someone could explain this to me. But that looks like printing money to me. I don't see results of a legitimate trading bots. I do see bots driving up the price of Bitconnect Tokens. I think I have found the secretive BitConnect trading bot. You just inflate your way to success. Before you think printing money is a good long term plan look at Venezuela!
Please, take advantage of the open source block chain to check out BitConnet. To me this smells like a scam.
Now I am not the only one hear who has heard of a block chain.
What do you think?
Let me know in the comments!
Edit:
Post 5 Inside the Facebook Profile of a Scammer.
https://steemit.com/bitconnect/@cryptick/bitconnect-scam-inside-the-facebook-profile-of-a-scammer-part-5