Is BitConnect a Ponzi Scheme? Post#1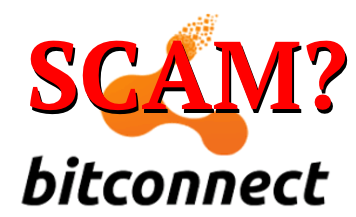 If Bitconnect is not a scam, Why doesn't Bitconnect keep profits for themselves? Bitconnect claims to pay investors 1 to 2% a day. Others say it is a legitimate investment and these returns are legitimate.
Whenever you look at a business it is import to consider, if it's claim are logical and legitimate. Some allege that Bitconnect is a Ponzi scheme. Bitconnect claims to pay from 0 to 3% percent returns DAILY as a result of its trading activity. If it can get these returns, why does it need your money?
Anyone who has dealt with people and customers know they can be a pain. It requires hiring staff, answering emails, managing websites and more. If you can make the money without customers, it can greatly simplify a business plan. If you can prove an easy way to make money, it can be easy to attract investors. One concern that we should consider, is that if Bitconnect returns are legitimate, why does it want your money? It could just make money and then reinvest the returns.
To begin with let's just assume a 2% daily return. Now for comparison, the stock market returns about 10% a year. We all know that there are 365 days in a year. Simple math (365x2) would indicate these returns are really fantastic before considering compounding effects. A spreadsheet and a little basic math will show how crazy this is. If you take $10,000 and make 2% a day, the returns grow very quickly. Here is a table.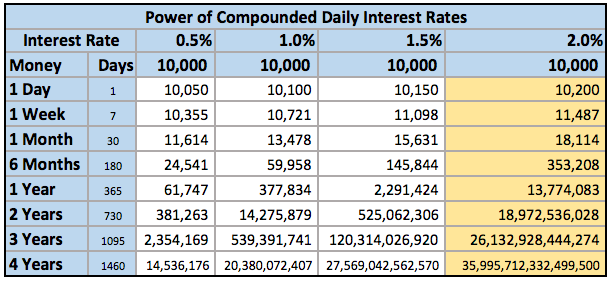 Looking at the numbers in yellow, if you grow 2% a day at the end of day 1 your $10,000 grows to $10,200. This is easy to do on a calculator. At the end of week one this 2% of day has grown to $11,487. Now hold you horses, before you get excited. This too is easy to prove with a simple calculator, -you probably have one on your cell phone. It just takes 7 steps. You multiple 10,000 times 1.02 seven times. You can prove all these numbers for yourself, very easily with a spreadsheet, or calculator. Looking down the chart, the numbers get real big. At 2% a day 10,000 can grow into a million in less than a year. At the end of 2 years, it is worth 18 billion. At the end of four years it is worth 35 quadrillion! I think that is enough to pay off the national debts of every country in the world, and still have money left over to buy everybody person on the planet an ice cream cone, a mansion and a boat. (Yes, I actually shrank the font size on line four.) This is the power of compounding interest. Everyone agrees it works this way. It is not a secret.
The problem is that no one is able to do it, -or we would all be rich.
People want to believe they can get rich quick. It is not that easy. One needs to ask hard questions.
So if Bitconnect is able to give these returns, why aren't they rich already. It takes money to start a business. That money could be invested and grown daily. In two years they would be billionaires. In four years every person in the world would have a new Yacht!
Simple put ....this does not work!
You only need to understand this once in your life and then apply in every situation someone is offering high yield investments. It makes it very easy to spot a scam a mile away! If it sounds too good to be true, it probable is.
Bitconnect does not guarantee 2% a day. The rate changes every day. I think the variable rate is done as a marketing ploy to keep you interested and engaged. I think it is mostly random, like the roll of dice, or the spinning wheels of a slot machine. I think it is also engineered to keep you interested, focused on something that doesn't matter and make the scam more exciting. Humans like variable reward, this is what makes slot machines exciting. You never know what is going to happen next. That said, come the end of the month Bitconnect has been paying out daily rewards that average to about 40% a month. This is not realistic, meaning that Bitconnect is a likely scam.
Now in the above table I included several other interest rates. You can pick whichever one you want. All these daily interest rates are ridiculous.
Bitconnect is full of red flags. There is some interesting and excited posts instore that show how this scam works. Stay tuned. There are lots of other factors we can look at with Bitconnect.
Logically, Bitconnect is most likely a scam. If it could make the returns it says it could make, it would make more sense to keep that money for itself. The people behind Bitconnect are not dumb, they are banking on customers who are greedy. Bitconnect cannot logically make the returns it says it can. No one has been able to this is the past. This should give everyone pause. Some will still invest in Bitconnect. Those people are likely to learn an expense lesson.
I am not saying we need to kill all the stupid people,
but let's just take the warning labels off everything and see what happens.
–Quote from Facebook feed.
Stay tuned. I have some interesting and exciting Bitconnect posts planned!
Edited: Post 2
Inside theBitConnect Trading Bot
https://steemit.com/bitconnect/@cryptick/bitconnect-scam-inside-the-bitconnect-trading-bot-post-2
Guess when it will collapse Post 3
https://steemit.com/bitconnect/@cryptick/when-will-the-bitconnect-scam-implode-post-3
How Many People Are Involved? Post 4
https://steemit.com/bitconnect/@cryptick/bitconnect-scam-how-many-people-are-involved-post-4
Inside the Facebook Profile of a Scammer Post 5
https://steemit.com/bitconnect/@cryptick/bitconnect-scam-inside-the-facebook-profile-of-a-scammer-part-5