🗞 Daily Crypto News, June, 25th💰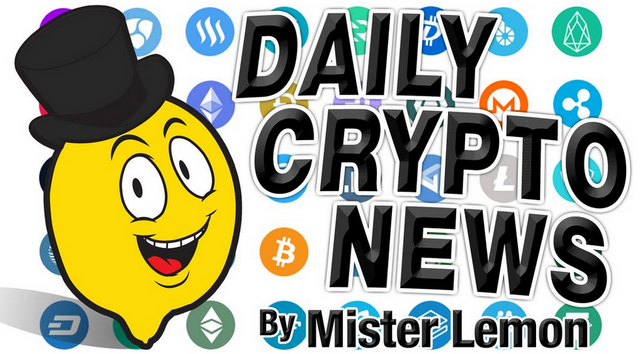 Welcome to the Daily Crypto News: A complete Press Review, Coin Calendar and Trading Analysis. Enjoy!
The Bank for International Settlements (BIS), often described as the bank for central banks, has issued its annual report for 2019, expressing concerns over the expected disruption as big tech firms like Facebook enter the financial space.


While titled "Big tech in finance: opportunities and risks," the report looks at the risks and challenges posed by companies such as Alibaba, Amazon, Facebook, Google and Tencent, rather than paying lip service to the potential benefits of this building fintech revolution.


These firms have developed huge customer bases, says BIS, and have the benefit of a "data-network-activities loop" which gives them " the potential to become dominant."


While the encroach of such companies into payments, money management, insurance and lending has only just started, it brings the potential for major change in the finance industry.
Allowing Facebook to mint its own coin, the Libra, would turn it into the greatest anti-competitive trust case in history. It would make the early 20th century Morgans or Rockefellers seem downright competitive.


Even before it unveiled its vision for a global cryptocurrency this month, Facebook was already a near-monopoly in social media, and part of a duopoly in its main markets. Together with Google, it controls 82% of the digital advertising market. 


In the past, Facebook has purchased any company that threatened it, e.g. Instagram and WhatsApp. And, when it spots a company that won't sell itself or would be difficult to purchase, it uses the "embrace, enhance and extinguish" technique.  
Bitcoin's 165 percent gain so far this quarter is the best second quarter performance on record and the highest quarterly percentage gain since the end of 2017. The stellar gains have bolstered the long-term bullish technical setup.


While the relative strength index is reporting overbought conditions, there are no signs of bullish exhaustion on the daily, 3-day or weekly charts. As a result, the outlook remains bullish with resistances lined up at $11,247 and $11,394, according to Bitstamp data.


A minor pullback to $10,000 could be seen if the price again fails to hold onto gains above $11,000, validating a more bearish setup on the 4-hour chart.


The bullish outlook would be invalidated if the price finds acceptance below $9,097 (May 30 high).

ThinkMarkets chief market analyst Naeem Aslam predicts that bitcoin (BTC) will hit somewhere between $60,000 and  $100,000 during its next bull run, according to a Fox Business interview on June 24.


Aslam had previously predicted on June 17 that BTC would hit $10,000 in "a couple of weeks," citing institutional involvement as a major driver. Bitcoin successfully reached the five figure mark on June 22, marking a record high that has not been seen in over one year.


According to Aslam, the major price points to look out for now are $20,000 and $50,000. He argues that by hitting $20,000, discussion will move from conservative estimates exceeding the number one cryptocurrency's all-time high to forecasts of $50,000; from there, breaking $50,000 will move the price target to $100,000. 
The President of Uganda, Yoweri Museveni, will officiate the 2019 Africa Blockchain Conference, according to a report by Kabuubi Media Africa on June 24


According to the report, The 2019 Africa Blockchain Conference — not to be confused with  The Blockchain Africa Conference 2019 which occurred in April — will be held from July 3 to July 4, and the theme is 'Africa 4.0:  Preparing Africa for the 4th Industrial Revolution.' The conference topics will reportedly include fintech, payment systems, and the future of education.


President Museveni reportedly supported the use of blockchain technology in Uganda during his inaugural speech. Museveni is said to have cited four economic areas that he believes should be supported by blockchain technology: agriculture, manufacturing and processing, services, and the ICT sector.
📑 Daily Crypto Calendar, June, 25th💰
"12 Days till $Waves dode release which will enable full-scale #dapps."
COSS and LALA tokens merge to become COS token.
"NYC Cardano Meetup is holding another Cardano Meetup on 25 June!"
"Trading starts on the 25th of June when VRA/BNB pair opens for trading."
Justin Sun Livestream
STEEM Trading Update by my friend @cryptopassion
Here is the chart of yesterday :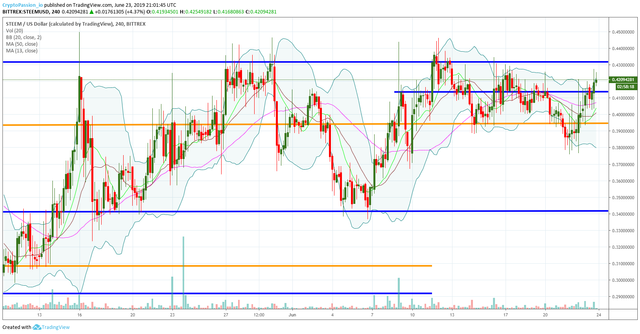 Here is the current chart :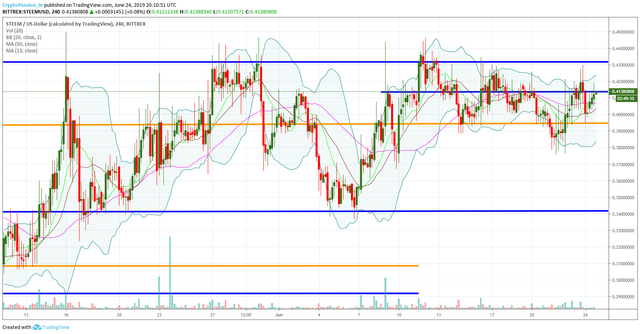 As predicted yesterday, we went touch the resistance line at around 0.43$. However, we had an immediate rejection from the market as you can see with the several red candles. So yeah this first try was no a success. We are now progressing again and trying to break back the resistance line at 0.41$. Let's see when it will be done if we will be able to break the 0.43 resistance line with a second attempt.
Last Updates
Join this new Free To Play on the STEEM Platform !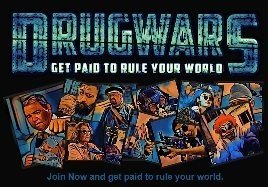 You don't want to miss a Crypto news?
Join SteemFollower and get Upvotes back !
---
Posted from my blog with <a

---
Posted from my blog with SteemPress : https://scrips.io/blog/mr-cryptolemon/%f0%9f%97%9e-daily-crypto-news-june-25th%f0%9f%92%b0/
---