🗞 Daily Crypto News, June, 13th💰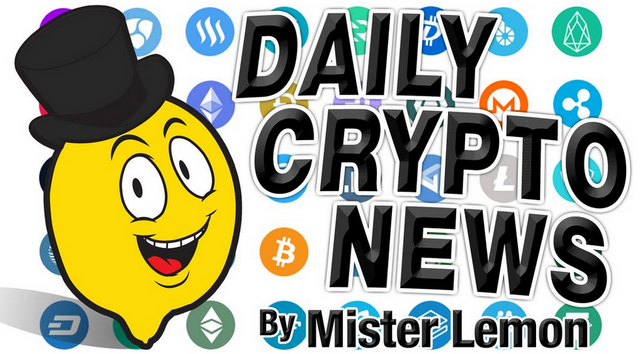 Welcome to the Daily Crypto News: A complete Press Review, Coin Calendar and Trading Analysis. Enjoy!
Wednesday, June 12 — Top cryptocurrencies bitcoin (BTC), ether (ETH), and ripple (XRP) are all in the green. Cryptocurrencies on the whole are trending up today, according to data provided by Coin360.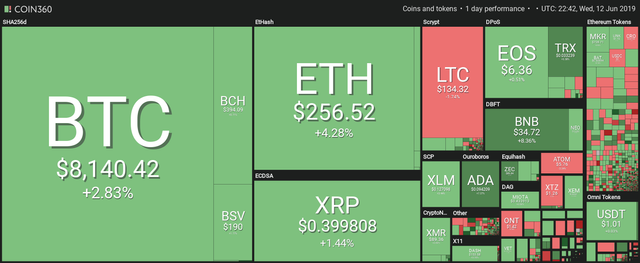 Bitcoin's 50- and 100-candle moving averages on the three-day chart look set to produce a bullish crossover – a sign of bull market momentum. Back in October 2015, the same cross marked the start of a long-term bull market.


This time, BTC has already rallied more than 180 percent ahead of the bull cross. As a result, we may not see a big move to the higher side immediately following the confirmation of the bull cross.


Prices could rise to $8,400 in the next 24 hours, having witnessed a bearish channel breakout on Wednesday. A break below key 4-hour chart support at $7,910 would weaken the case for a rise to $8,400.
The Takeaway:


With $63.2 million in fresh funding from 14 banks, Fnality is building tokenized versions of five major fiat currencies.
The digitized fiat would be fully collateralized by cash held at central banks and is meant to solve the "cash on ledger" problem faced by other financial blockchain projects.


The consortium says it is open to working with JPMorgan, whose JPM Coin project has similar aims.


Fnality's tech partner, Clearmatics, is building these systems on a private version of ethereum.
Cryptocurrency exchange Ethfinex, the sister exchange of Bitfinex, has launched a test decentralized autonomous organization (DAO), the company confirmed in a blog post on June 12.


Ethfinex — which earlier this month launched a decentralized over-the-counter (OTC) trading platform — said it wants to decentralize control of its operations.


The DAO was built by DAOstack and is known as efxDAO, with an initial funding budget of $5,000.


"Today we reach an important milestone in our path to decentralised governance of Ethfinex," the exchange's community lead, Ben Wilson, wrote in the blog post. Wilson added:


"We have collaborated with decentralisation protocol experts DAOstack to create an experimental funding Decentralised Autonomous Organisation (DAO), efxDAO."
An Indian government-initiated program is offering a course for undergraduates to learn about cryptocurrency, blockchains, and their use cases. This 12-week interactive course is free to enroll and learn from. Among the topics covered are Bitcoin basics and consensus. Meanwhile, India's regulatory framework for cryptocurrency is reportedly ready.

A learning platform called Swayam, which was initiated by the Indian Government's Ministry of Human Resource Development, is offering a free computer science course on Bitcoin, cryptocurrencies and blockchains. This 12-week undergraduate course entitled "Blockchain Architecture Design and Use Cases" runs from July 29 to Oct. 18. The exam will be on Nov. 17 for those wanting to obtain a certificate from the course. This is an All India Council for Technical Education (AICTE) approved Faculty Development Programme (FDP) course.

📑 Daily Crypto Calendar, June, 13th💰
FinanceX lists XLM with VND and IDR pairs at 10 AM (UTC+7).
LTO Network gives a keynote presentation on LTO x IBM Watson at IBM Think Conference in Amsterdam.
Find out why #blockchain technology is beyond just crypto and FinTech and how it can help as a lever of sustainable development with #NEM...
"Join Qtum Official on June 13th at 4PM UTC for an AMA in the Trust Wallet Telegram group."
"...The first issue of TENX Tokens to eligible token holders will be carried out on 13 June 2019."
STEEM Trading Update by my friend @cryptopassion
Here is the chart of yesterday :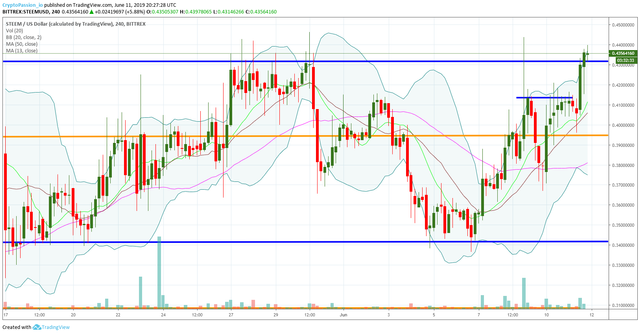 Here is the current chart :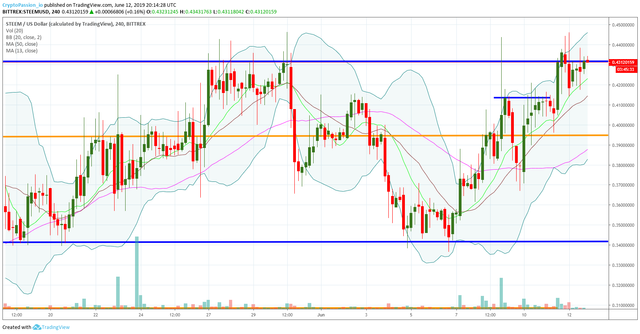 So yesterday I was saying you that the best scenario was a pull back on the support line as consolidation and after the continuation of the UP. We dropped more deeper than the support line but it looks like the market want again come back on that line. We are now sitting on it and we need a break out in one of the directions.
Last Updates
Join this new Free To Play on the STEEM Platform !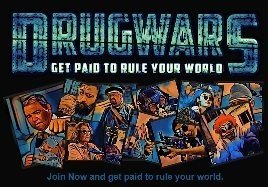 You don't want to miss a Crypto news?
Join SteemFollower and get Upvotes back !
---
Posted from my blog with <a

---
Posted from my blog with SteemPress : https://scrips.io/blog/mr-cryptolemon/%f0%9f%97%9e-daily-crypto-news-june-13th%f0%9f%92%b0/
---