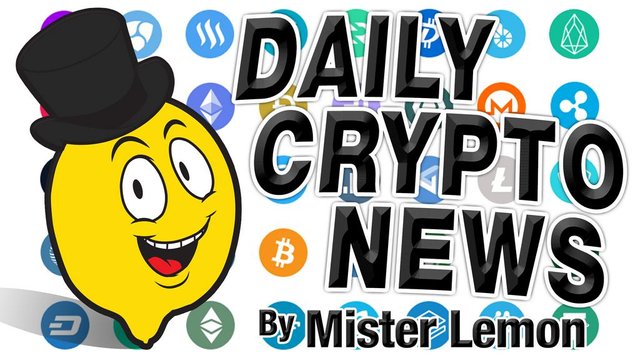 Formerly Top Cryptocurrency Exchange Huobi To Open Office In US;
Coinshares Group Plans to Launch New Crypto-Investment Funds;
Taipei Partners With IOTA To Become A Blockchain-Powered Smart City;
Russia's Largest State Bank To Open Cryptocurrency Exchange In Europe;
Square Adds Bitcoin Buying for More Cash App Users
STEEM Trading Update by @cryptopassion
🗞 Formerly Top Cryptocurrency Exchange Huobi To Open Office In US
Huobi, one of the largest cryptocurrency exchanges that was originally founded in China, has revealed its plans to open an office in San Francisco. The announcement took place during the Blockchain Connect conference Friday, Jan. 26.
Blockchain Connect, an event that focused on the cooperation between the US' and China's cryptocurrency markets, took place on Friday, Jan. 26 in San Francisco.
Read more & Source: https://cointelegraph.com/news/formerly-top-cryptocurrency-exchange-huobi-to-open-office-in-us
🗞 Coinshares Group Plans to Launch New Crypto-Investment Funds
This week the firm Coinshares Group has announced two new investment vehicles tethered to cryptocurrencies. Coinshares was the first organization to launch publicly traded bitcoin and ethereum-based exchange-traded-notes (ETN), and the firm's new funds will offer retail investors more "familiar channels" to invest in the growing digital asset economy.
Read more & Source: https://news.bitcoin.com/coinshares-group-plans-to-launch-new-crypto-investment-funds/
🗞 Taipei Partners With IOTA To Become A Blockchain-Powered Smart City
Taipei, Taiwan is seeking to become a smart city by utilizing the power of Distributed Ledger Technology (DLT), or Blockchain. The city has chosen to partner with IOTA, the inventors of the so-called Tangle technology for the Internet of Things (IoT), to provide a number of new technology features for residents.
Wei-bin Lee, Commissioner of the Department of Information Technology in Taipei City Government, suggested in an official press release that the 'unique technology' offered by IOTA will usher in a 'new era of smart cities for the citizens of Taipei'.
Read more & Source: https://cointelegraph.com/news/taipei-partners-with-iota-to-become-a-blockchain-powered-smart-city
🗞 Russia's Largest State Bank To Open Cryptocurrency Exchange In Europe
Sberbank, the largest state bank of Russia, is planning to launch a cryptocurrency exchange in its Swiss branch, Sberbank Switzerland AG, local media group RBC reported on Tuesday Jan. 30.
The bank's Head of Global Markets Andrey Shemetov told RBC that the Russian bank chose Switzerland for the exchange location because Russian authorities do not currently allow cryptocurrency operations, while cryptocurrency exchange is legal in Switzerland.
Read more & Source: https://cointelegraph.com/news/russias-largest-state-bank-to-open-cryptocurrency-exchange-in-europe
🗞 Square Adds Bitcoin Buying for More Cash App Users
Digital payments company Square is rolling out the ability to buy and sell bitcoin to more users of its popular Cash App.
The company announced today that, following news last year that it was testing the feature with a limited number of users, the option is being expanded further. That said, users in the U.S. states New York, Georgia, Hawaii and Wyoming – which have more restrictive regulations around the brokering of cryptocurrencies – won't be able to access the option just yet.
Read more & Source: https://www.coindesk.com/square-adds-bitcoin-buying-cash-app-users/
Daily Crypto Calendar, February, 1st
"Elizabeth Mong will personally host this Meetup on February 1st."
"The new PacCoin roadmap is being discovered by the new DEV team and the community and will be relaunched shortly around Feb 1st/2018."
Whitepaper Release
IOTA co-funder will speak at ituemk Istanbul Technical University Symposium of Industrial Engineering
Bitcoin Hush Airdrop. For each 1 HUSH, SUPERNET, DEX, BTC you will get 1 BTCH.
BitcoinSpread Hard Fork
"All existing SpreadCoin (SPR) holders will get 1:1 fork of the coin on the new chain."
Read more & Source: https://steemit.com/bitcoin/@vlemon/daily-crypto-calendar-february-1st
The STEEM broke our support line yesterday but we can see that the market didn't give up yet :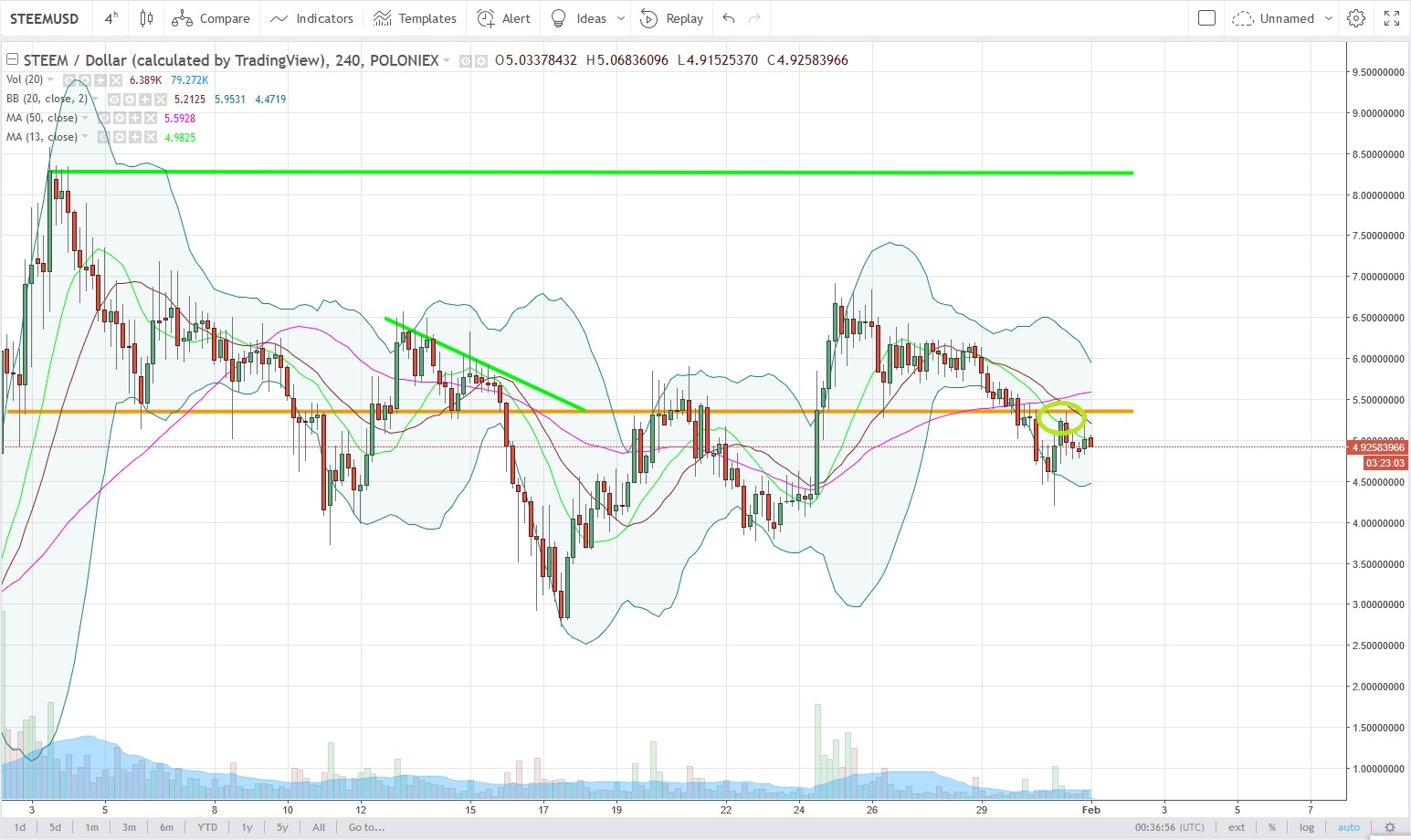 We are staying close to that line which is now a resistance line and we already tested it one time (green circle).
If the BTC could make a little up, I think we could easly go back upper of that line. However, if the drop should continue on the BTC, we don't have any important support on the STEEM before the previous low arounf 2.75$. I hope we won't reach these levels but keep in mind this is a possibility.
You don't want to miss a Crypto news?