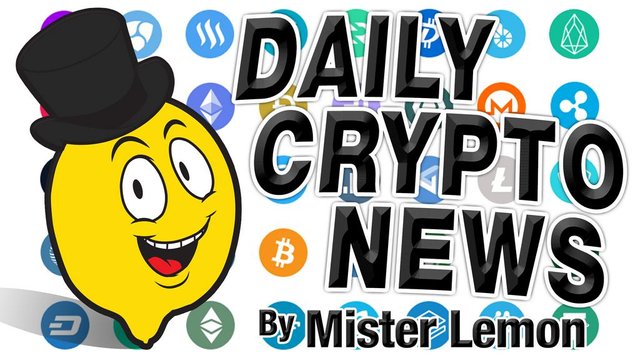 Bitfinex, Tether Get Subpoenas From US Regulators;
Facebook Bans Cryptocurrency, ICO Ads Because Of 'Deceptive Promotional Practices';
Sberbank to Bypass Russian Regulations and Trade Cryptocurrencies Overseas ;
State of Texas Orders 'Decentralized Bank' ICO Project to Cease Operations;
Ethereum Now Has Its Own Self-Sustaining Pyramid Scheme
STEEM Trading Update by @cryptopassion
🗞 Bitfinex, Tether Get Subpoenas From US Regulators
Update: Nathaniel Popper, a reporter from New York Times, has claimed in a tweet that the subpoenas were delivered on Dec. 6 and not last week, according to 'source familiar with the matter.'
Major cryptocurrency exchange Bitfinex and token issuer Tether have received subpoenas from US regulators as questions continue to arise about the latter's 'true' value.
Read more & Source: https://cointelegraph.com/news/bitfinex-tether-get-subpoenas-from-us-regulators
🗞 Facebook Bans Cryptocurrency, ICO Ads Because Of 'Deceptive Promotional Practices'
Facebook has updated its advertising policy, announcing in a blog post Tuesday, Jan. 30 that it prohibits ads that use "misleading or deceptive promotional practices," which, according to the social media platform, includes ads of cryptocurrencies and Initial Coin Offerings (ICOs).
The announcement claims that there are "many companies" that use Facebook's platform to advertise financial products, such as binary options, cryptocurrencies and ICOs, but do so "[not operating] in good faith".
Read more & Source: https://cointelegraph.com/news/facebook-bans-cryptocurrency-ico-ads-because-of-deceptive-promotional-practices
🗞 Sberbank to Bypass Russian Regulations and Trade Cryptocurrencies Overseas
The largest bank in Russia, the state-owned Sberbank, has reportedly announced its plans to bypass the Russian cryptocurrency regulations and offer crypto trading to customers overseas. The bank is looking at trading pairs of the most liquid and well-known cryptocurrencies.
Read more & Source: https://news.bitcoin.com/sberbank-bypass-russian-regulations-trade-cryptocurencies-overseas/
🗞 State of Texas Orders 'Decentralized Bank' ICO Project to Cease Operations
This week the Texas Department of Banking Commissioner, Charles G. Cooper, issued a cease and desist order to an alleged 'decentralized cryptocurrency-bank' called Arise Bank. The commissioner explains the startup unlawfully claims to be a banking institution and its operations must stop engaging with residents from the state of Texas.
Read more & Source: https://news.bitcoin.com/state-of-texas-orders-decentralized-bank-ico-project-to-cease-operations/
🗞 Ethereum Now Has Its Own Self-Sustaining Pyramid Scheme
In the world of cryptocurrencies, there are plenty of scams, pyramid schemes, and Ponzis to be aware of. Unsurprisingly, there are also honest pyramid schemes which make no bones about what they are doing exactly. The PoWHCoin project, for example, positions itself as the world's first autonomous and self-sustaining pyramid scheme. It's an interesting idea and one that is seemingly receiving a lot of funding as well.
Read more & Source: https://themerkle.com/ethereum-now-has-its-own-self-sustaining-pyramid-scheme/
Daily Crypto Calendar, January 31st
TRX won the poll for the listing on BitClude exchange
Space company partnership being announced soon.
"HardFork coming January, 2018! The new $THC will be more advanced and comes with many technological upgrades!"
THC will connect with new partners, fund managers and platform developers.
These 2 verified Stratis ICOs "will not start until at least the end of January". One of them is "an industry leader in China".
"Mainnet, 2018 roadmap, and introduce a number of DApps that will run on top of the ICON network"r 2018- Interoperability initiatives
Blockmarket Web 1.0 & Desktop 1.x
Roadmap Release
"DNV GL will announce our partnership at London in late January, and we are excited to start the journey with DNV GL."
"PoS mining function development is completed. Main chain starts to operate."
Read more & Source: https://steemit.com/bitcoin/@vlemon/daily-crypto-calendar-january-31st
As expected, the STEEM is following the trend of the Bitcoin and we just broke one major support line on the STEEM :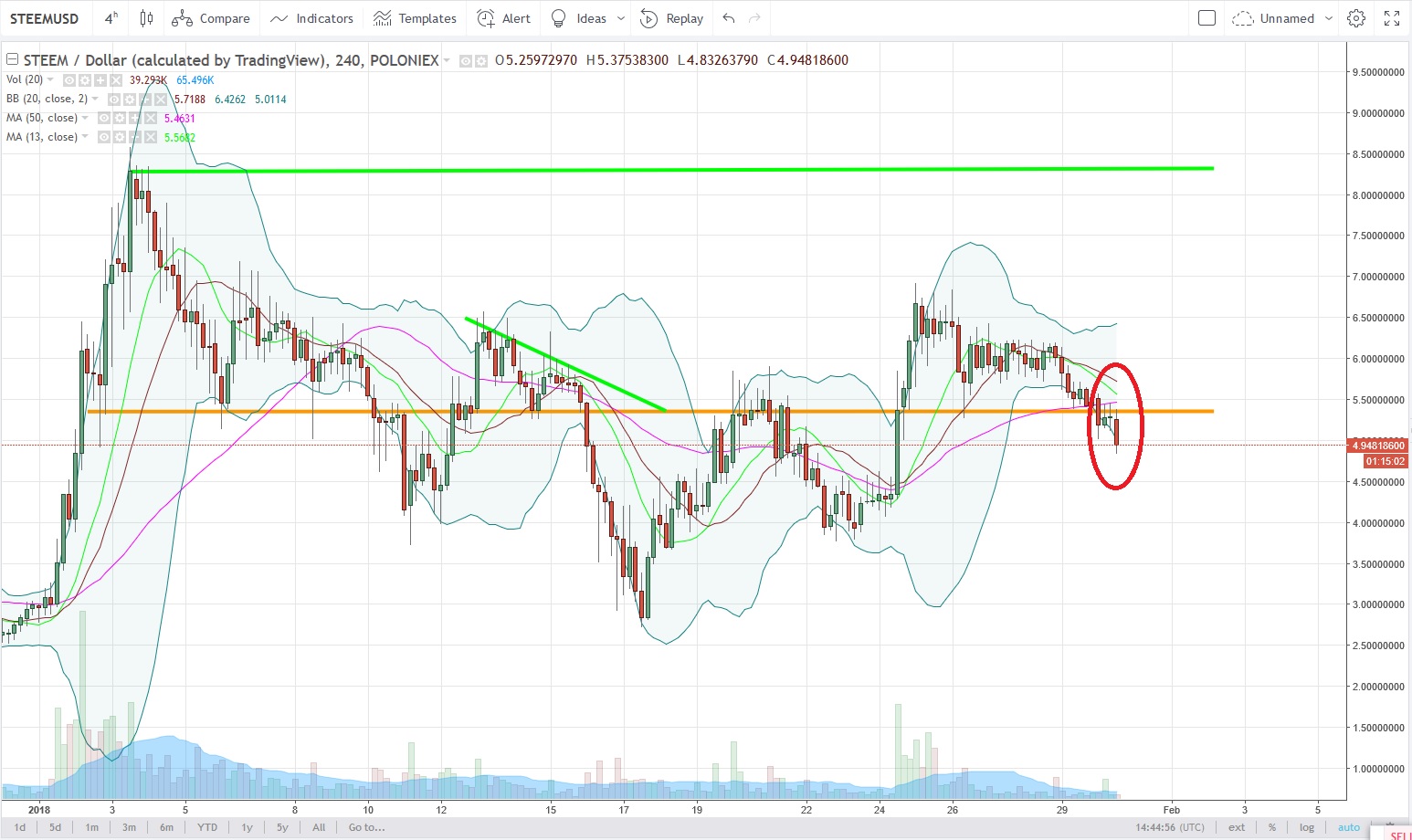 Let's see how the buyers will react in the coming hours. It could be a simple Head Fake before a return upper than this support line or it could be the start of a new correction after that long period of consolidation...
You don't want to miss a Crypto news?