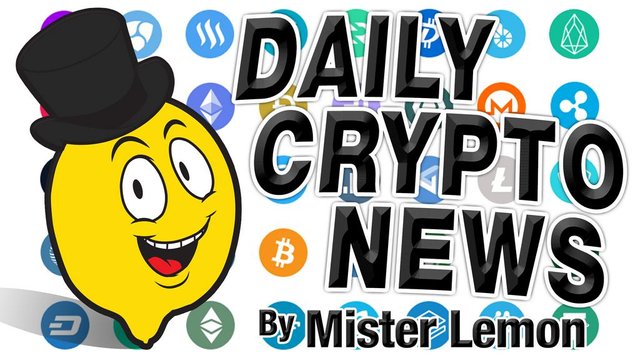 World's Largest Investment Company: 'Interesting' Bitcoin Is Under 'Close Review';
New Website Ranks 600 Cryptocurrencies by Github Activity
Understanding the Complex Nature of South Korea's Cryptocurrency Ecosystem;
Bitfury Enters Bitcoin Crime-Fighting Business with Crystal Launch
Tether Severs Ties With Its Auditor, Leaving Its Accounts Shrouded in Mystery
🗞 World's Largest Investment Company: 'Interesting' Bitcoin Is Under 'Close Review'
Isabelle Mateos Y Lago, chief multi-asset strategist at BlackRock, an investment management corporation with $5.7 trln in assets under management, has said that the company is keeping cryptocurrency under "close review" as an "interesting development."
Speaking to Bloomberg TV Monday, Jan. 29, the senior executive said that although cryptocurrency did not constitute "an investable asset" for the world's largest money manager at present, it was actively tracking progress as it is "clearly evolving very fast."
Read more & Source: https://cointelegraph.com/news/worlds-largest-investment-company-interesting-bitcoin-is-under-close-review
🗞 New Website Ranks 600 Cryptocurrencies by Github Activity
From market cap to trading volume, there's a lot of ways to assess and quantify cryptocurrencies. Traders evaluating new crypto projects are prone to diving deep in their quest to uncover diamonds in the rough. Github activity – the frequency with which the code governing cryptocurrencies is updated – provides a good indicator of which projects are still being cared for and which have been allowed to go to seed. Cryptomiso is a new website that logs and charts the Github commits for over 600 cryptos, and its top 10 contains a few surprises.
Read more & Source: https://news.bitcoin.com/new-website-ranks-600-cryptocurrencies-github-activity/
🗞 Understanding the Complex Nature of South Korea's Cryptocurrency Ecosystem
It is safe to say the cryptocurrency situation in South Korea is a lot more complex than most people think. A recent string of regulations has introduced some interesting albeit positive changes to this nascent industry. Moreover, the country's National Pension Fund plays a surprisingly big role in the future of cryptocurrency.
Read more & Source: https://themerkle.com/understanding-the-complex-nature-of-south-koreas-cryptocurrency-ecosystem/
🗞 Bitfury Enters Bitcoin Crime-Fighting Business with Crystal Launch
After years of working with government agencies leery of bitcoin's seedy past, the blockchain services firm best known for its bitcoin transaction processing business has decided to take matters into its own hands. Launched today, a number of tools collectively identified as Crystal are intended to make it easy for users to identify and investigate criminal activity on the world's largest blockchain.
"The industry needs some very user-friendly tools so that you can track bitcoin transactions and see if this bitcoin address that you're getting money from is green or black."
Read more & Source: https://www.coindesk.com/bitfury-enters-bitcoin-crime-fighting-business-crystal-launch/
🗞 Tether Severs Ties With Its Auditor, Leaving Its Accounts Shrouded in Mystery
Barely a week passes when Tether isn't in the news. For a so-called stable coin, Tether and its acolyte Bitfinex are at the center of a lot of instability within the cryptoverse. After it emerged over the weekend that Tether had kissed goodbye to its auditor, critics of the opaque company began to wonder whether they would ever be granted a glance at the company's books. Months of promises have ended with a whimper now that auditor Friedman LLP has exited stage left.
Read more & Source: https://news.bitcoin.com/tether-severs-ties-with-its-auditor-leaving-its-accounts-shrouded-in-mystery/
Daily Crypto Calendar, January 30th
NEO Developers Conference: Two-day NEO DevCon conference Jan 30-31, full of innovative ideas and projects, and featuring many top speakers from Blockchain space.
ECA will be listed on Next.Exchange in January
"The #Lunyr Open Beta launches January 30, 2018!"
Whitepaper v2
1st OmiseGO Q/A on Youtube (30/01)
NEO DevCon : "Kisaguncan will also be speaking at NEO DevCon this month about the Enigma protocol and secret contracts."
Read more & Source: https://steemit.com/bitcoin/@vlemon/daily-crypto-calendar-january-29th
You don't want to miss a Crypto news?