Ripple throws us back to 20-th century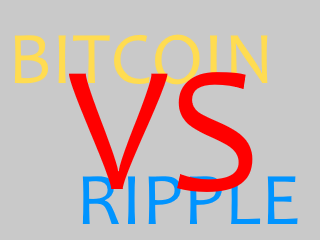 UPDATE:
22.12.2019: Ripple still isn't blown away.
So today is January 2018 and what we see. Ripple is trying to take over Bitcoin. Is it so good? Why is it happening? Let's see and get to the bottom of this.
Most important reason XRP is raising in its price nowadays is the banks. Stop. What? Aren't we using cryptocurrencies to forget central banks as 20-th century's worst nightmare? Haven't the bankers printed banknotes to themselves without any limits, launched wars, taken huge percent and fees, pounded in bondage, cut zeros from our accounts and froze them, withdrawn the funds for the benefit of some doubtful organizations and etc.? Yes, that's them. So Ripple is rising because more and more banks establish partnership with it. 
Imagine you're large worldwide bank chief. You ask your technical consultant what is Bitcoin, blockchain, ICO and cryptocurrencies. And you don't like the answers because you want people to be in need of your cabalistic services. So you ask your consultant how your bank can try to look modern, innovative, participating in this blockchain revolution for its own good. Declaring war to Bitcoin and crypto is useless he says. But there is one way. The bank can establish partnership with Ripple. It takes nothing from it and gives no credits to Bitcoin. From the other hand this move says to geeks and specialists that the bank is modern and up with time. And as simple as that everyone benefits.
Second thing is centralized Ripple itself with emission, rules and consensus control by the one and only organization. I did not find in white paper that emission is limited. But price grows more and more. Banks still have the ultimate power and they pump Ripple further so Bitcoin will eventually move to the second places by capitalization. That's the tactics they are trying for now. If you cannot destroy then you should lead it. Lead the blockchain revolution. Without blockchain, Proof of Work or Proof of Stake. Because Ripple is not really a blockchain company. Go look if for yourself. The only way Ripple can be what it meant to be is if participating banks accept XRP as a currency for mutual settlements. But that is not going to happen because XRP is too volatile. Even if it would it will give the world just a small step forward. But Bitcoin is revolution.
What will happen next is getting more and more interesting. Will Ripple become #1 currency by capitalization? What next? Emission of 100 billions XRP for participating banks?  Follow me and we will stay tuned together. If you like this topic you should upvote so I know it and post more interesting facts.