Lightning Network 5,477 Active Channels ! 40% Increase In A Week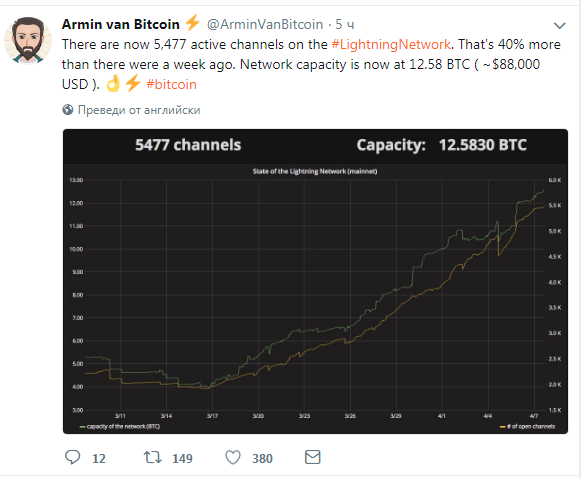 Today I was browsing through my twitter feed and saw something very intersting about Bitcoin. As we all know the lightning network is considered to be extremely important for Bitcoin and is the gate-way to resolving many problems. For those of you not familiar with the Lightning Network
According to their website
Transactions for the Future
Instant Payments. Lightning-fast blockchain payments without worrying about block confirmation times. Security is enforced by blockchain smart-contracts without creating a on-blockchain transaction for individual payments. Payment speed measured in milliseconds to seconds.
Scalability. Capable of millions to billions of transactions per second across the network. Capacity blows away legacy payment rails by many orders of magnitude. Attaching payment per action/click is now possible without custodians.
Low Cost. By transacting and settling off-blockchain, the Lightning Network allows for exceptionally low fees, which allows for emerging use cases such as instant micropayments.
Cross Blockchains. Cross-chain atomic swaps can occur off-chain instantly with heterogeneous blockchain consensus rules. So long as the chains can support the same cryptographic hash function, it is possible to make transactions across blockchains without trust in 3rd party custodians.
When everything is ready Bitcoin will add lots of value ! What is more significant is the fact that the scalability issue will be solved and transaction issues as well - that means that mass adoption is not an illusion or only a hypothetical talks. This can be done and Bitcoin is on the right track ! The only thing that is left is for the bulls to come in !
I am very pleased to see that so much positive things happen in the crypto market ! Hopefully prices will soon reflect these changes :) The interesting thing is what will happen to all the projects that adress the current issues that will be resolved in the near future.
What are your thoughts on the matter ? What will happen to other projects once BTC brings in the big guns.
If you liked the content and found it valuable - Upvote, Resteem and Follow @ervinneb