In which phase of the chart do you think the price of Bitcoin is?
Hello my fellow Steemians and crypto enthusiasts!
I have the following questions to you (please, write in the comments): In which phase of the chart do you think the price of Bitcoin or the market cap of the crypto market is/are?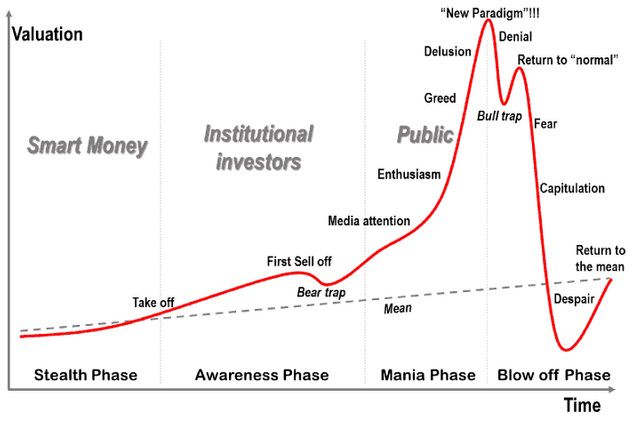 This is a chart, showing the stages of a Financial (or a price) Bubble. Many financial analysts use this charts. Also you can find it in the books about investments, financial valuations models, market cycles, etc.
I think that we are in the phase, called «Capitulation». Bitcoin entered this phase in the second half of November:


I just want to let you know that Bitcoin, in my view, is not a Bubble! Bitcoin has a bright future! Nothing bad has happened to it since the beginning of 2017. Even the ecosystem of BTC has been slowly slowly improving. The Lightning Network was launched in the beginning of 2018. The capacity of LN has been slowly increasing. But, the price of Bitcoin formed a Bubble in the second half of 2017. Simply, the price of Bitcoin diverged from it fundamental value in the second half of 2017 and now it is slowly returning to its normal fundamental value. So, it is a bubble of the PRICE, not a bubble of Bitcoin itself.
I am a big crypto optimist! I believe in the bright future of crypto market. But the bear market (of the prices) is here to stay for quite some time. I have participated in many bubles on the financial markets for the last 12,5 years. So, I have my own strategy how to act on the crypto market.
---
Important!
Keep in mind, that thoughts expressed here are my own, and they should not be regarded as recommendations for any cryptocurrency trades, investments and etc.
---
A few words about me:
Just to let you know: I've been working professionally as a currency analyst for the last 12 and a half years, and as a cryptocurrency analyst for the last almost 2 years.
---
You can also have a look at my recent posts about trends:
... and my recent Bitcoin price video analysis: