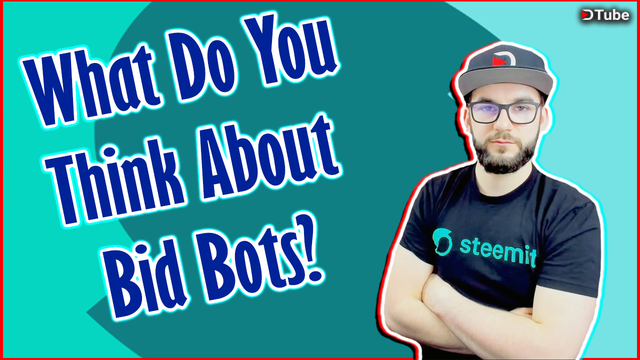 ---
Hey so there are many concerns about bid bots and how it's privatizing the exposure and reach on the Steem blockchain. Someone had previously suggested occasional upvote captchas, but I'd like to hear from you what you think. It would essentially disable all autovoting and curation trails and make life a lot harder for anyone with more influence which obviously would ruffle the feathers of people with the actual influence versus the people that would benefit from a more even playing field. At the end of the day bid bots serve as a barrier to beginners to ensure they actually produce quality content consistently and prove you've put in the work to figure out the Steem version of how advertising works.
Youtube alt link:


Every Week I Do A Giveaway
For all my posts, I collect the resteems, comments, and upvotes made on my posts the last week and use a https://snackaholic.github.io/steemfortune/en/ by @snackaholic to determine the 3 winners who receive 0.5 SBD each and announce it on the next post! I also send out 0.001 monthly to my followers with a small bulletin update. By following me you opt-in to receiving it!
Last post here: https://steemit.com/giveaway/@scottcbusiness/6vpfzz-weekly-post-engagement-giveaways
Feel free to donate to me to help keep me going

ETH: 0x3fcb3018cbd53e0a6c93048eb5c7199487d7b7fe
paypal.me/scottcbusiness
Social Media And Contact Info

🙌 You can also follow me on:
Twitter - https://twitter.com/Scottcbusiness
Facebook - https://www.facebook.com/ScottCBusiness
Instagram - https://www.instagram.com/scottcbusiness
LinkedIn - https://ca.linkedin.com/in//scottcbusiness
Steemit - https://steemit.com/@scottcbusiness
Discord - ScottCBusiness#5242
Minds - https://www.minds.com/scottcbusiness
EasyDex helps spread awareness for and is an occasional sponsor of mine and an awesome decentralized trading exchange solution. They're doing some great work.
Witnessing On $STEEM
If you believe in me as a witness kindly vote for me by going to https://steemit.com/~witnesses and voting for me at the bottom by typing in my username 'scottcbusiness' or click on the link below



Click the above text to vote for me!


---
▶️ DTube
▶️ IPFS