From Where the River Flows "Ambon Ambon Falls" - Beautiful Sunday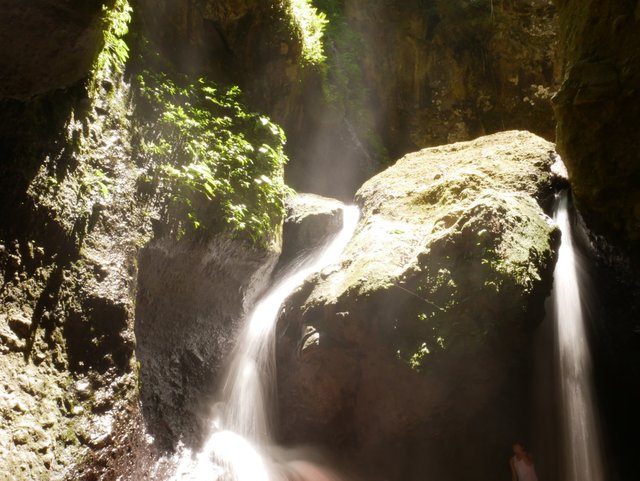 Last time I took you to an introduction to a placed called Panguil River Eco Park. We were charmed by the relaxing cottages nested by the river and a perfect place to enjoy a family meal. We were told that our visit would not be complete unless we trekked to see the enchanting falls hidden away. Our challenge was to have someone watch over our belongings as we embark on our journey, but was settled by the staff in the park. Everything was set and we are ready for the trek. Join me today as I take you every step of the way and see a hidden gem here in Pangil Laguna, Philippines.
Ambon Ambon Falls

We left our things at our cottage and two students from the municipality were assigned to look after out belongings. We were assured by the staff that here students were trustworthy and there is nothing we need to worry about.
Let me just share with you some steps and information regarding the trek to the site.
You cannot go on your own to Ambon Ambon Falls and must be accompanied by a guide
Pay the fee of 75 pesos ($1.44 USD) per person
Minimum group trip is 5 persons and if your group is below 5. The fee is 400 pesos ($7.66 USD).
Make sure to secure your electronic gadgets with waterproof bags. There are waterproof phone pouches for sale at the counter. Price is at 100 pesos or around $1.90 USD
Do not bring a lot of stuff with you on the trek. (One of our mistakes)
Do not wear shoes unless they are aqua shoes
No need to bring a big container for water or just completely forget about the drinking water. (You would later see why).
Do not leave garbage behind during the trek.
Before leaving make sure you relieve yourself at the nearest lavatory.
After the trip make sure you provide the guide with a good tip.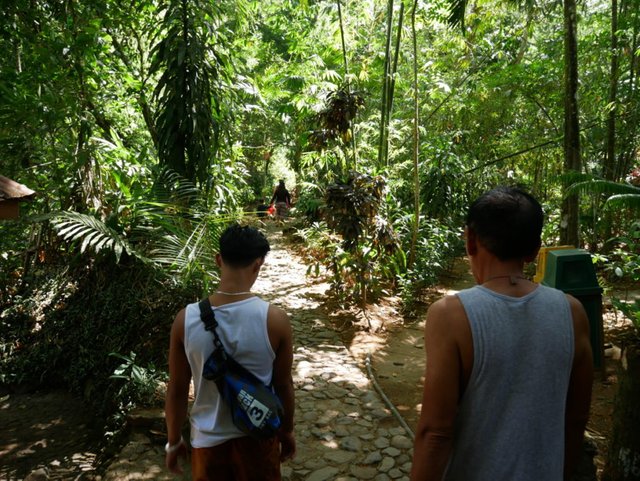 Some of the tour guides here are composed to local students who does part time work here at the park. We were assigned a guide named Atong who is a student. Atong has a pleasant personality and with a good sense of humor. It takes skill to keep people interested and entertained during a trip. He made sure everyone was ready and after the few reminders we began our journey. He also mentioned that the trip would take around 30 minutes which is not that bad.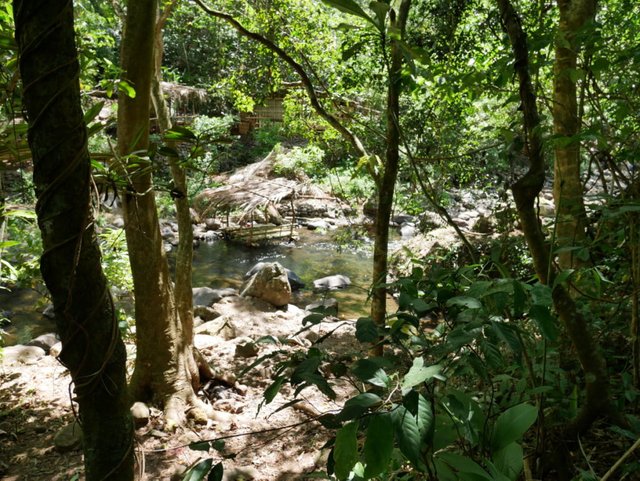 The path has signs posted on trees that are reminders to protect our environment.
Here we still see cottages and people. As we go further up the river, there would be not much people anymore.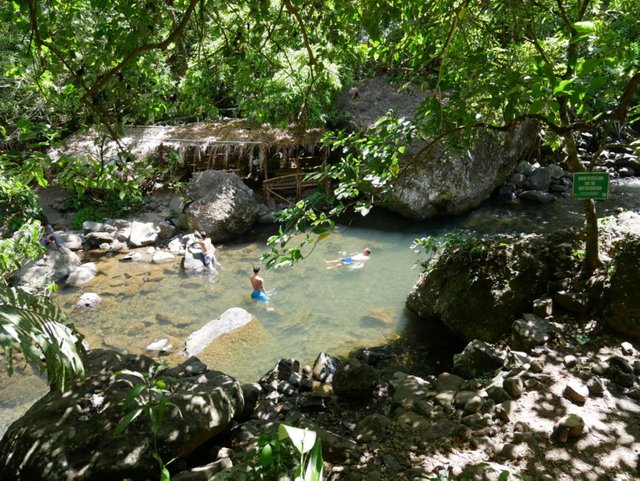 On our first stop is a rock formation called Barkong Bato which is Stone Ship in english translation.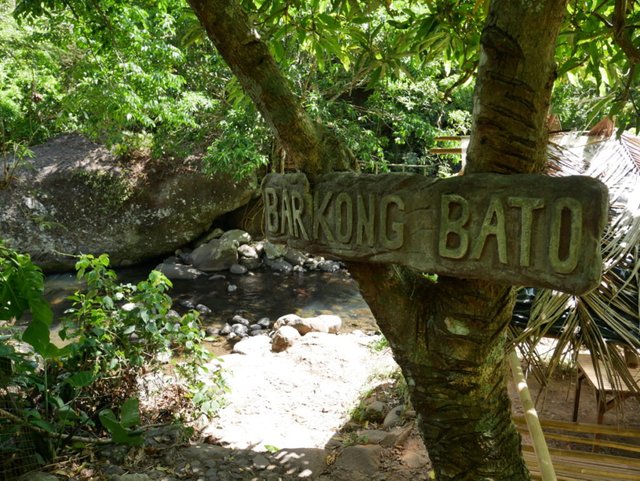 It looks like a huge boulder that resembles the bow of a ship.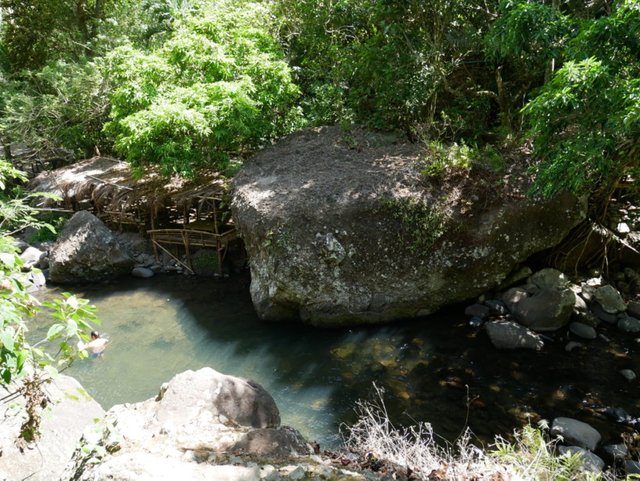 We are now entering the restricted area. You are not allowed to enter without a guide for safety reasons.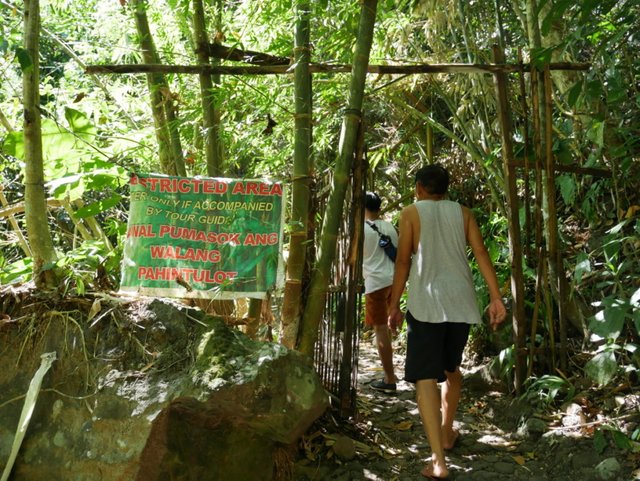 The pathway is guided with bamboo pole railings. Something to hold on to when you get weary. As seen signs are still visible as a constant reminder to protect our natural resources.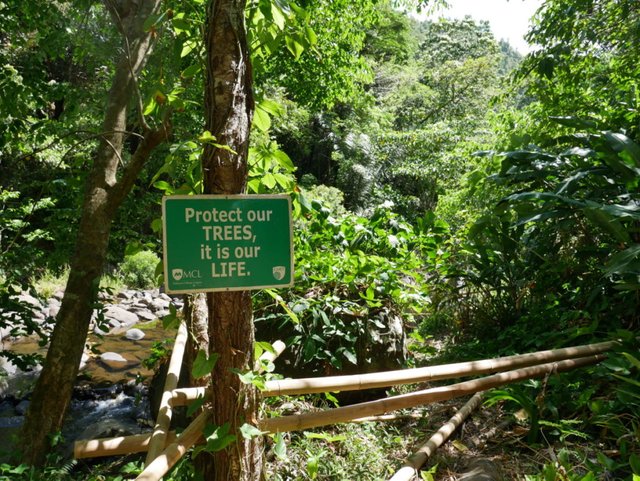 We passed by a small bridge called Lambingan bridge. Lambingan is a local word which means affection. A good place to take a photo with your sweetheart.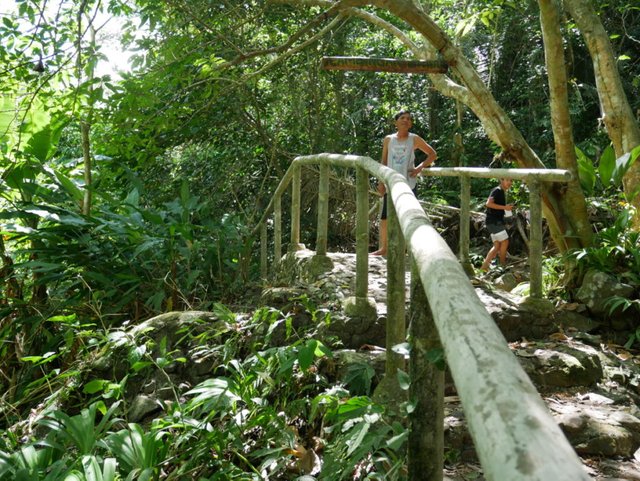 The trail is long and the plant growth are getting thicker as we move along.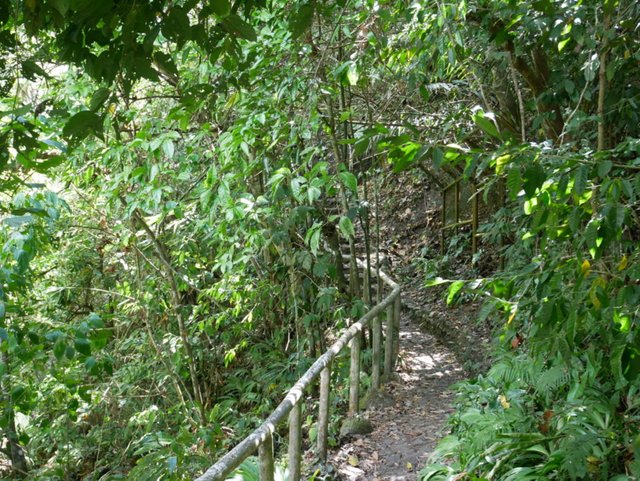 The side of the trail are protected by bars and wires. This protects people from falling debris in this part.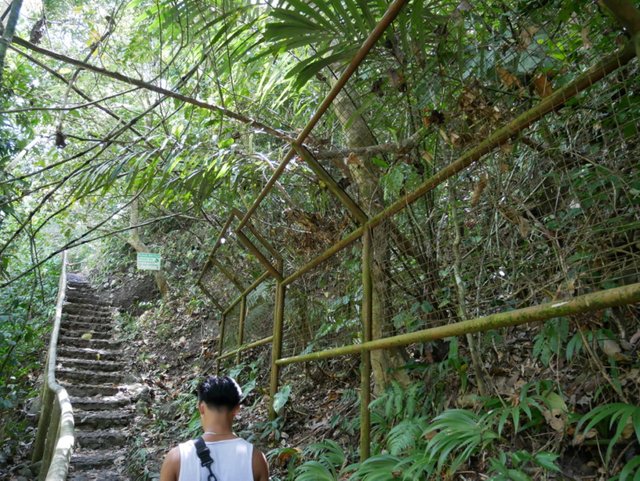 The stairs are made from rocks and cement which are steep, but manageable.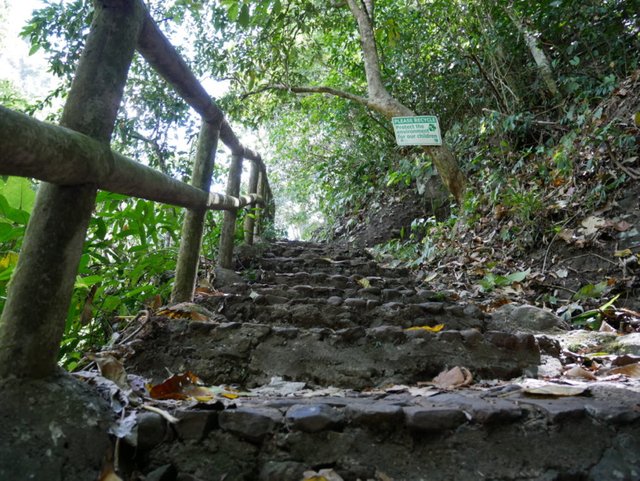 On our second stop features, a very old tree called Balete. Here in our country it is known that this tree is home for spirits, dwarves and fairies. There are a lot of stories of sightings of ghosts in Balete trees.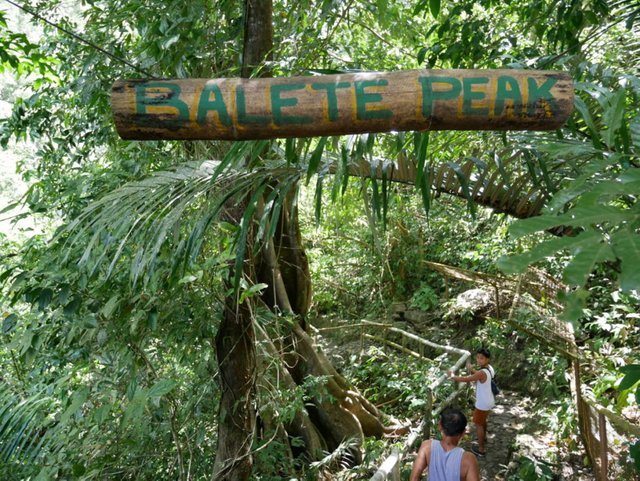 Our guide told us that this tree has embraced another tree. It has grown around an existing tree which is very fascinating.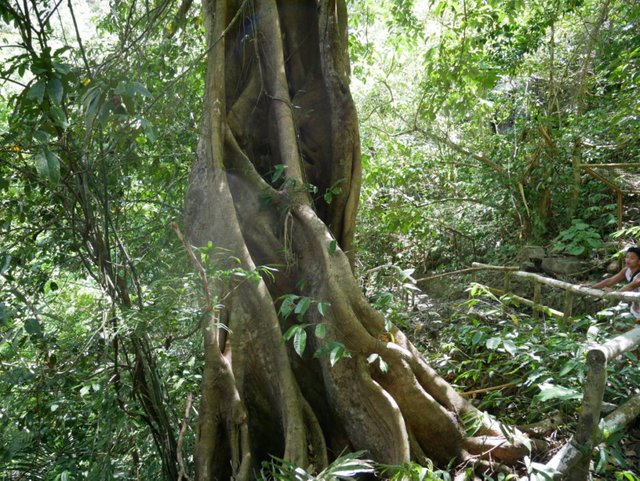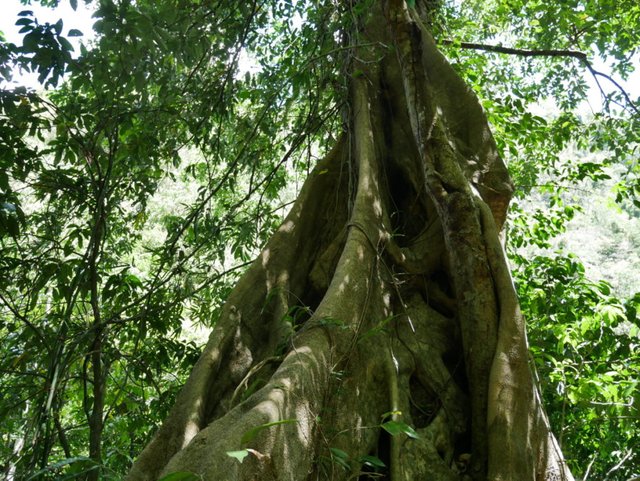 As you could see here, the Balete tree has wrapped itself on another tree. Locked in embrace for centuries now, with no plans of letting go.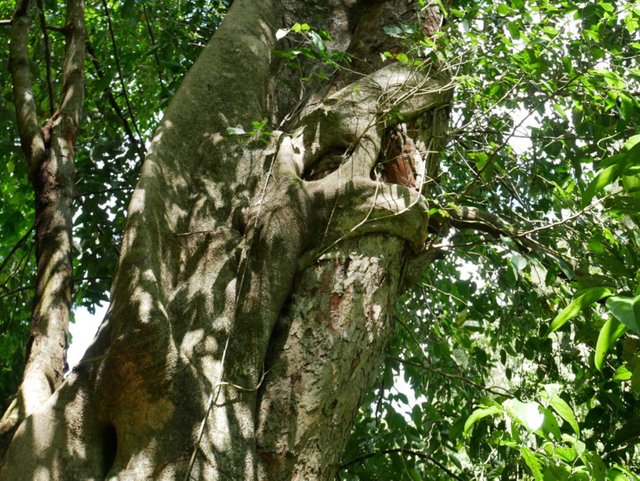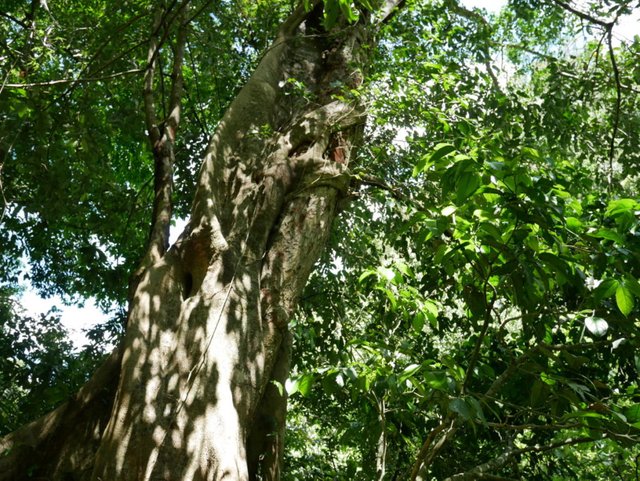 We left Balete Peak and reached our third stop. This place is called Biak na Bato which translates Cracked Rock.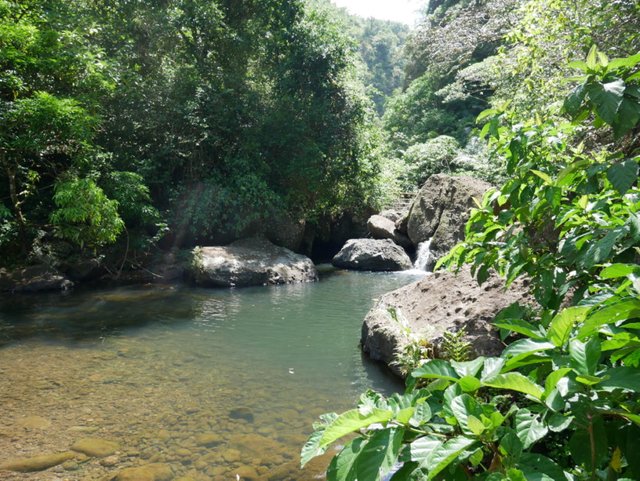 A beautiful place that showcases water pouring out from the crack of a big boulder.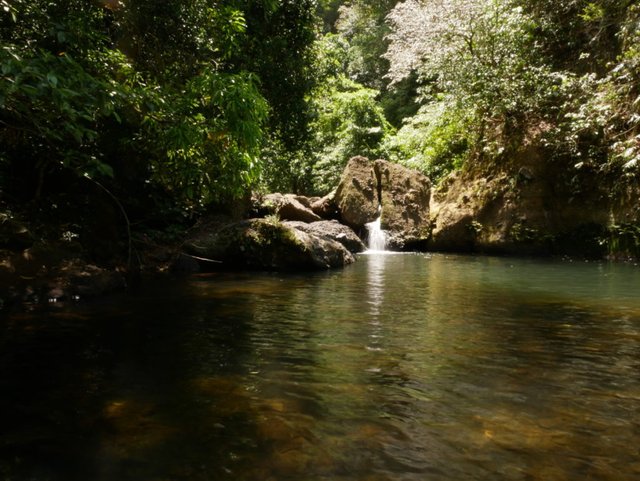 I wanted to approach the rock, but the stones below the river are very slippery. I wouldn't want to slip and get my camera wet. Since my camera is not weather sealed I must tread carefully in every step. But I just decided to move along our trek.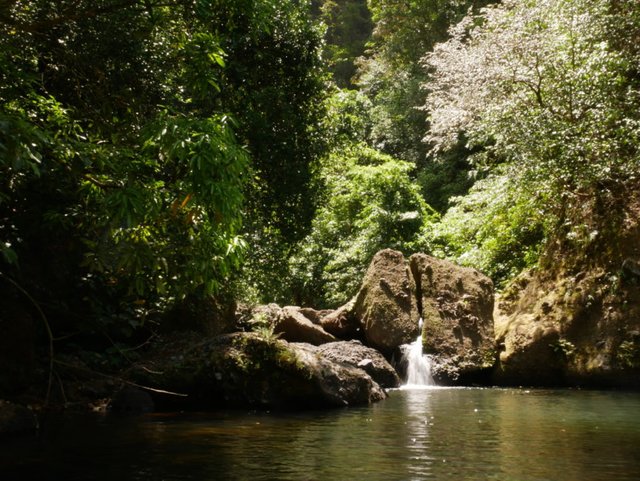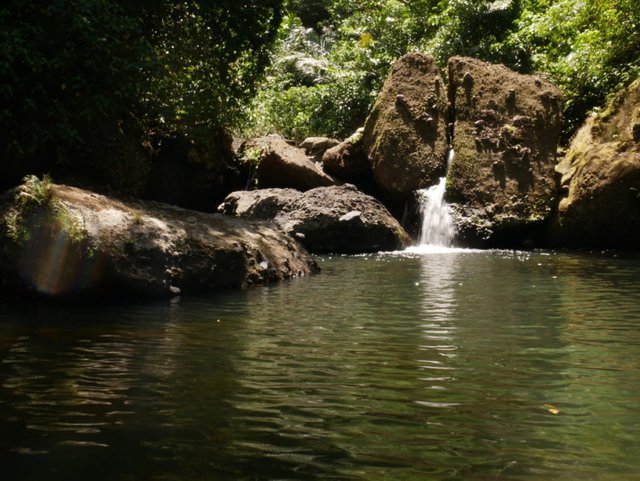 Here we would be crossing the other side of the river. A makeshift bamboo bridge has been made to make crossing easier for everyone.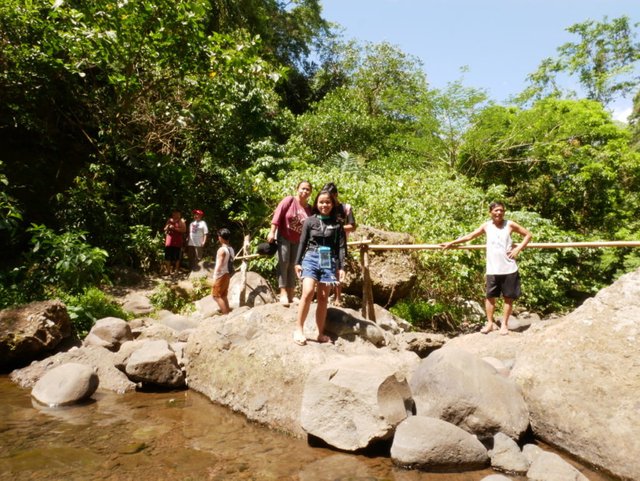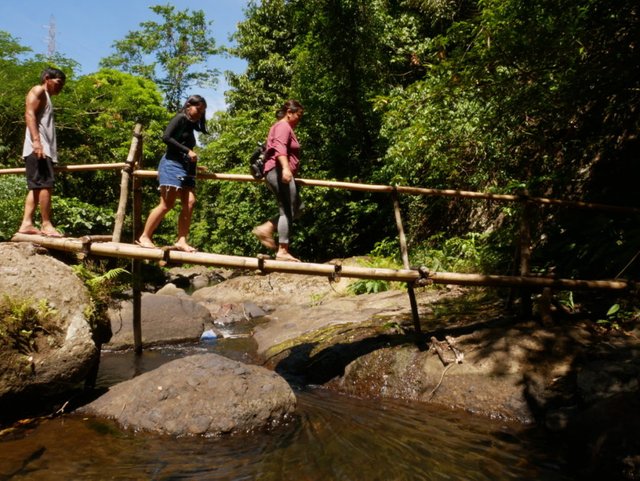 Thirst are one of the struggles while trekking. Here fresh water is no problem and there is no need to bring drinking water with you. Maybe a small water bottle for refills would be sufficient.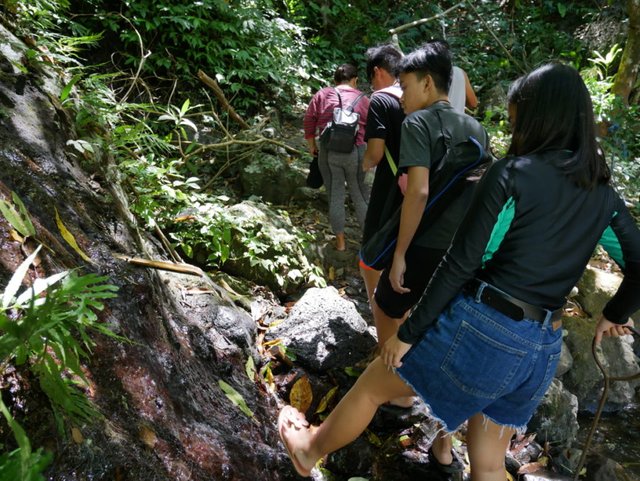 A bamboo pole planted on the rock provides fresh spring water for all those who are in need of rejuvenation.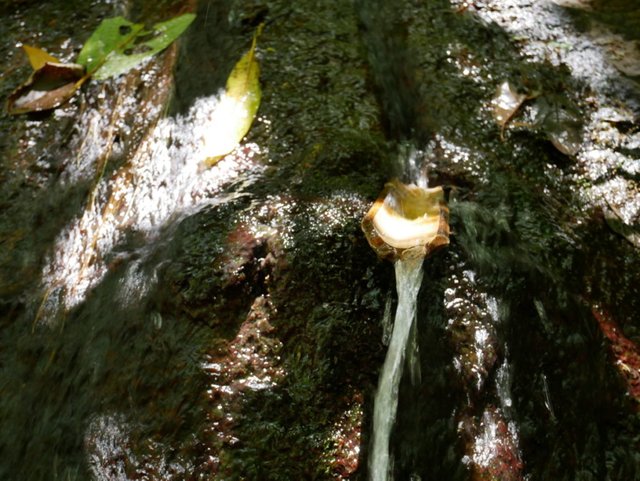 A beautiful gift of nature that should never be taken for granted.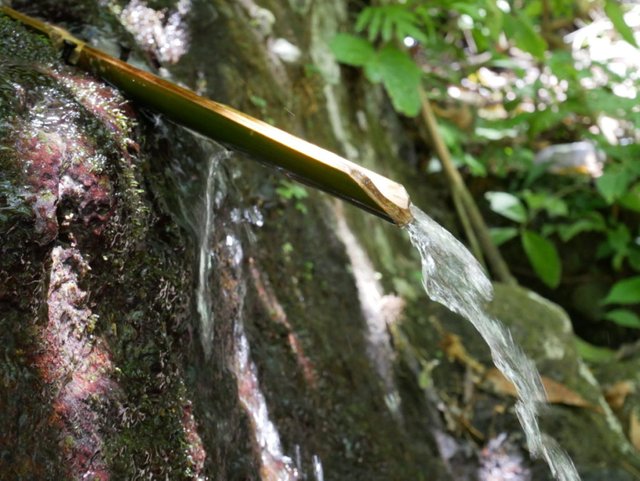 I was a bit thirsty and weary. The water has refreshed my body to continue on with the journey.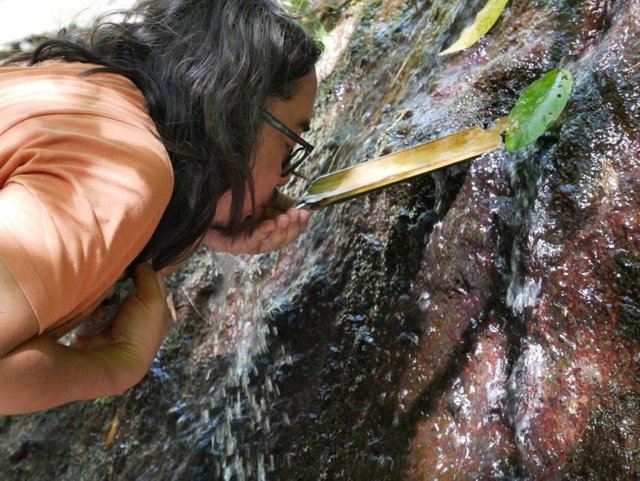 We passed another bamboo bridge and came across other trekkers who are on their way back. They passed their life jackets for us to use as everyone is required to put one on. I had a feeling that the trail is starting to be more extreme from this point.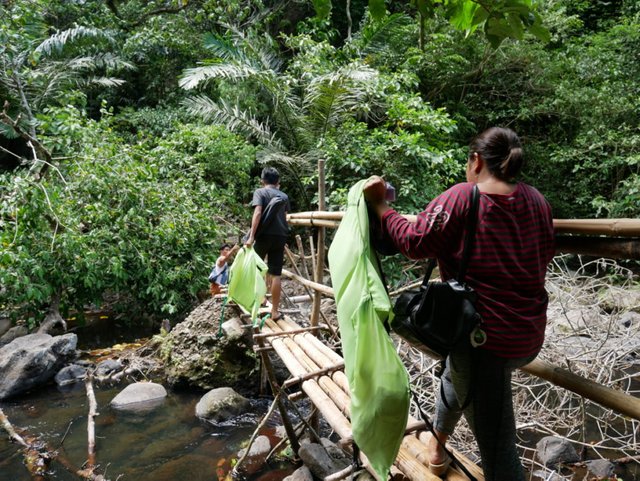 Just a shot down crossing the small bridge for you to have an idea.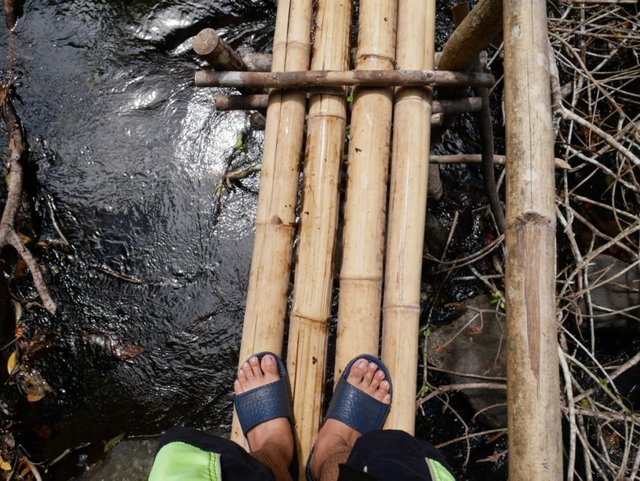 We were still a long way ahead, but the beauty of the place will keep you from being tired.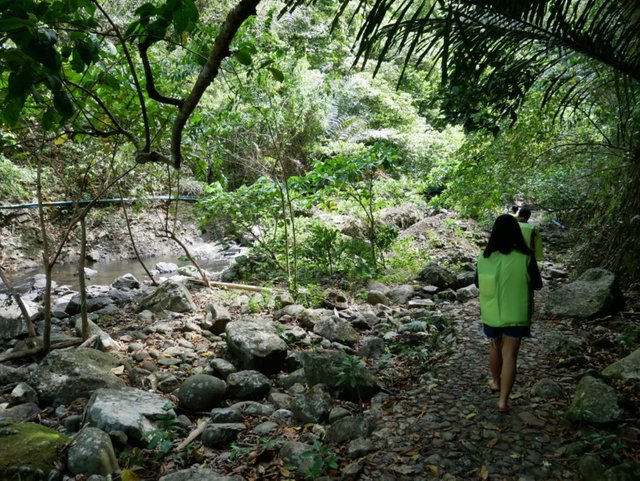 Clear water and the gentle sound of the river gives you peace of mind. Makes you forget about the chaos around us.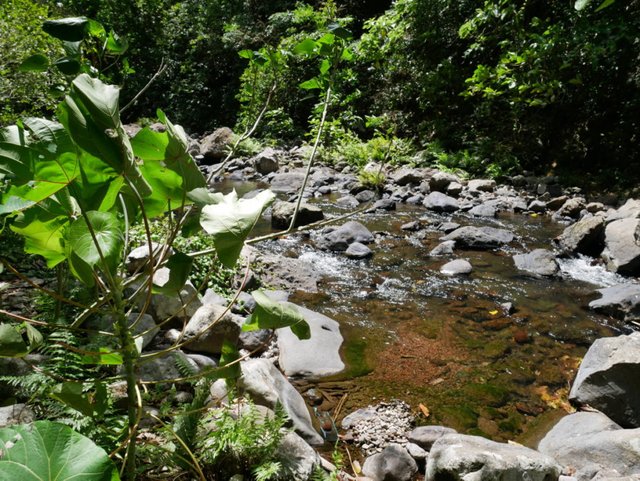 The challenge here is crossing a deep part of the river. They made it easier by tying up a rope on both ends to hold on to. Still you need to be carefully as the rocks below are slippery. As for my camera, best protection I have is a ziploc plastic bag and hope it works.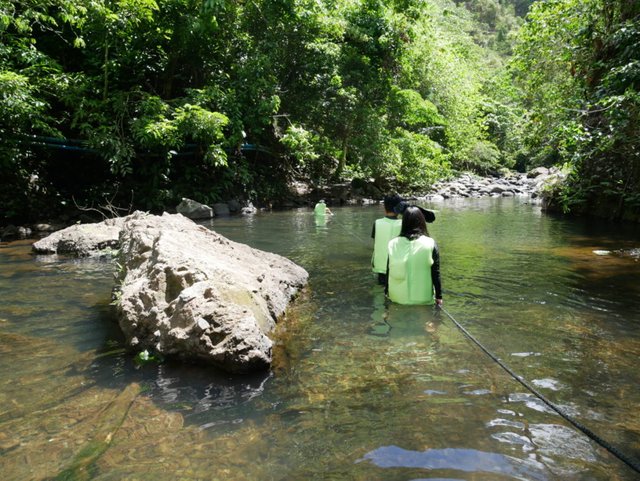 After crossing the deep river we squeezed thru some rocks. Atong our guide told us that we are nearing our first bamboo raft ride.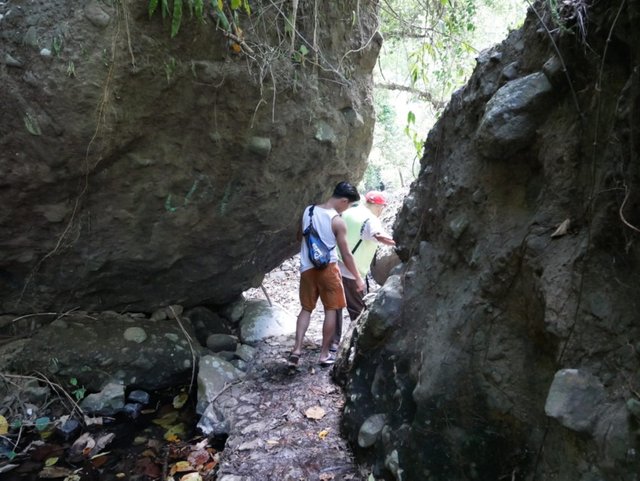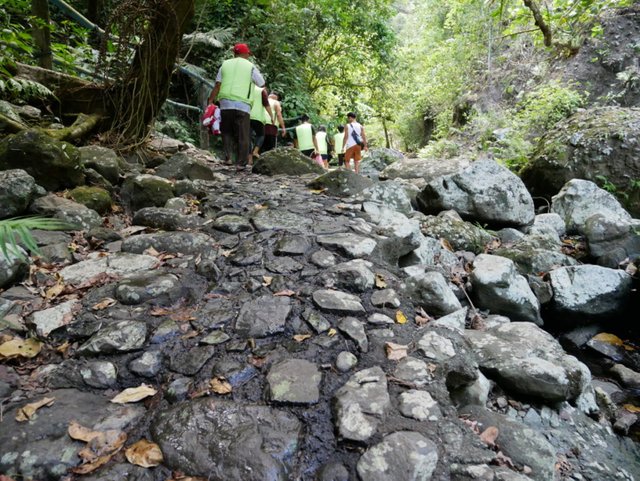 Seeing that bamboo raft enhanced the feeling of adventure in our trip. We felt like adventure on a quest to find a hidden treasure.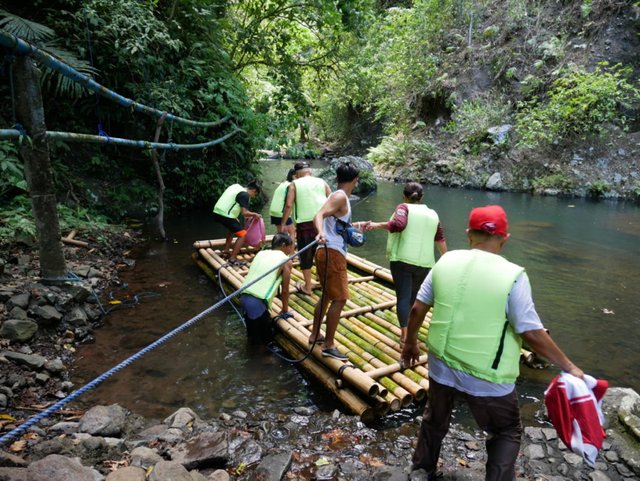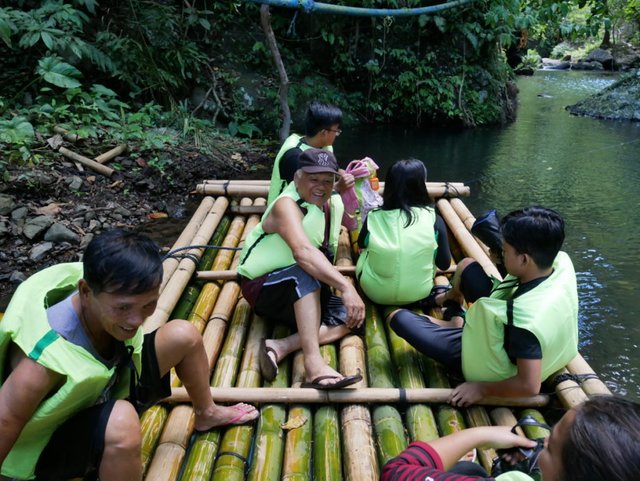 Atong made sure everyone were seated and the raft was well balanced. He even offered to take the photo of our group.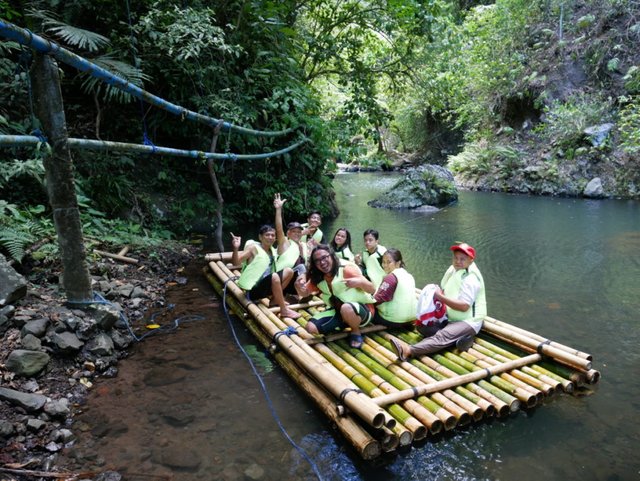 There was a rope that he pulled to get us across this part.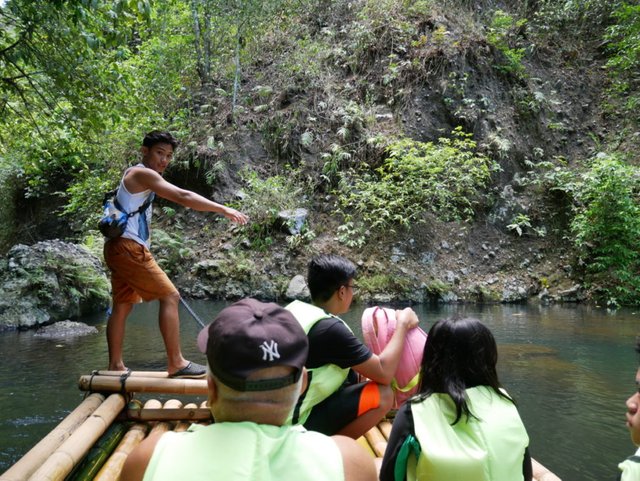 It was a short raft ride but it was fun.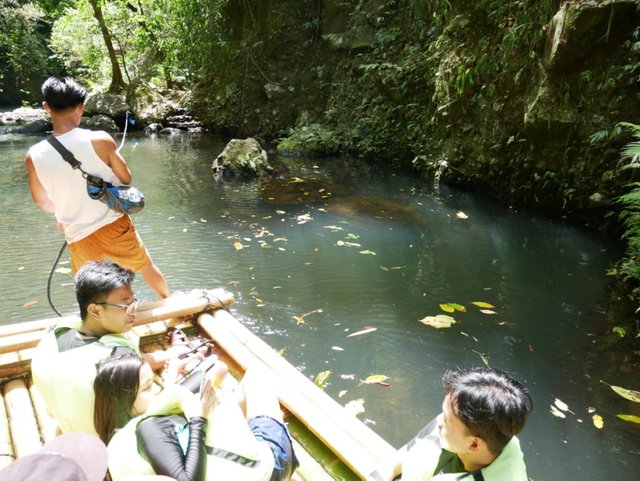 I couldn't help taking photos as beauty is everywhere. Everything seems untouched to let nature take its course on its own.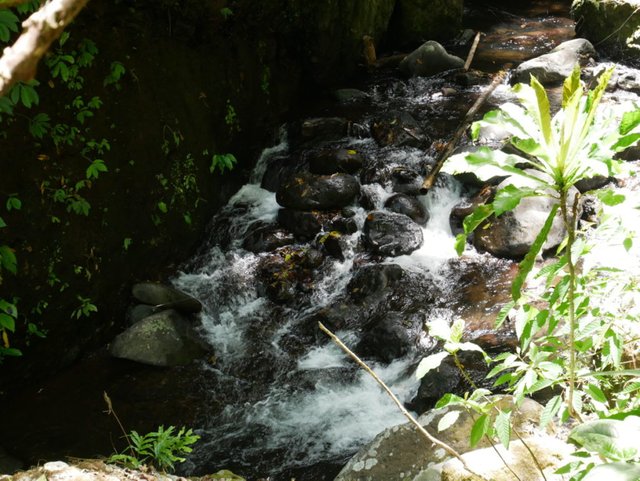 We have encountered another group on their way back to the park. Everyone looks so satisfied with the trip.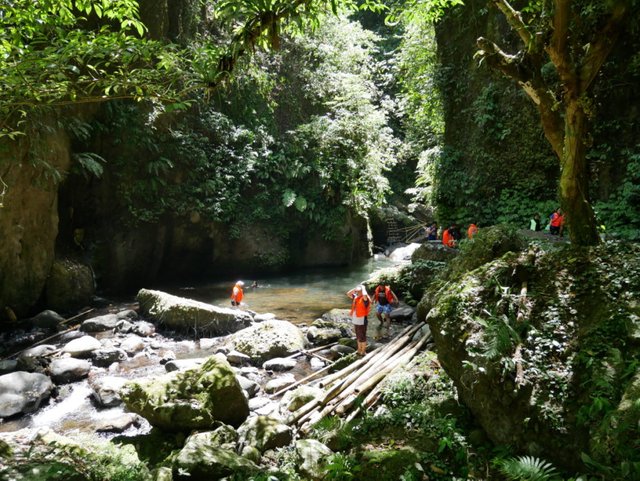 Our guide jokingly asked the other group if they still left some water for us at the falls. In response, they jokingly replied, "Just enough for one bath".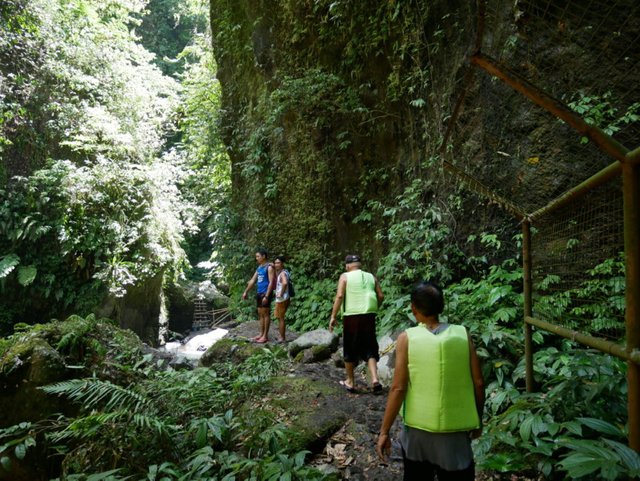 The second raft ride is a shorter ride from the previous one. Atong did a very good job in assisting everyone. I'm sure he already knows every step of the way. Pointing out all the slippery steps and telling us where the foot holds are.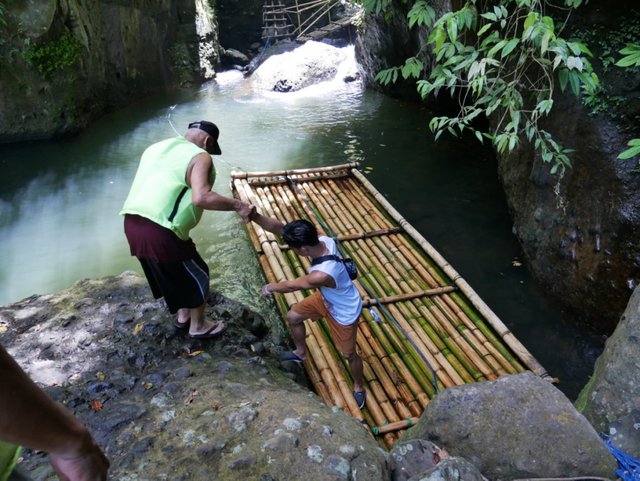 Another group photo before we proceed as we are almost there.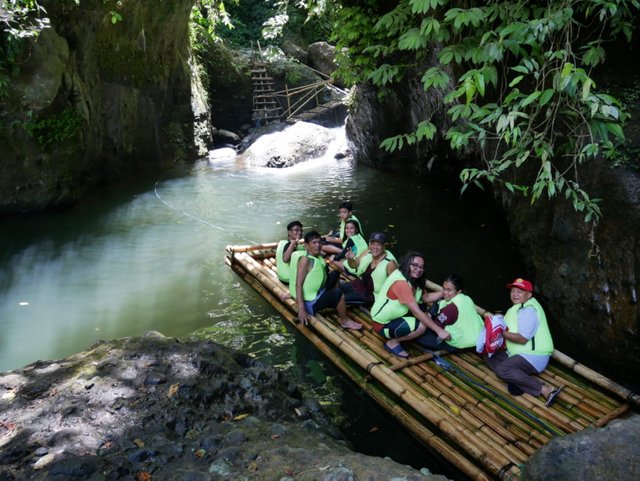 The ropes are a great idea to get you across faster. Paddling across would take too much effort.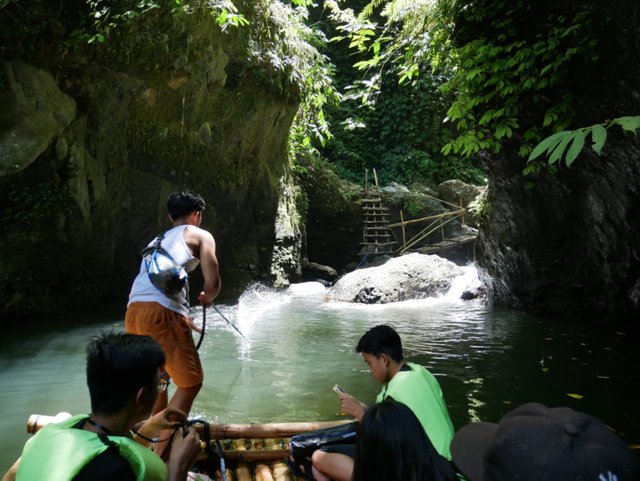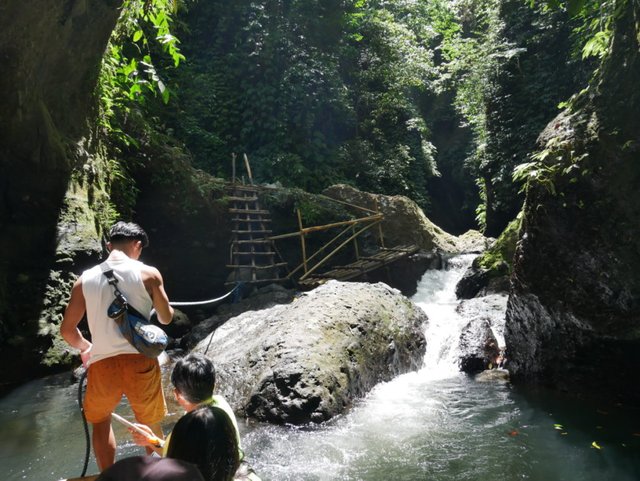 My father in law was staring at the rushing water. He maybe thinking if the current is strong enough to carry you away in this part.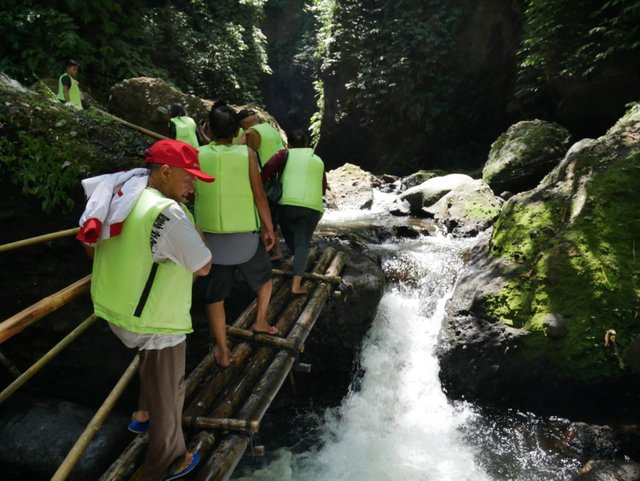 We had to do some more climbing and this time no more cemented steps. We were guided in every step to make sure everyone is safe.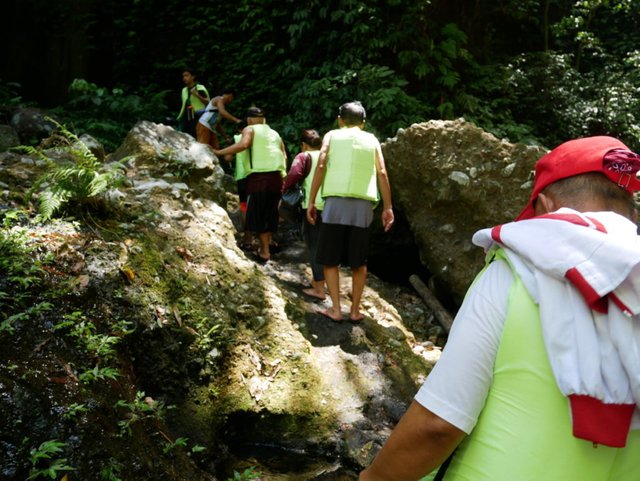 Everywhere you turn the scenery is so peaceful. It would be really hard not to take a lot of photos.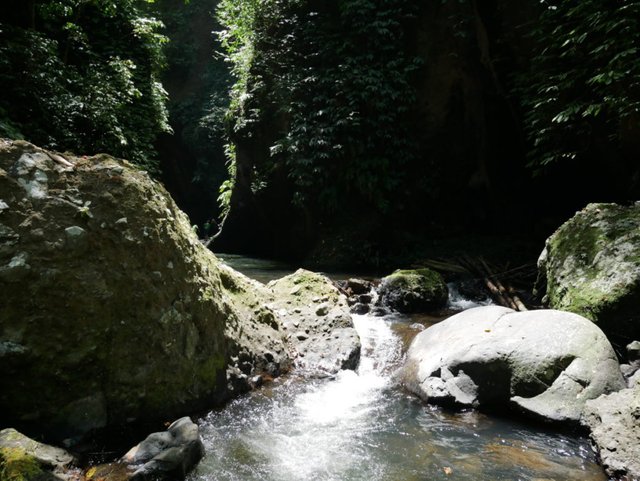 Finally, we have reached the last bamboo raft ride. This ride will take us to the entrance of the enchanting falls.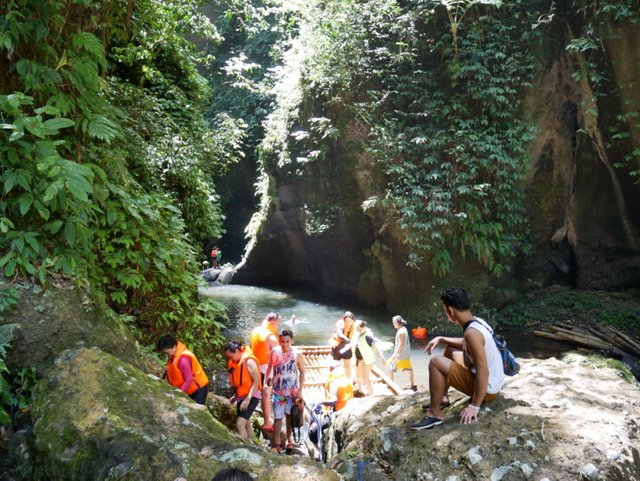 Plant growth on the sides of the rocks gives a little shade in this section.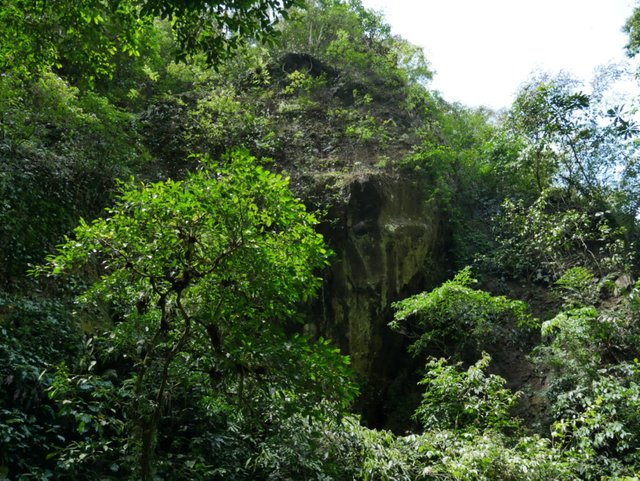 The shade from the plants give a soothing lighting effect. I could almost hear an adventurous music playing in my head.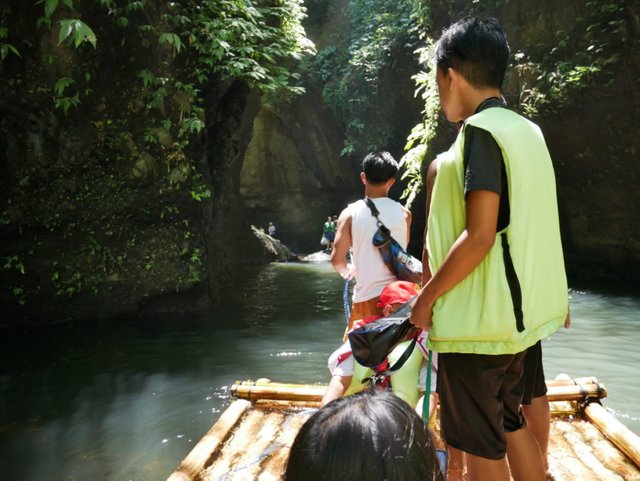 My son was captivated by such a gorgeous sight. We were all very excited to see and experience Ambon Ambon falls in person.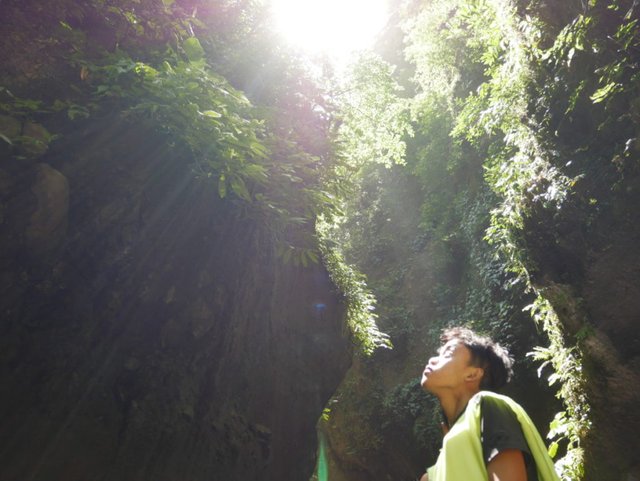 Our raft moved slowly as if making our arrival very dramatic. We saw other people already there, but they didn't matter for what we are about to see.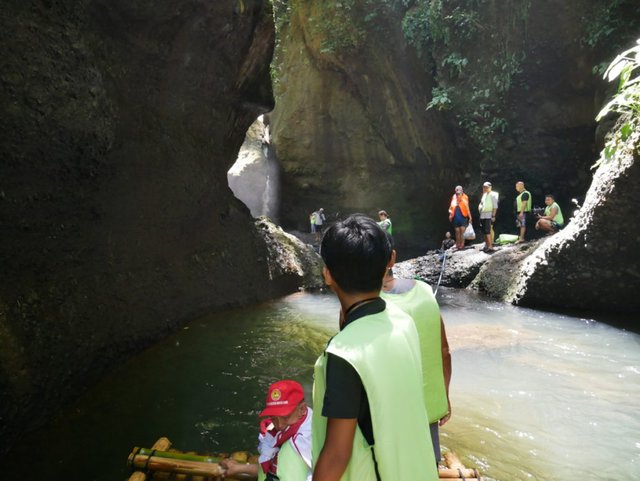 With streams of light coming from above. The enchanting Ambon Ambon falls finally came into view.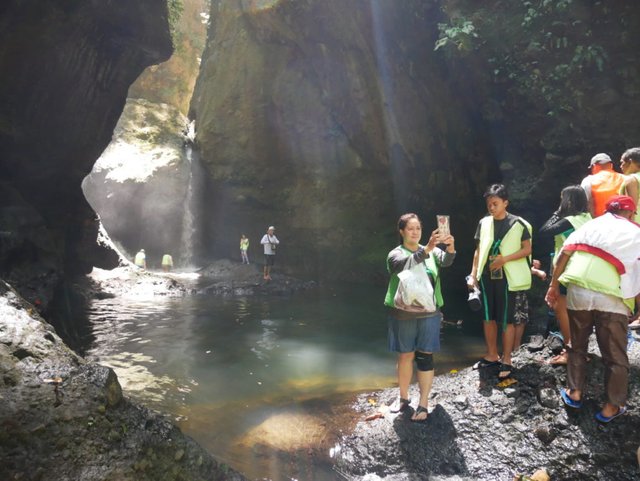 The scene was almost like from a fantasy movie. It was like a gigantic rock fell from above and split the river into two.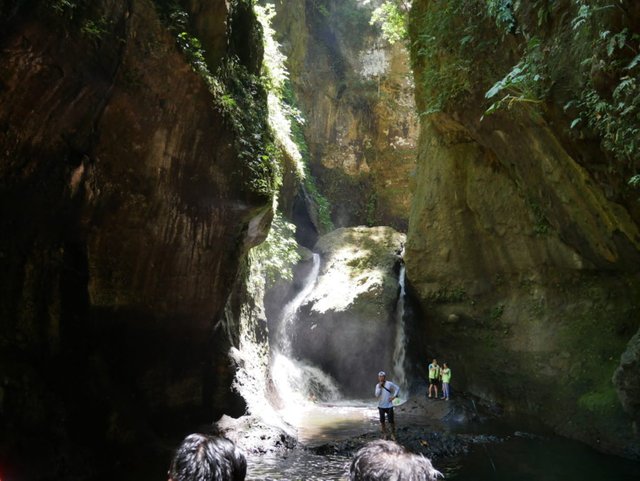 Nature creating a unique twin falls is one of the most amazing things I have seen in our country.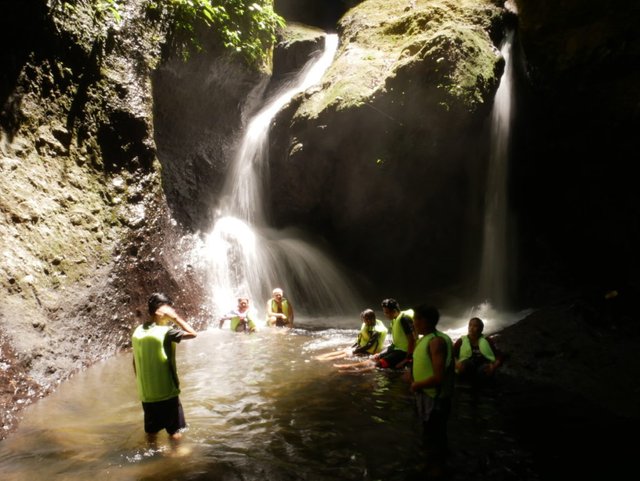 My father with arms raised showing his triumph in conquering this trek.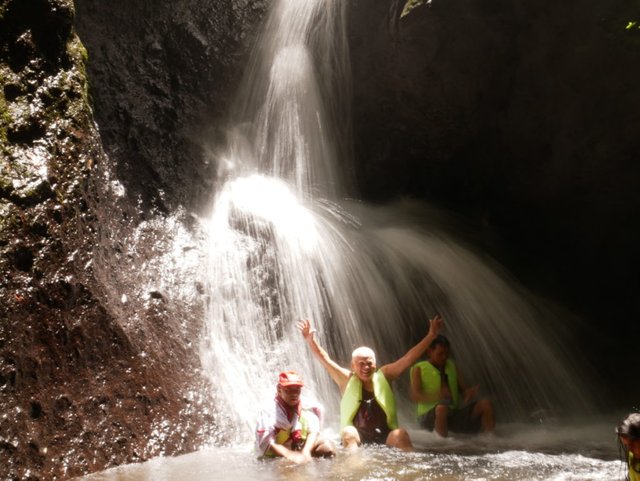 Of course it would not be complete if I didn't have a photo.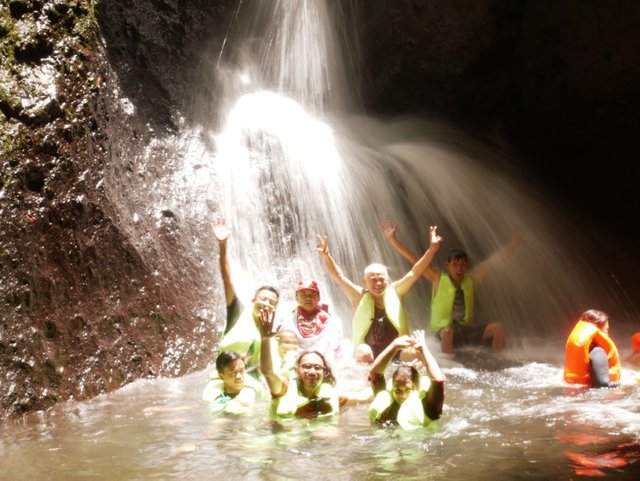 The word Ambon means little rain or shower. Here if feels that it is always raining as the water bounces all over the place. Thus the name Ambon Ambon was given.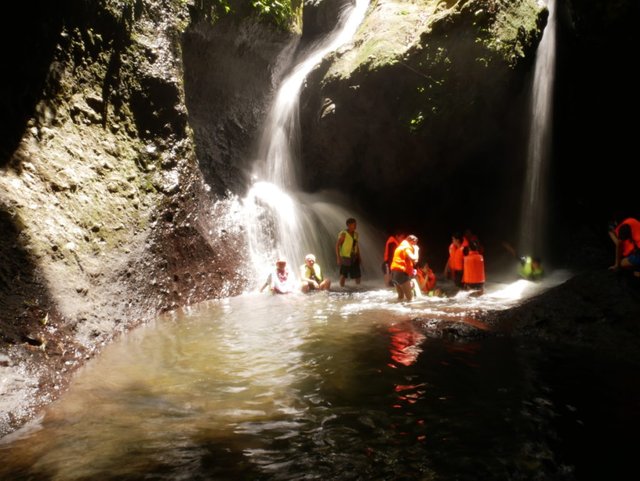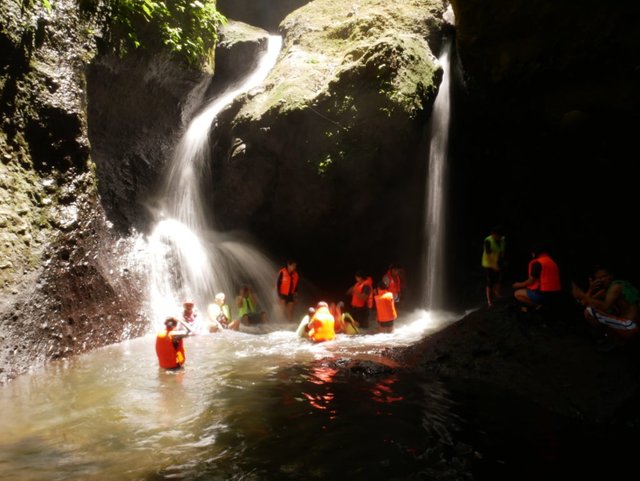 Here are some of the closer shots of the falls. I hope you enjoy them.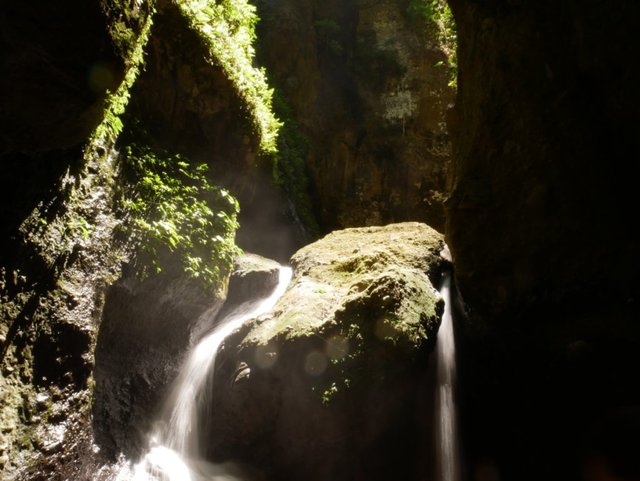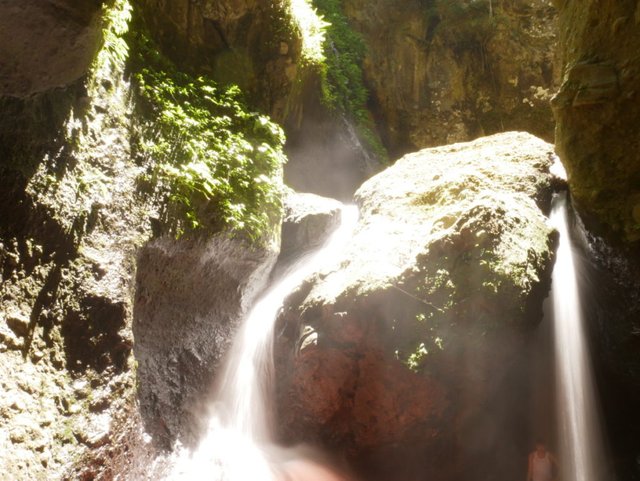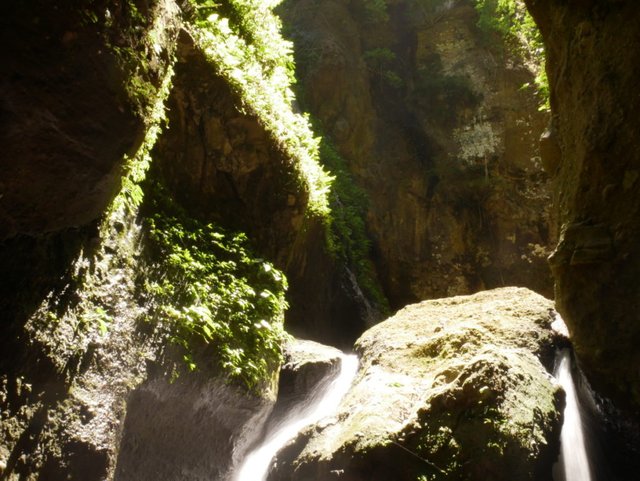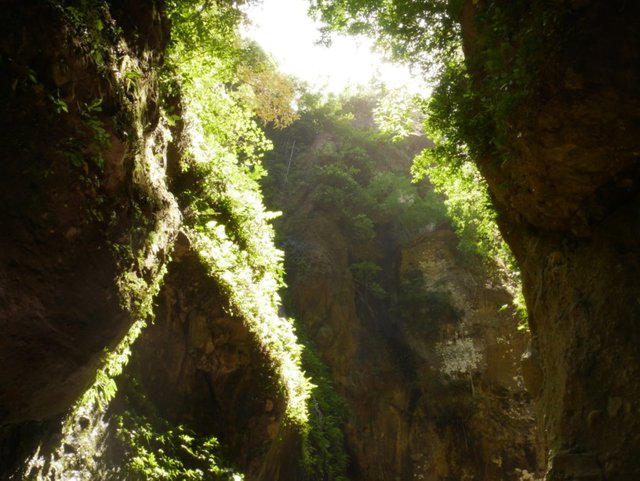 Like everyone else, we were only allowed 30 minutes to stay here. This is to give way to other visitors. Atong told me to come back during off season as they would allow us to stay longer. During summer there are a lot of visitors.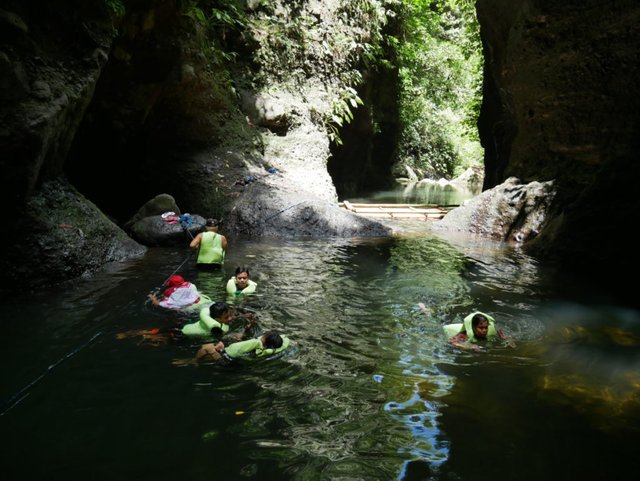 With the time we have left here. The kids swam around and enjoyed the cool, fresh water from the falls. It was a magical experience and my daughter wants to come back already. She wanted to swim longer in this area.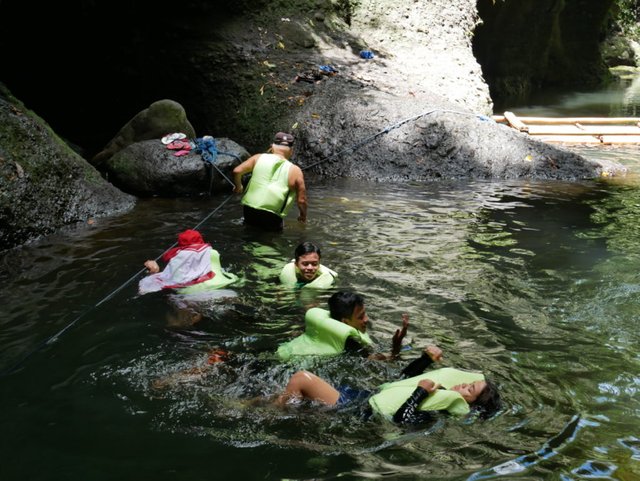 All things comes to an end and it was time for us to go back. As we took the raft, Atong told the kids that they could swim across if they wished. The kids immediately jumped off the raft reaching the other side before us.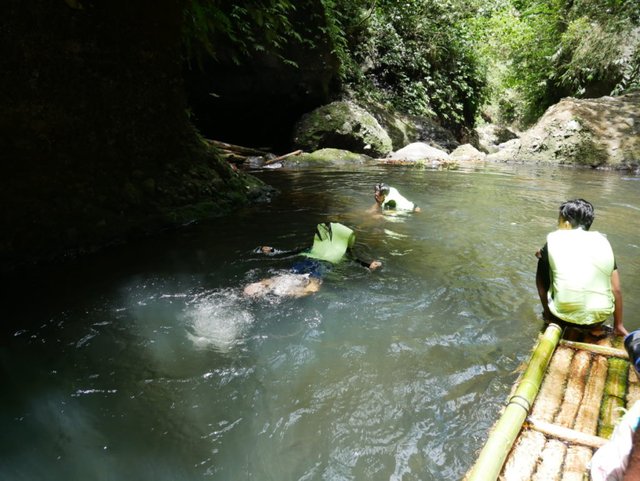 We were safely guided back to the trail filled with memories of a magical place.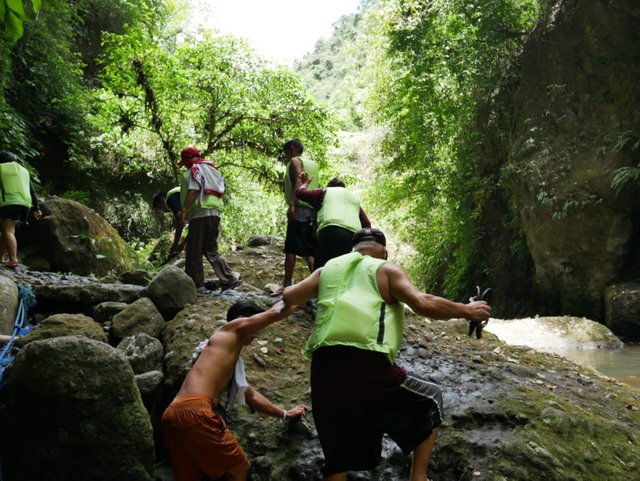 We greeted the next batch of visitors with a smile. Letting them know without saying a word that the journey is all worth it.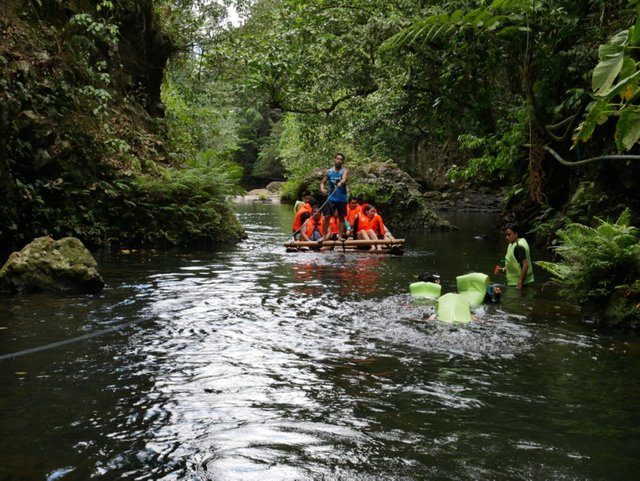 As we took off the life jackets to pass on to the next trekkers. A mix of sadness and joy fills our hearts.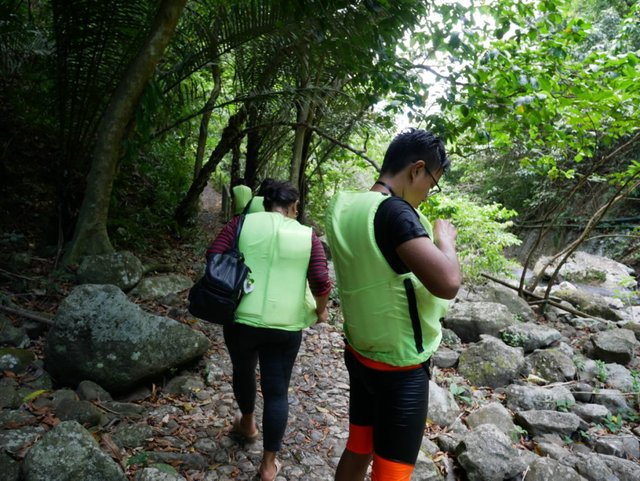 Experienceing nature is something everyone may do. Getting in touch with nature and shutting off technology even for just a short time.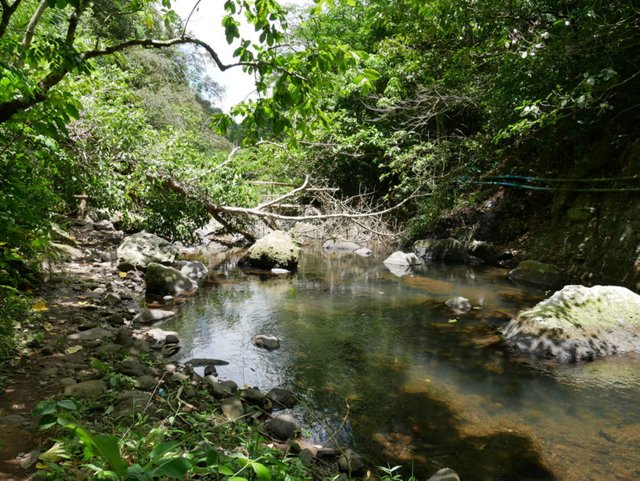 I've let everyone get ahead of me as I wanted to be alone for a moment to reminisce. Thinking about life and what the future holds.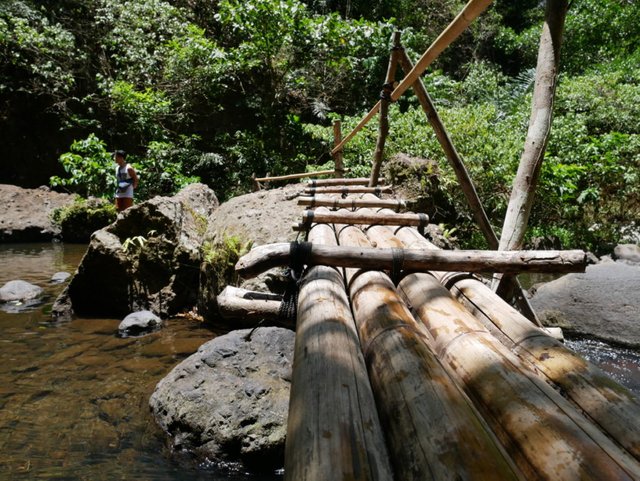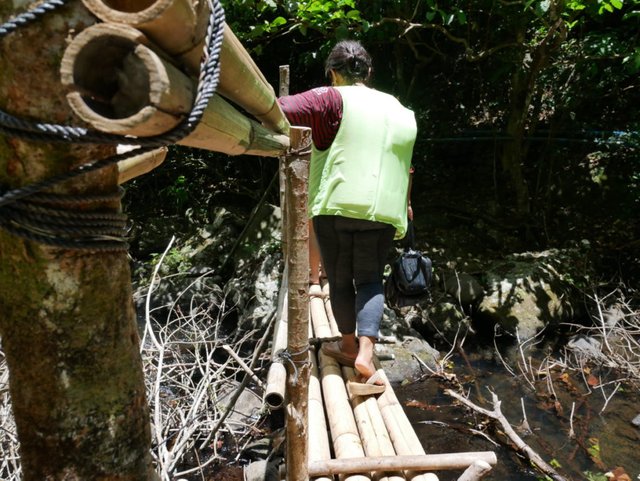 Life is like a river a takes us thru a journey. There are paths that are difficult, but along the way there is beauty. We just need to stop for awhile and look closely. If we move too fast you just might miss it.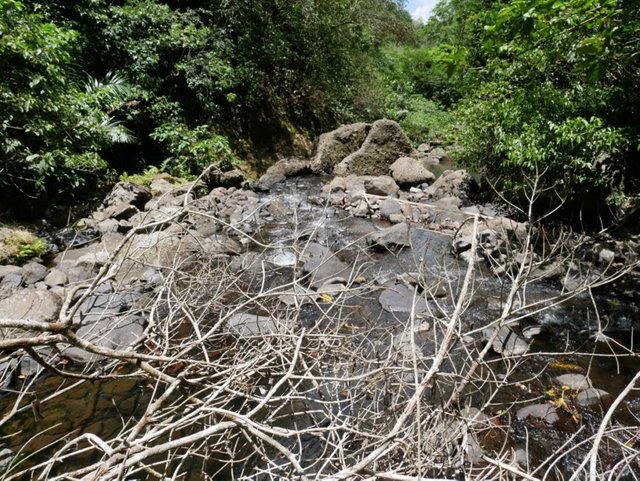 Thank you for joining our trip to this amazing place. I do hope I was able to immerse you with our experience. If ever you visit Laguna Philippines, this place should not be missed.
This concludes the second part of our visit to Panguil Eco Park. Please join me again for the final part of this adventure. See magical pools on our exploration up the river, plus a discovery of a fascinating little creature. Until then, hope you have a wonderful #beautifulsunday .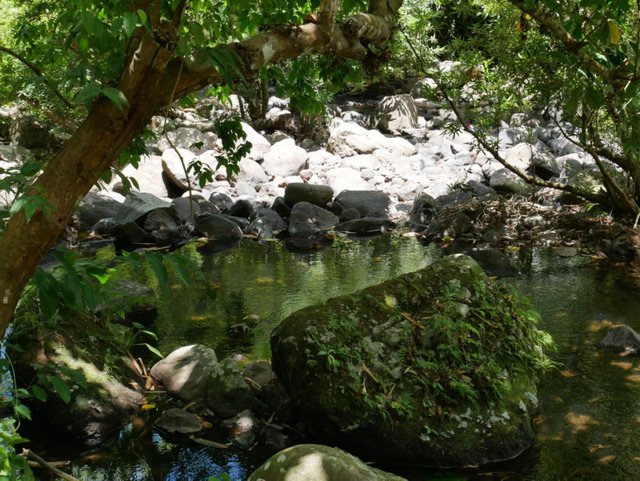 Official page
Panguil River Eco Park
[//]:# (!steemitworldmap 14.412764 lat 121.484086 long Ambon Ambon Falls d3scr)

Visit and follow @steemitbloggers AKA #powerhousecreatives. A community that is exceptional, talented and engaging.
Discovering exceptional content in the community follow @curie and vote as witness
To have a glimpse of awesome content from the Philippines check out @bayanihan
Follow @surpassinggoogle to witness an extraordinary person in this platform and vote for @steemgigs as witness
All photos are original and taken with
Lumix GX85 12-32 mm kit lens





---
Posted from my blog with SteemPress : http://watersnake101.steemblogs.club/2019/05/19/from-where-the-river-flows-ambon-ambon-falls-beautiful-sunday/
---