Studio Visit: Hawaiian Landscape Mosaic Complete!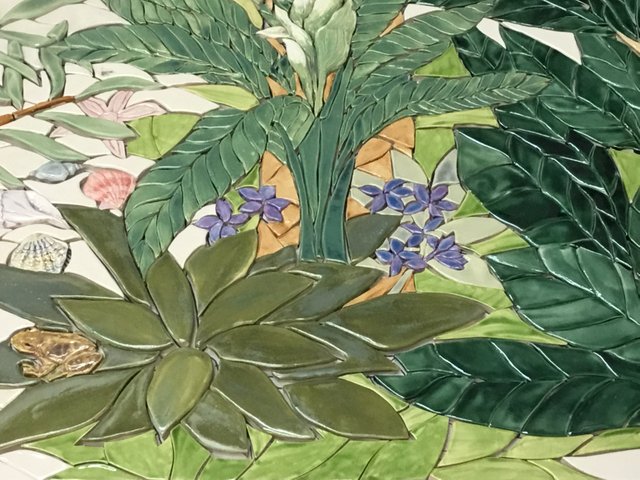 Detail of "Mahalo", an Hawaiian landscape mosaic I made this past spring
Hello dear friends!
Holy smokes, it finally happened, after 6 months of work, my mosaic mural designated for a pool house in Portland, Oregon USA is complete!!
In my last post about this project, I was still cutting in wet clay: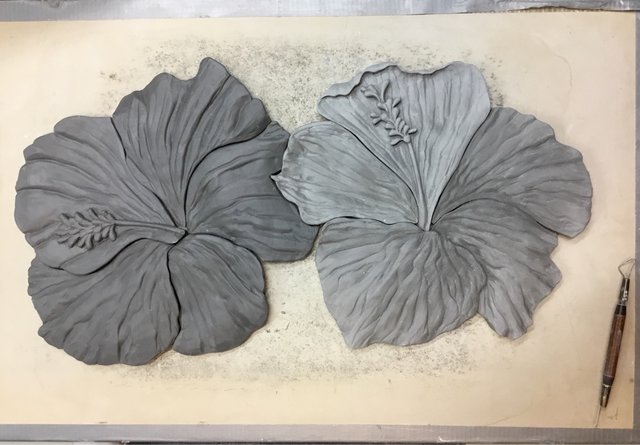 hibiscus flowers cut and carved in wet clay, about 11" in diameter
And some areas were already fired, glazed and in the process of assembly: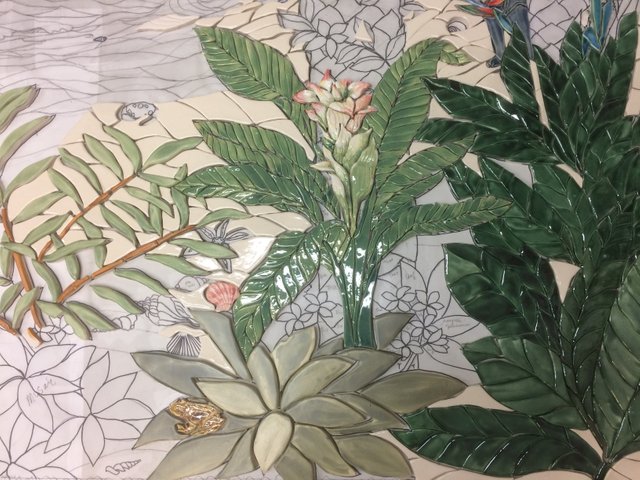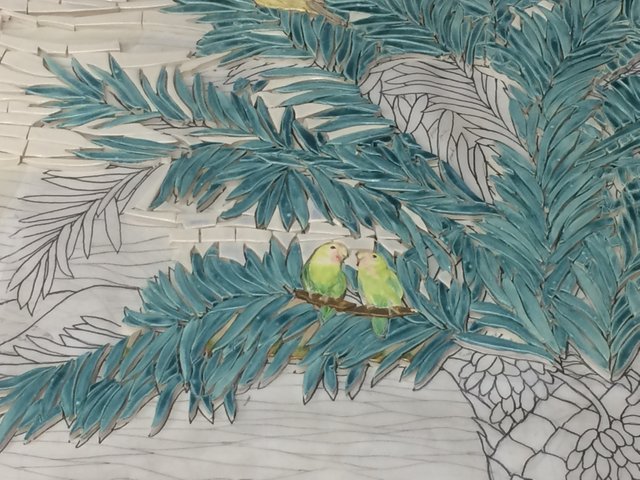 During the last week or 2 of making a large scale piece like this (8' x 6'), things can get pretty messy in both the mosaic and the studio itself. Lots of revisions always happen at this point so there's a rush to remake pieces here and there and try out a million options to figure out the best solutions to the aspects of the mosaic that don't feel quite right.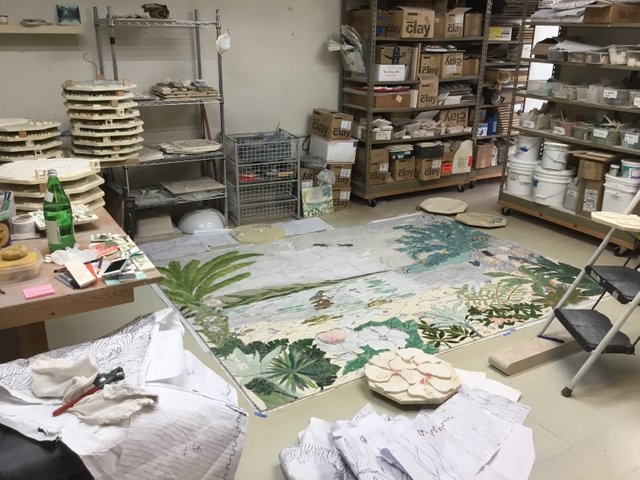 Once I finished the entire mosaic in my studio, I applied a face adhesive to hold it together during transport and installation. Then Rob and I cut up the mosaic into sections and drove it across town to the site where we lay it out on the floor of the pool house to prepare it for the installers.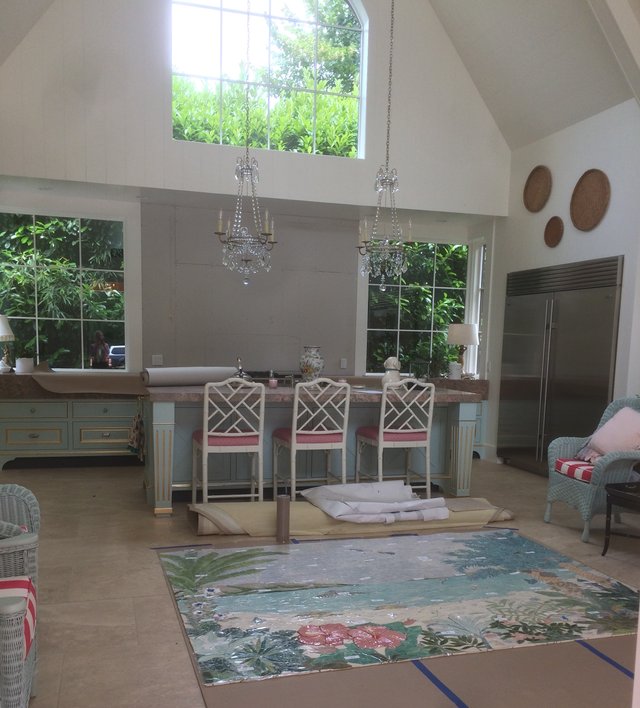 the mosaic is put together on the floor of the pool house to make it easier for the tile setters to pick it up section by section and install it on the wall
Above you can see the little white labels on each section. Those are numbers that correspond to a paper drawing of the mosaic with those same numbers ; this "map" is instrumental for the installers.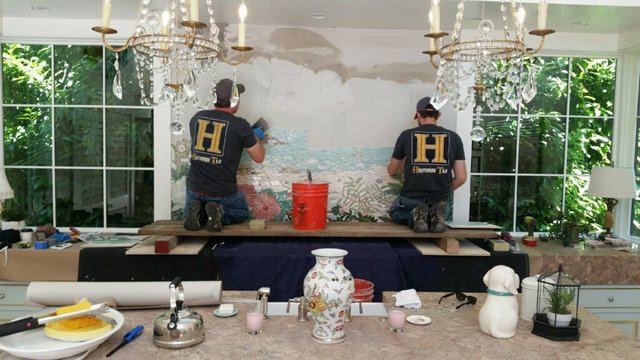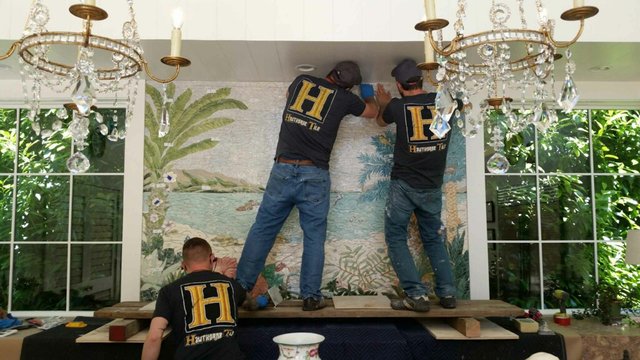 And here I am on June 26, 18 proud , exhausted and very relieved to be finished!!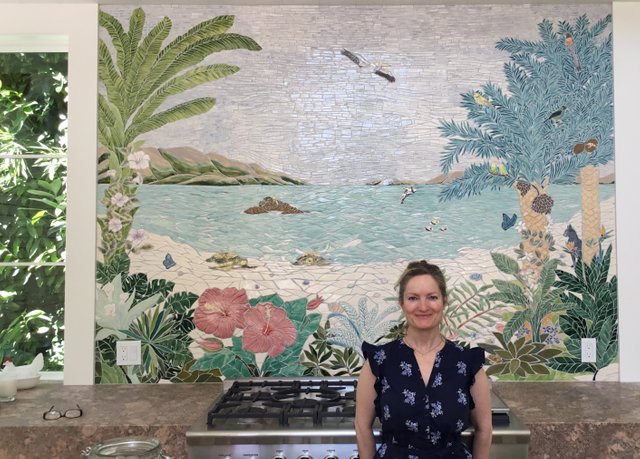 A word of thanks to all of you who have followed and supported me over the past 2+ years here on Steemit and especially now given the recent fits and starts in my participation as I try to re-install Steemit into my daily life after an absence of several months. It's been surprisingly hard to jump back in! I'm having to redefine why I want to be here and rediscover the platform's value in my life again. Please keep your eye on me as I make my re-entry, it will make all the difference for me!
A special thanks to so many of you whose steadfast support, inspiring work and words of encouragement have been hugely instrumental in my return. To name a few, @ericvancewalton, @voronoi, @hansikhouse, @donnadavisart, @world-travel-pro, @dandalion, @steemitph, @cryptogee, @opheliafu, @yahialababidi, @anna-mi.
~~~~----------------------------------------------------------------------~~~~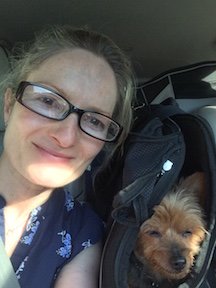 aka Ruth Frances Greenberg, I am a ceramic artist specializing in mosaics, tile and all things clay from my home studio in rural Connecticut. I'm here on Steemit to offer my support and friendship to creatives, individuals and projects that I value and want to see more of in the world. The decentralized economy and blockchain technology are promising and I am very pleased to be a part of this exciting new revolution.
Your support means the world to me and enables me to pursue my life and creativity with more freedom and opportunity, thank you! You can learn more about me and my work at www.ruthfrancesgreenberg.com