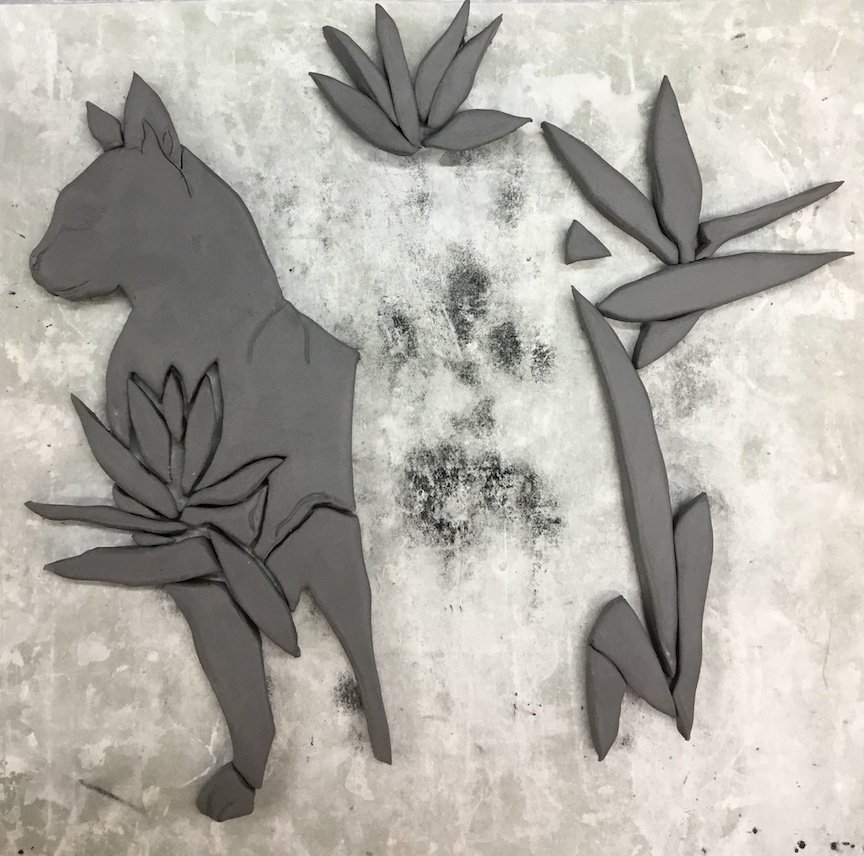 cat with Birds of Paradise flowers just cut in wet clay
Hello fellow Steemians, to finish out the week I'd like to give you a visual update on my pool house mosaic mural project.
This past week has been all about cutting, cutting, cutting. I'm intent on finishing the wet clay phase (cutting) which entails about 25-30 more hours of work. I hope by the end of Sunday to achieve this so you know what I'm doing all weekend!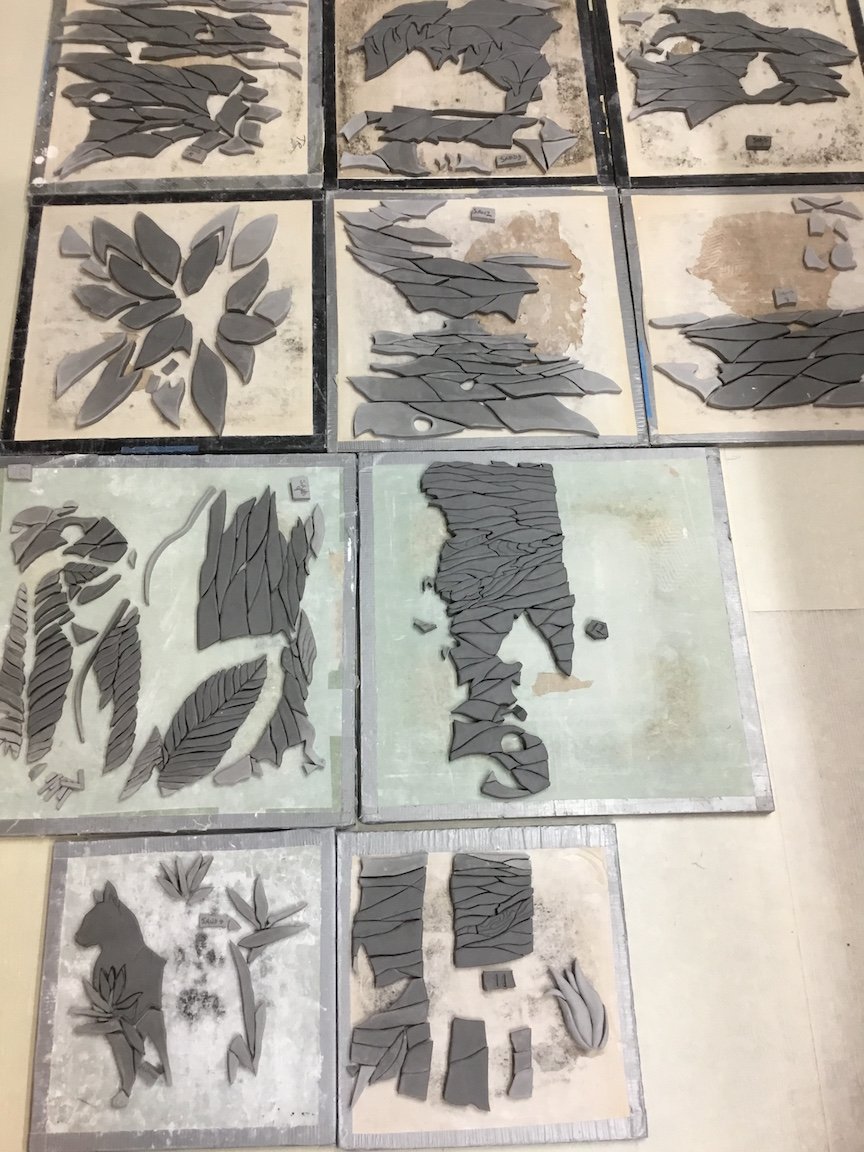 Lots of carving, here are a few sea turtles, a frog, lovebirds, a cat (above)and lots of flora: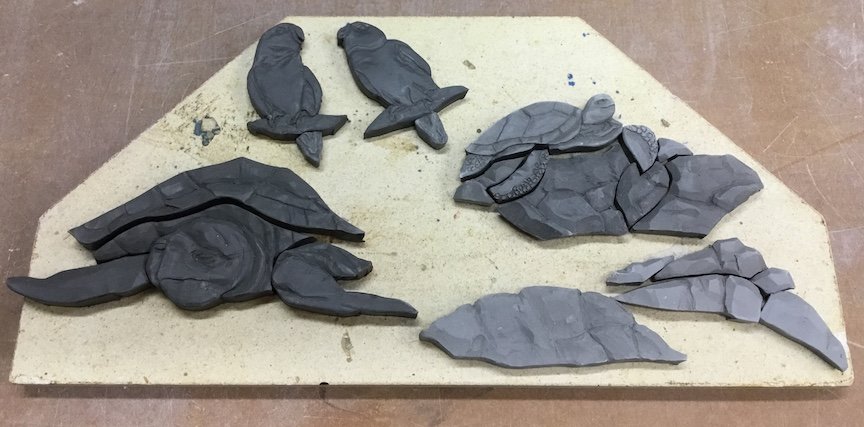 The drawing and carved wise old sea turtle: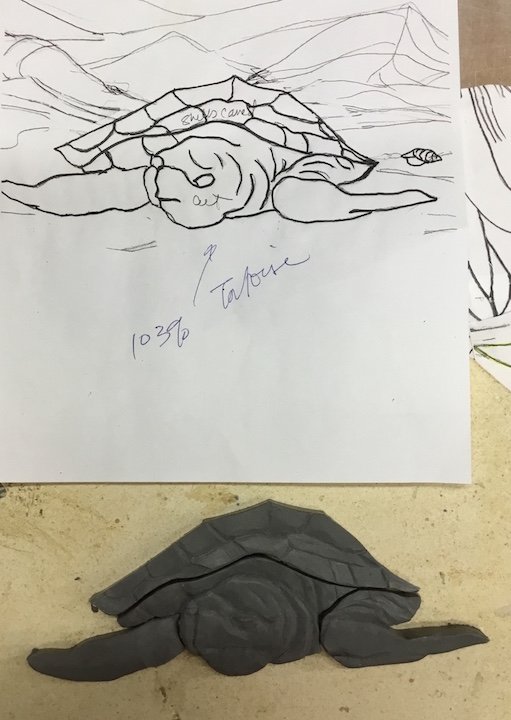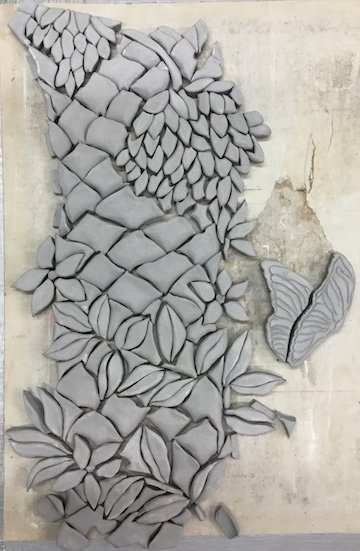 this palm trunk may look familiar to some of you!
One of the two frogs that will be in this mural, this one on a coconut.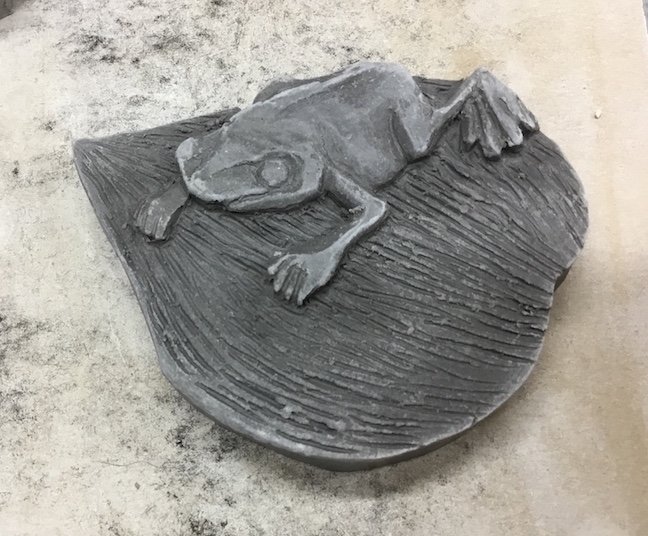 And today I'm cutting the palm tree branches which is driving me nuts which says a lot because I love cutting detailed imagery in clay. It seems so simple - and quite honestly I thought it would be an easy area to cut ! I quickly discovered that it takes forever to cut, is confusing and far too easy to lose my place as I go along. Basically, is completely frustrating. It will be over soon ;-].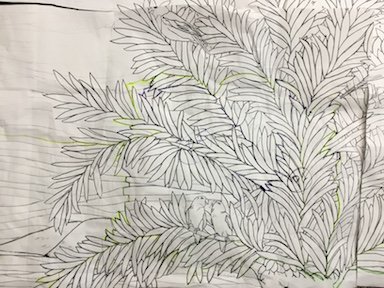 []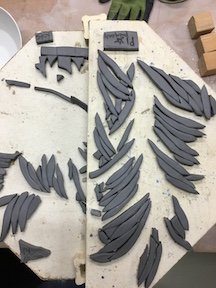 I've been considering what this piece should be titled. It's a Hawaiian landscape and hopefully once finished it will a poetic one, so I've looked up a few Hawaiian words for inspiration:
ALOHA:
Aloha is a value, one of unconditional love.
Aloha is the outpouring and receiving of the spirit.
LŌKAHI:
The value of teamwork: Collaboration and cooperation. Harmony and unity.
People who work together can achieve more.
The Kaona of LOKAHI, Is Inherent ONENESS, Connectedness to the Heaven, to the Earth, and All Life and All Relations.
MAHALO:
"Thank you", as a way of living.
Live in thankfulness for the richness that makes life so precious.
I'll marinate on these words/concepts while I work in these next few weeks, and as the mosaic comes together as a whole I think the title will become clear. And I'll ask you for your suggestions ;-)).
Previous posts about this project to give you context:
https://steemit.com/art/@natureofbeing/studio-visit-remaking-to-get-it-right
https://steemit.com/art/@natureofbeing/studio-visit-glazing-the-hawaiian-landscape-mosaic
https://steemit.com/art/@natureofbeing/news-from-my-studio-revisions-and-beginning-to-cut-the-pool-house-mosaic
https://steemit.com/art/@natureofbeing/it-s-all-in-the-plan
https://steemit.com/art/@natureofbeing/2-inside-the-drawing-phase-of-a-mosaic-commission
Thank you for supporting my blog, together we are doing something revolutionary on Steemit by supporting each other! Have a beautiful, happy, healthy weekend everyone.