We all have dreams, from when we are children to now. Our dreams may change over time, as we grow, as our environment changes, as our circumstances flow from one state to another. Each person is different and each of us experience a variety of dreams through our lifetime.
I am a dreamer, I like to imagine the world in many forms and my favourite being the surrealist style. One of these dreams inspired me to paint, so I made a quick sketch on canvas to express this picture that was in my mind.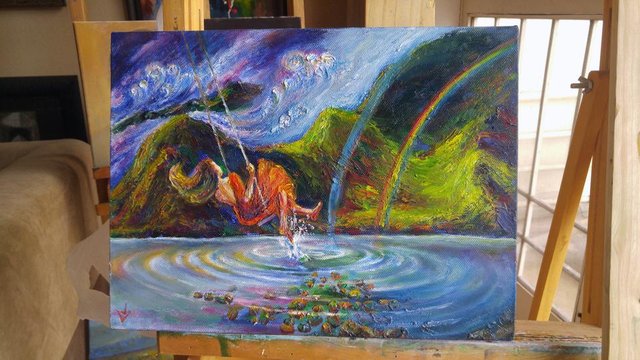 I used oil paint and a palette knife to create the painting and then I used small brushes to retouch some small details.
My first task was to paint the layout by adding the mountains, river and the skyline full of clouds. I then worked out the best way to place the swing and the shape of the girl on the swing.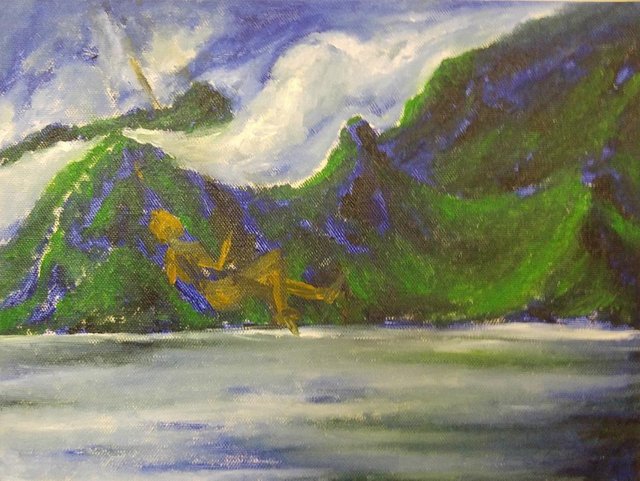 I wanted to show the girl enjoying flying, with the wind playing with her hair and her dress. When I developed the sketch further to add more detail, it was difficult to figure out how the girls toes dipping into the water would interact. I wanted to show her feet causing waves in the water as I imagined it in my dream.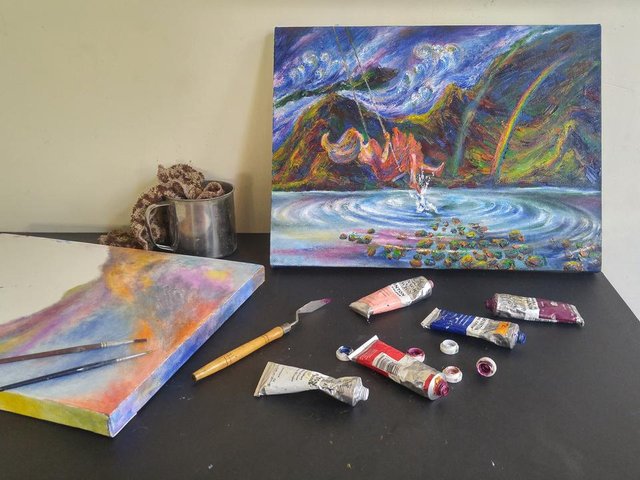 I love using the palette knife to add many colours directly onto the canvas, mixing the colours together on the canvas. The strokes look raw, bold and the thick layers of paint create the "impasto" effect in the painting.
Impasto is a technique used in painting, where paint is laid on an area of the surface in very thick layers, usually thick enough that the brush or painting-knife strokes are visible. Paint can also be mixed right on the canvas. When dry, impasto provides texture; the paint appears to be coming out of the canvas - Wikipedia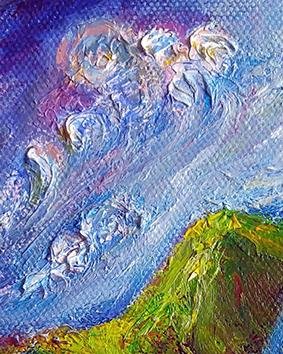 ("Impasto" effect on cloud)
So here you have the final result: a girl flying through the air on a swing, going towards a rainbow, while her feet caress the water below, making a connection with the earth.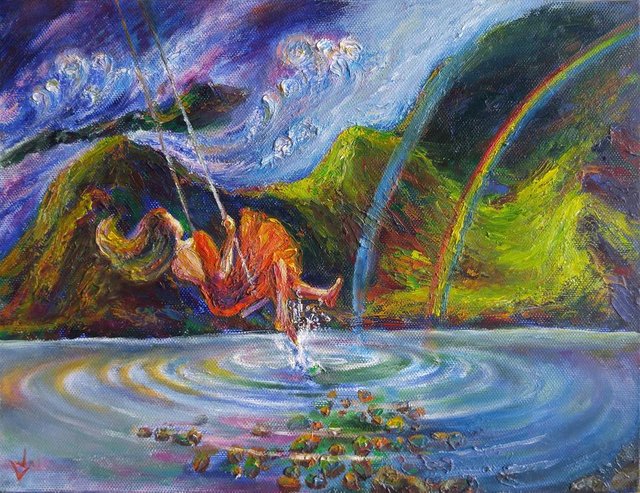 I know what this painting means to me, as it is a reflection of my dream, but does it connect with you in anyway?
I have shared my dreams here, what are yours?
Exploration can happen on the inside as well as the outside. We can travel to a new location, but we can also have some interesting journeys when we travel through our dreams.
Thank you for taking time to read this post, I hope you enjoyed it !
@livvu
If you liked this post, you can find my other recent posts here:
A short clip of me painting via @DLive
What I did last weekend when not painting
Chasing the dragon
A view from 2006
Something about my experience of depression