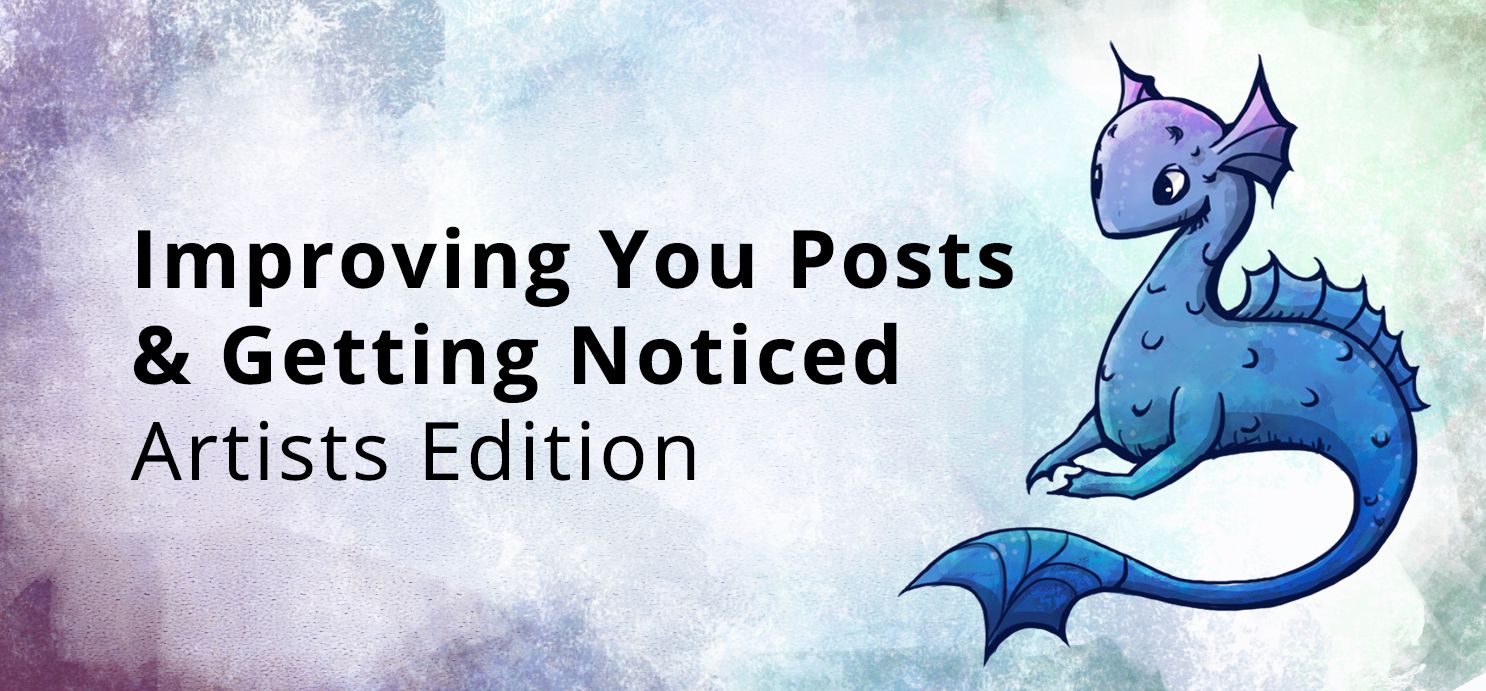 These are some tips that I've compiled to help you improve your Steemit experience. This is not about how do make your art, but rather how to present your art and reach a bigger audience.
These are my suggestions and not rules. Feel free to add your own suggestions in the comments and to express your opinions.
First of all, if you're new to Steemit, take advantage of "Introduceyourself". It's a post where you let Steemians know who you are and what you wish to share with them in the future.

Basic Writing Tips:
Even thought you're posting art, writing is important to engage with your readers. There are many platforms for posting art, but Steemit is more than that. It's like an art diary, something that you can look back at and see how much you've grown and improved since then.

Use spellcheck, especially if you're a non native English speaker. Having a fluent text helps readers not get distracted from your art.

If you need some writing help and you're looking for apps, check out How to write when your grammar sucks? by @deborism

Avoid saying "I" too much. I did this, I did that. Sometimes I forget this "rule" as well, especially when explaining my art steps. However, it's important because it makes the reading experience smoother.
It's essentially the same with repeating same words over and over. If you notice you're doing this, simply google the word and find some synonyms .

Tell us a bit about your artwork, why did you want to draw it, or what inspired it? You can even make a small fictional backstory to form an attachment with the audience.

Keep notes of your ideas and inspirations. You can have a mini notebook with you, or use notepad on your phone. Personally I love preparing my written part of posts while cooking or in bed.

You don't have to post just art. Feel free to share a bit about your hobbies and passions or anything else as this makes your blog even more relatable.

Learn how markdown works or html coding, it makes a huge difference. It also differentiates the casual Steemians and the more serious posters. Some posts for you to check out: A Beginner's Guide to Markdown and Formatting Help - How to make your blogs stand out
by @grocko

How to Present Your Traditional Art
Take photos in natural light. This make a huge difference!!!

Take more than 1 photo and pick the best. It's easier if you take the extra photos right away instead of having to check on pc and then retake the photos again.

Use various adjustments to make your photos more realistic and appealing. Try to make it as accurate as possible compared to the original, don't overdo it.
Most important adjustments are brightness, contrast and color. Paint.Net is free and offers the adjustments under "Effects" tab. There are some plugins with more options, but watch out where you download them from. There are many other photo editing programs just google and see a list.

Avoid angling your camera as this distorts image and makes it harder to see. Keep the camera parallel to the drawing and centered as much as possible.

What should you draw?
Draw whatever interests you, this will make you stand out and you're less likely to burn out or to hit an art block.

Share some of your art process. Help others learn and prove that it really is your work, especially if you're new to Steemit. There are loads of plagiarized posts around including art. Moreover, sharing is caring, people feel it and they are more likely to support you.

If you feel that your art skills are lacking, then do some learning and share your progress on Steemit. There are always people who want to learn and you'd be helping them out as much as yourself.

As an artists you really should make a personalized banner that you can put in the end of your posts. It doesn't have to be just one, you can use them interchangeably. You can include upvote, follow, comment and resteem. Also it doesn't have to be exactly those words, but find a way to remind your readers to interact with you.

Consider making some page dividers in your art style, to complement your text.

Create a unique user image that stands out, or use one of your previous artworks. Do not leave the default image as that leaves an impression that you're not a Steemian, just someone browsing posts.

Other Tips
Reply to the comments and put more effort in replying the long ones.
Imagine you spend several minutes looking for best words to explain how an artwork made you feel, and all you get in return is silence. How likely are you to comment again to the same person? Possibly, but less likely.

Use your art as the post's preview image. This lets readers know what they are clicking on and know what to expect the next time they see your name.

Enter contests, but only the ones that really interest you. This way you have fun, don't mind losing and gather some new followers. You should be picky, because doing random or all contests will just drain you. Also the followers will expect art similar to your contest entries, so they might not really care for your main art.

Support and follow Steemians that you like, not just the artists. There are a lot of things you can learn from them or just have some fun!

Make a user picture!Using your old drawing is better than not having any picture.

Cut your text into planned chunks, this makes the post so much easier to read and understand.

Useful Websites to Check Out

Last but not least
Join some communities. Find the ones that fit you best. It's nice to have a chat on discord after a very busy day and forget about all of the worries. :)
Thank you for reading! I would love to know if this has helped you, or if you have any questions or requests.