Artificial Pieces Of Art - Strange World
Welcome to 'Artificial Pieces Of Art'
---
After a very long break, some pictures appear again. All of them belong to the series "Artificial Pieces of Art". The theme, which will be shown first, is Blockchain.
What exactly does this mean? Sometimes a picture says more than a thousand words. Blockchain is linked to neural networks. A strange sight:
---
Strange World
---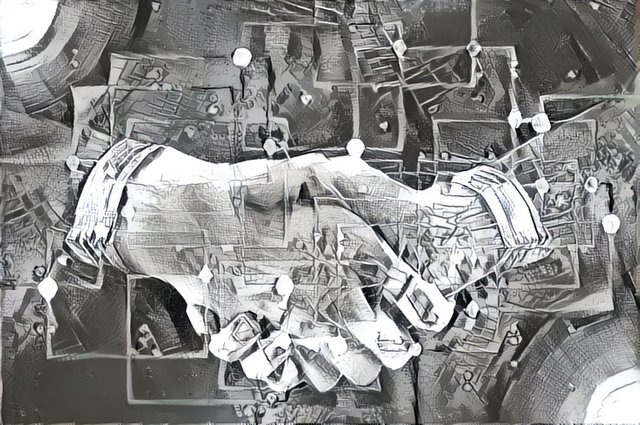 ---
A Personal Impression:
The world of the Blockchain, a world of zero and one. Black and white, yes & no.
Trust, without direct contact. Complexity, which may seem confusing the first time you meet it.
The right arm also has a typical machine look. You could interpret a cyborg into it. The connection between man and machine or better the trust between these two units.
---
Write your impressions in the comments and I will add them here if the seven days processing time has not expired.
---
Already one year ago, I had started a project, which wanted to bring the topic on canvas and finally brought it. However, this project was terminated due to personal differences and will now be continued more or less by those I had brought into the boat after the start.
But the idea behind this kind of art has remained the same, so I quote the former vision I wrote:
I have the vision to give ,ARTificial Intelligence' a face. Our world should not only be faster, more productive and smarter. It should also be nicer and more beautiful. It's the time of the digital revolution and the start of a new artistically age. Avantgarde 2.0: A new level of variety realized through machine creativity.
Since some have enquired: It is easy to create your own pictures with this technique. A free variant is, for example, the page DeepDreamGenerator.
The creation of high-resolution works, as my project had it in mind, is very computation-intensive and is therefore associated with costs. I don't know of any free variant that allows HD transfer. The low resolution is usually not sufficient for printing the works on any background.
---
Thank you for visiting me and being part of this art experiment. See you again!
---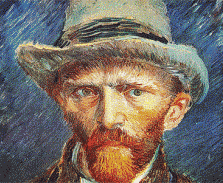 ---
The raw material was created under CC0 license and not by me.