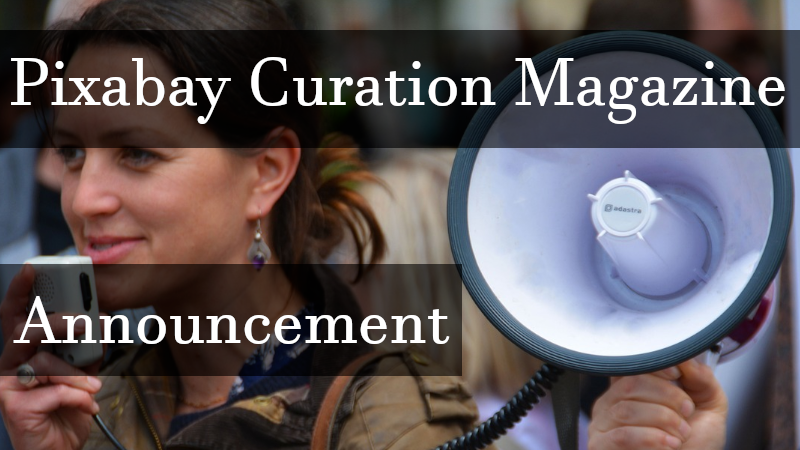 Source
---
Current State
Due to the low Steem prices and my inability to efficiently convert Steem to Paypal, I've not published any issues of Steem Curation Magazine recently. My goal is to reward Pixabay artists for their work, which I intended to fund through the rewards from each Pixabay Curation Magazine issue that I had posted.
This initiative has been moderately successful so far, different Pixabay contributors have received $ 42.00 in total through this initiative [source].
Announcement
I've decided to change a few things... From now on, the rewards that are donated to the Pixabay artists will not be tied to the payout of Pixabay Curation Magazine articles. I've set aside a personal donation fund that I will be using to reward Pixabay artists.
I'm doing this to remain in full compliance with the Steemit TOS, which states that you cannot ask for upvotes on your posts. By using the post rewards as a direct reward for artists, I feel that I would be in violation of the Steemit TOS.
I've funded my Paypal account with $50.00, which will be used to reward Pixabay artists that are featured in upcoming issues of Pixabay Curation Magazine. Every donation will still be recorded on the payment spreadsheet, but the donation sizes will not be determined by the article's post rewards anymore.
From now on, every artist will receive a minimum donation of $3.00 and may receive more depending on my personal assessment of their Pixabay contributions. That way, I can guarantee each artist gets a worthwhile donation, while also being able to give out additional rewards to artists who have greatly contributed to the global availability of public domain assets.
I will keep funding this project out of my own pocket until my funds run out. You can expect new issues of Pixabay Curation Magazine very soon!
Thanks for all your continued support!
---
Pixabay Curation Magazine // Issue 1
Pixabay Curation Magazine // Issue 2
Pixabay Curation Magazine // Issue 3
Pixabay Curation Magazine // Issue 4
---
The 4 links above are referral links and support this blog
---

---

---