Antique Lamp Restoration Project
Art Nouveau Table Lamp - Aether
!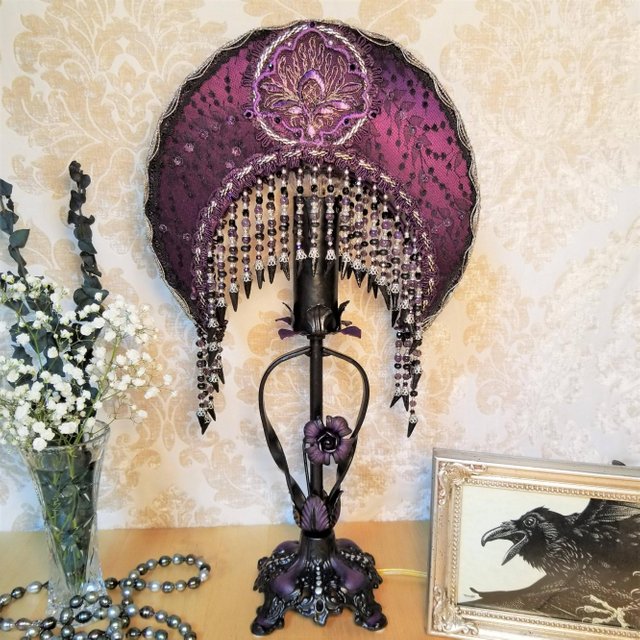 I'm back and sharing a completed project with all of you lovelies on Steemit. Many months have passed, and many lamps have been made. I thought it would be fun to share them with you!
The "Before" Picture - Eeek! Scary Looking Base
![]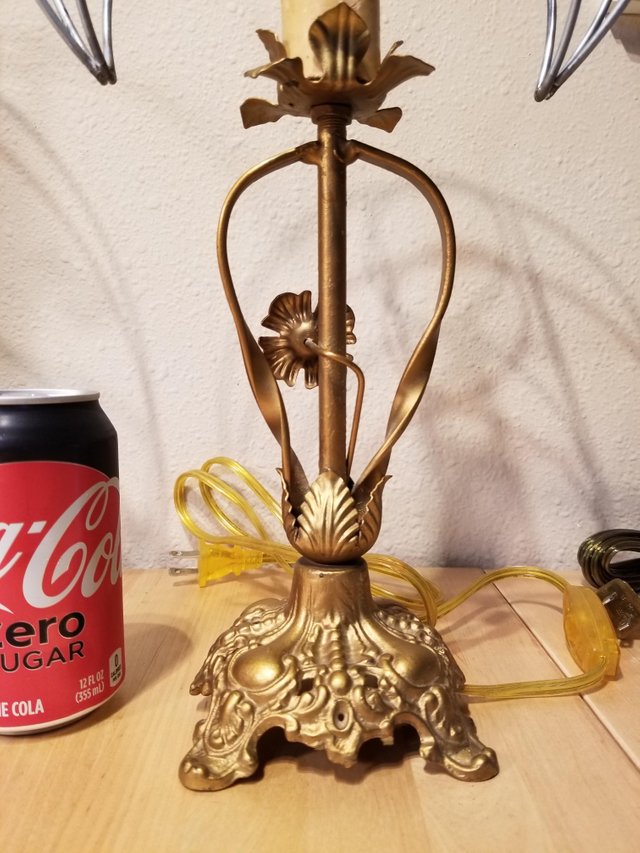 Don't you just love that tacky looking gold paint? And the empty wire frame? I found this old lamp on Ebay for a few bucks and had it rewired. I'm not sure what I was thinking using gold cord, but it's what I had at the time. I usually don't know what my lamps will look like when I get them rewired--ideas not born yet. But I'm learning to do it last now, if I can.
The Process - Some "In Work" Pics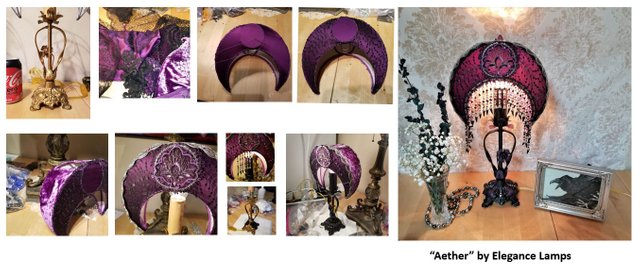 This lamp was a lot of fun to make because I always seem to get in a Goth mood right around Fall. I used purple silk charmeuse, purple silk velvet that I snatched up in London, some antique black tape lace from Spain, beaded veiling from London, and some amazing antique lace with a "vine" motif. The center panel is an authentic 1920's Flapper applique, and I had a little fun with some black and silver trim that I threaded into a vintage purple trim from Amsterdam. This lamp is worldly!
The beadwork was a handful! I decided to use real amethyst beads on this shade and clearly I lost my presence of mind because I sewed a few to the face of the shade, as well. See those black daggers at the bottom? Those are made of glass, and come from the Czech Republic. The metal beads are silver plated. The beadwork was actually fun, once I memorized the pattern.
I hand-painted the base to match the shade and beads, and I think it turned out nice--except the gold cord. Groan. This lamp sold in two days and already has a new home. Yay!
The Finished Project - Closeups!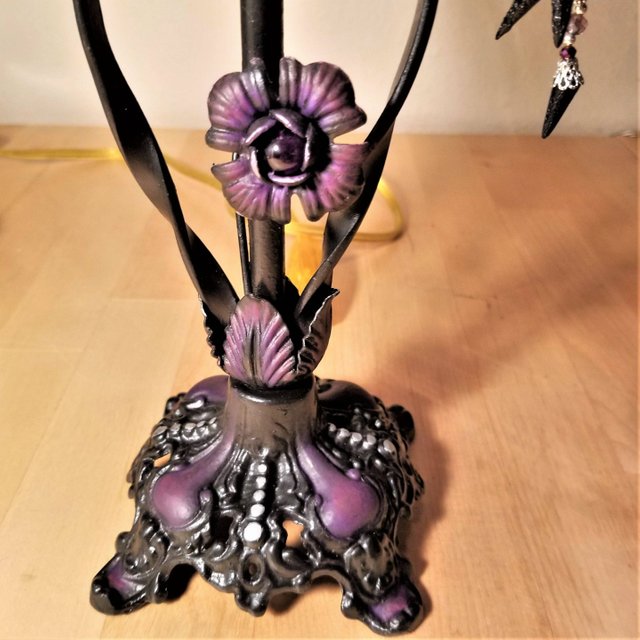 Pretty purple, black and silver. A giant Amethyst bead in the center flower. This one was actually easy to paint because I liked the colors.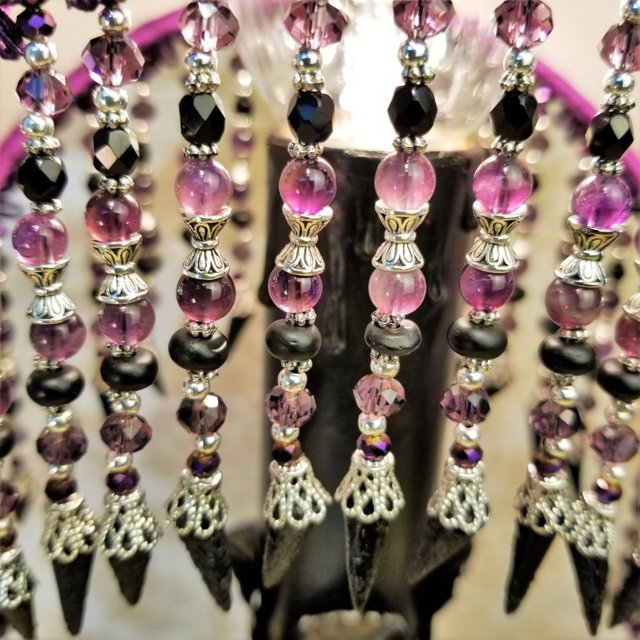 Gorgeous amethyst, Czech glass and metal beads. Strangely, purple beads are hard to find! It must be hard to make them.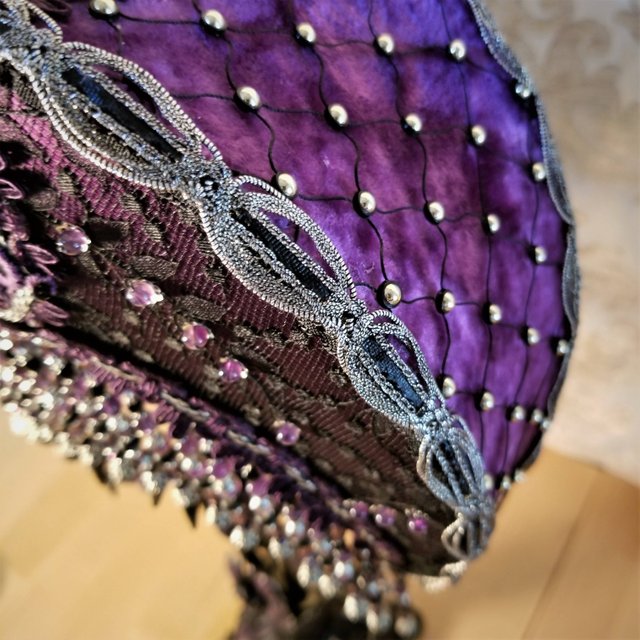 Wooo..yummy silk velvet, beaded veiling, antique silver metal trim, and amethyst beads on the face of the shade.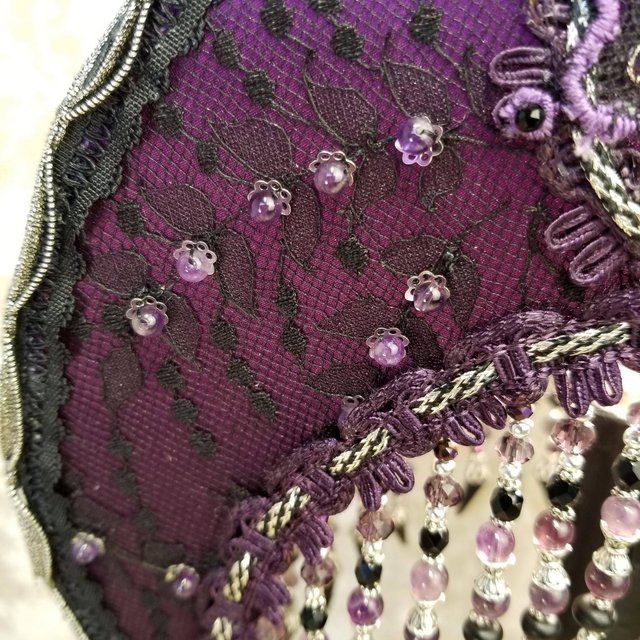 Super-duper closeup time. I won't lie, it was a nightmare sewing those beads to the lace. If only I had thought of it BEFORE the lace was on the shade. LOL!
!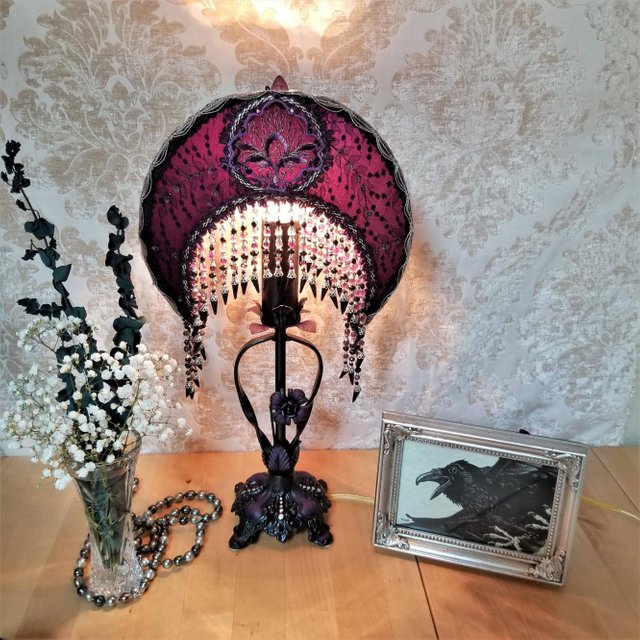 Last but not least--the "lit" photo. This color makes me happy.
Current Projects - Dax Retuns!
!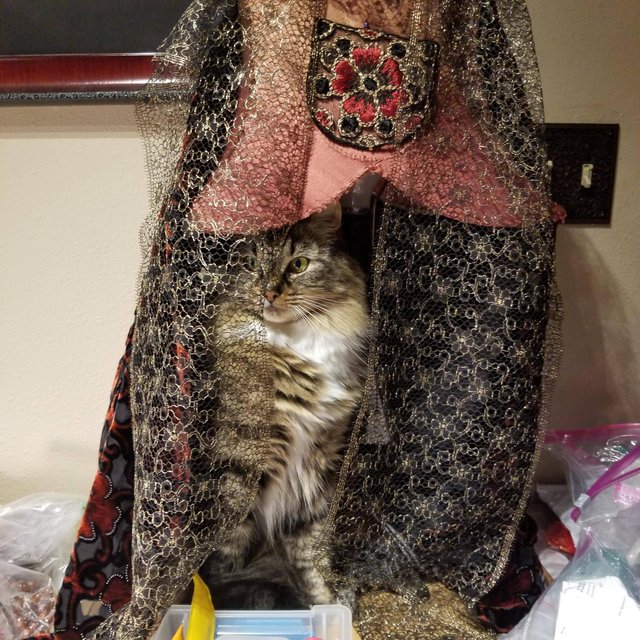 I've got a couple of projects in-work, one of which is giving me fits. My cat Dax has decided to use this one as a fort while I have my Tizzy of Indecision. I'll post more if I actually make any decisions. Someday. Friggin' soon. Seriously soon. Gah!
Have an amazing night , everyone!
Follow my FaceBook shenanigans here.
Follow my Instagram tomfoolery here.
Look how Twitterpated I am here.
Give me your hard-earned money by trusting Etsy only here.
Spend all your free time looking at my website here.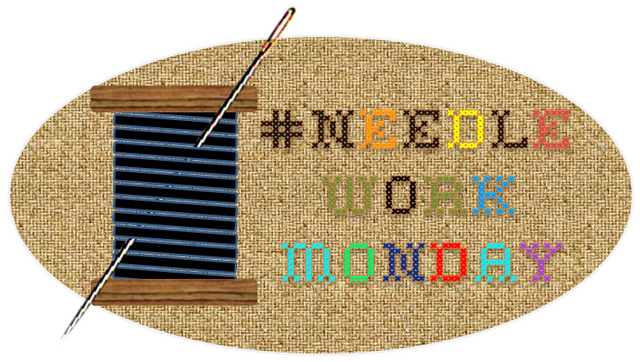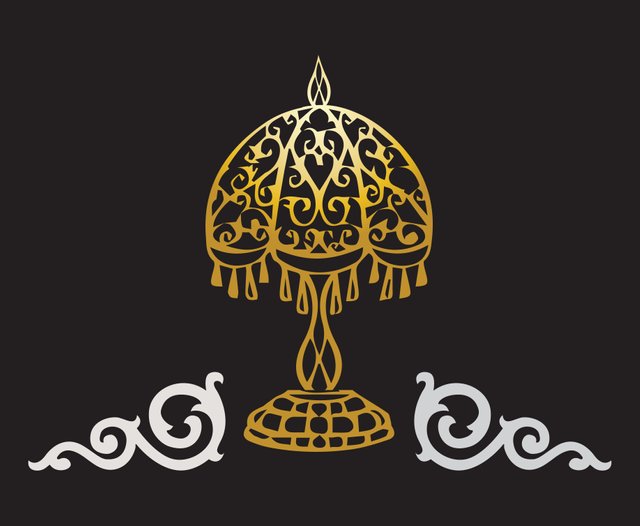 All images © @crystalize.