Confusion.
My late wanderings in Imaginary Lands have led us into some of my own corrupted memories... Describing what's in there is as easy as depicting clearly what's confusion
Let's give it a try.
Oh, and if you just catching up the train : everything started there, continued there and led just below...
Ready ? Go :)
Eye(open)
I woke up inside the Dudes Farm, confronted to the weird all-mouth-and-eyed creature, which was an incredible confusing presence.
Words and pen gave me conflictual versions of what happened. They couldn't find any common agreement at depicting the scene and the creature... Until this thing came out from nowhere.
Eye(open)
---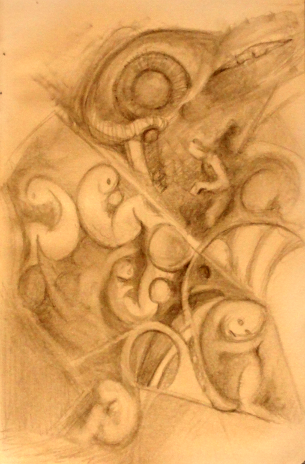 ---
Passively active, or maybe actively passive, up-to-exhaustion little dudes were everywhere... Each was connected in a way to the structure. Some were resting in darkness, partly amalgamated into the walls. None of them seemed to have any interest in my presence. My fellow Will-to-Evade was close to me, like a shadow.
Eye(open)
That order was repeated, again, again, again...
Eye(open)
The constant sound of the Mechanical Voice was shattering my will.
Mouth1(speak)
Mouth1(define truth)
Mouth1(affirm)
Eye(open)
I was to focus on my dear hated Will-to-Evade, the only known element I could rely on.
The most unreliable, too.
Will's always-moving and never well-defined silhouette was lying close to me. It was trying to tell me something, but each time it was, the Mechanical Voice in the room was launching a barrage of incoherent gibberish.
Mouth1(speak)
Mouth1(define truth)
Mouth1(affirm)
Each interruption was making Will fade and blink.
I heard my old pal pronounce its favorite leitmotiv "Let's run away, please !"
What was it waiting for ? Will-to-evade was always the first to run away, never asking for my permission to do so, and forcing me to follow.
"Why do you ask ?" did I throw with anger. "Just go by yourself, like always !"
The Mechanical Voice stopped talking during our little conflictual chat... For the first time since I heard it, I felt some interest coming from it, and not only a will to control.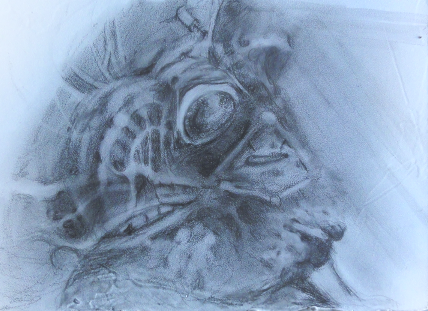 Eye(target, emotional weakness)
Will seemed surprised : "What ? I'm just the will... You are the..."

Mouth1(interrupt)
Mouth1(disruptive invalid argument)
Mouh2(speak gently)
"I'm sorry for the interruption. Welcome visitor. Why don't you take a seat ? "
Mouth2(smile, show unbreakable confidence)
Eye(wink)
Will-to-Evade hid behind me, and soon faded completely. I barely heard the last word of its sentence...
"...Action"
Pathetic word, when facing the weird massive construct.
As I was struggling against my anxiety, searching for a seat to put my dignity on, and focusing on the smiling and sympathetic Mouth2, the other one threw a burst of questions...
"How are you ? why are you ? What makes you think you deserve to be here ? Don't you think you shouldn't ?
Almost knocked out, I tried to answer : "I... I... I'm sorry, I don't underst...'
The smiling Mouth2 interrupted me : "I think our visitor tries to say : 1-fine, 2-his main function is to help us be -3..."

Mouth1(interrupt)
"Good. Why doesn't he take a seat ?"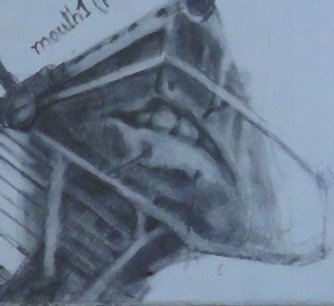 Mouth2(smile)
"Why wouldn't you have a seat ? Don't you want to stay with us ? Don't you want to be a useful part of your existence by helping us ?"
Mouth1(continuous mode)
"Doesn't he think we're good enough for him ? Doesn't he think things could be worse than here outside ? "
That weird monologue continued during hours.
So complex negative questioning.
Not enough time to answer between two questions.
And anyways : not enough answers, except some pale and shy "No... but..." or "Yes... but..."
Feeling washed away, I was like drained from any form of conscious thinking ability.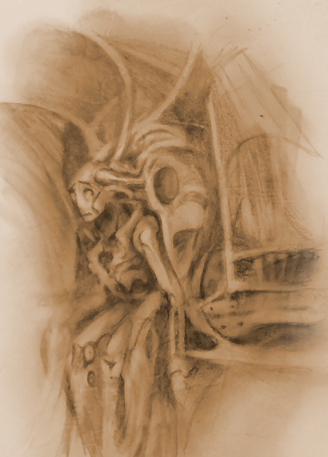 I couldn't even resist from being led to the Dudes Farming Room.
Not really knowing what I was doing, I finally had a seat.
Mouth2(comforting)
"Now you're not alone anymore. If you need help, ask our fellow little dudes... If they bother you, just tell me. Call it : Team Work"
Mouth1(grumbling)
"Remember : you're not alone. Just act as other dudes... If you bother them, they'll tell me. Call it : Friendly Complying."
I called that : "Being screwed."
It was just a tiny whisper.
Later, things did show that whispering was the kind of stuff that could bother other litlles dudes...
---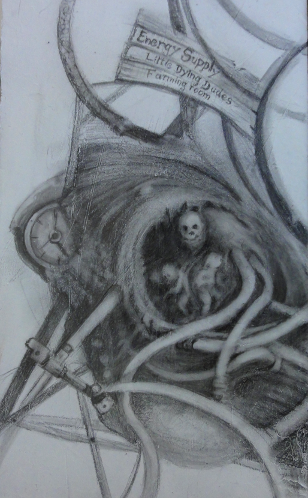 ---
YEARS HAVE PASSED
Many years, losing parts of myself...
Still in the Little Dudes Farming Room.
Many years studying the place,
Bit after bit, seeking for an exit.
Many years trying to study its warden,
Bit after bit, mapping unconsciously its traits.
Here's what I could gather and assemble for now.
It's still incomplete... Still rough. But, beware if you hear its Mechanical Voice...
Don't trust its smile, and... Don' let the confusion win.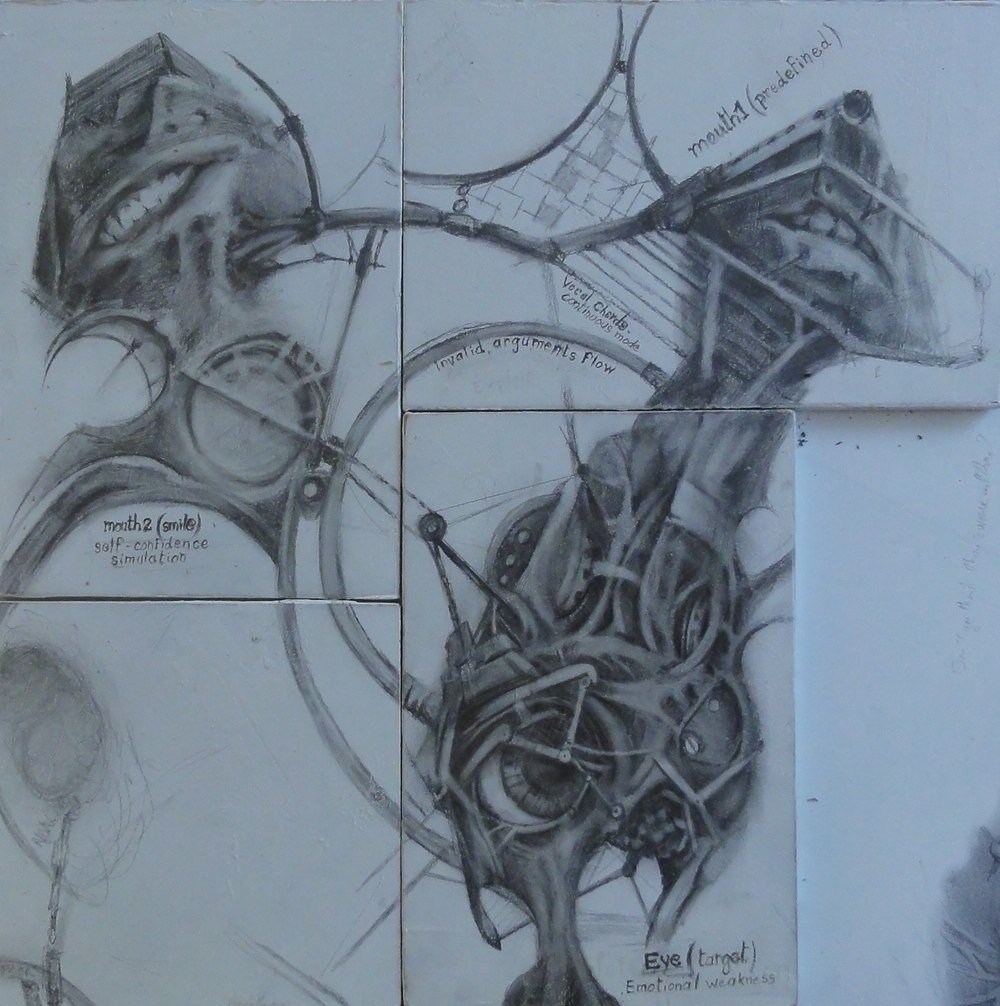 ---
That's all for now, but not finished yet, my dear little dudes !
We have some work waiting... We won't stay there without trying to find a way out, will we ?
But, will we reach the Moon House, or will we have to flee from the main entrance ?
Not certain yet, but one sure thing : we'll need a bit of will to evade, and a bunch of will to fight !
---
Thanks for reading :)
---
I must confess, that part was harder to depict than the previous ones.
As I was spontaneously drawing and writing, I realized I was dangerously approaching some deep sensitive part of my personal experience, something I still struggle with.
I've realized how it was a motor of my creative will, too.
So, even boring, bad, or creepy experiences can be transcended in something that contribute to one's personal richness.
Well... Next time, we'll go on in that ugly part of the trip... Let's hope this will end merrier :D
Until then : take care of yourselves, and stand clear from any of these manipulative moronic people that life tends to put on your path ;)
Eth - 0x8Fcce0AD10D4Bfa515160EB622Acd1EF66969832
Neo (Gas) - AehkhJuaFTgJZh35xEU6ZbmYtQyENXFQhA
Peercoin - PMfXA33BDnrtTNwHUFmyCKvA1RgK3SmWgP
Copyright @berien - All Rights Reserved