Facing the lines/Mirando las líneas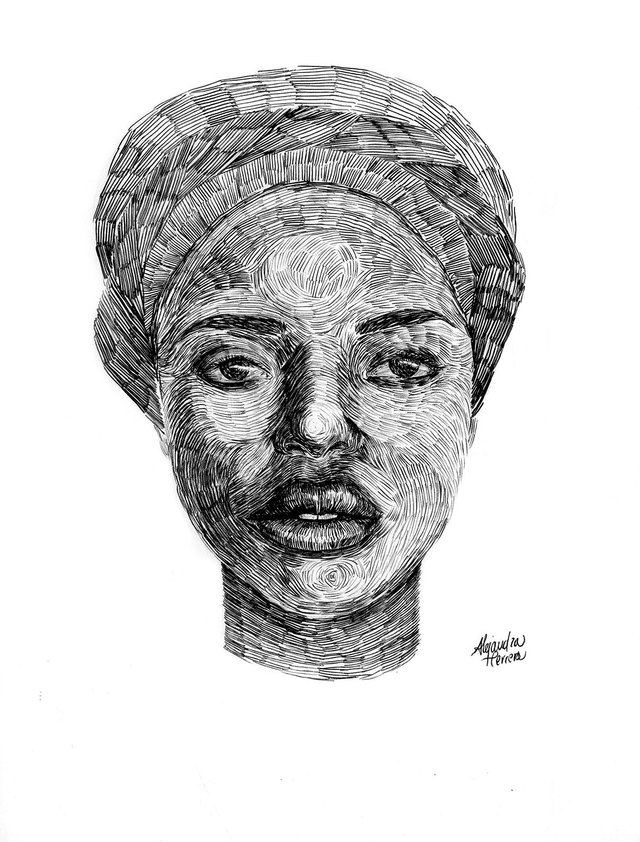 Retrato de mujer. Bolígrafo sobre papel. 21x28 cm./ Woman portrait. Ballpoint pen on paper. 21x 28cm.
Siempre me gustó el realismo en el dibujo. Pensé que era fantástico poder reproducir una cara hasta el punto de la confusión fotográfica. Entonces, cuando comencé a dibujar caras continuamente, esta fue la tendencia a la que me incliné.
Sin embargo, a medida que pasaba el tiempo y aprendí sobre arte, comencé a encontrar belleza en estilos que preservaban la armonía de las formas, agregando texturas. O que mantuvieron la identidad del sujeto incluso cuando lo deformaran.
Así fue como comencé a entregarme, sin darme cuenta, a la creación con los estilos que mejor me describían. Estas líneas son una muestra de esto. El reconocimiento de la cara en las líneas, en las formas que siguen, es quizás uno de mis ejercicios de dibujo favoritos.
Haber hecho realismo por un tiempo me ayudó a comprender las proporciones ... "Solo cuando conoces algo complejo perfectamente puedes reducirlo y sintetizarlo. Solo aquellos que conocen la constitución de algo pueden aprender a deconstruirlo" . Entonces empiezo a deconstruir caras, reduciéndolas a líneas.
Aquí está un poco de mi proceso creativo.
No olvides votar, dar resteem, compartir y/o comentar.
---
English version
I always liked realism in drawing. I thought it was fantastic to reproduce a face to the point of photographic confusion. So, when I started drawing faces continuously, this was the style I leaned toward.
However, as time went by and I learned about art, I began to find beauty in styles that preserved the harmony of shapes, adding textures. Or those that maintained the identity of the subject even when they deformed it.
This is how I began, without realizing it, to create artwork with the styles that best described me. These lines are a sample of this. The recognition of the face in the lines, in the forms that follow, is perhaps one of my favorite drawing exercises.
Having done realism for a while helped me understand the proportions . "Only when you know something complex can you perfectly reduce and synthesize it. Only those who know the constitution of something can learn to deconstruct it."
Then I begin to deconstruct faces, reducing them to lines.
Here is a bit of my creative process.