Here starts our 3 stop, day trip while in Datong. Introducing the Wooden Pagoda!
The official name of Yingxian's Wooden Pagoda is Sakyamuni Pagoda of Fogong Temple. It is reputed to be the oldest existing, fully wooden pagoda in China and has been put on the UNESCO World Heritage Site's list for consideration. It is said that in 1974, a tooth belonging to Buddha was found hidden in one of the Buddha statues on the fourth floor of the pagoda.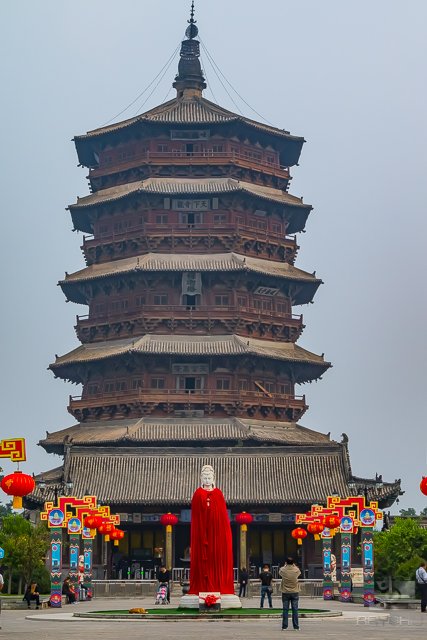 Yes, the pagoda is tilting a bit and the upper floors are no longer open for public access but after several earthquakes, through the centuries, it's a wonder that it's still standing! Divine Protection maybe? Looking at the Wooden Pagoda, it looks like it only has 5 stories. In actuality, it has 9 but more impressive is that not a single nail was used to build this pagoda just a series of interlocking brackets (54 different types, apparently)! The main floor houses a huge, seated Sakyamuni Buddha statue which looked like It must have been 3 stories high. Even though it was quite dark in the hall, with the only sunlight (on an overcast day) coming in from the front and back doors, we could still see the vibrant details painted on the statue as well as toll that time took on it. It must have been a spectacular sight back in the day.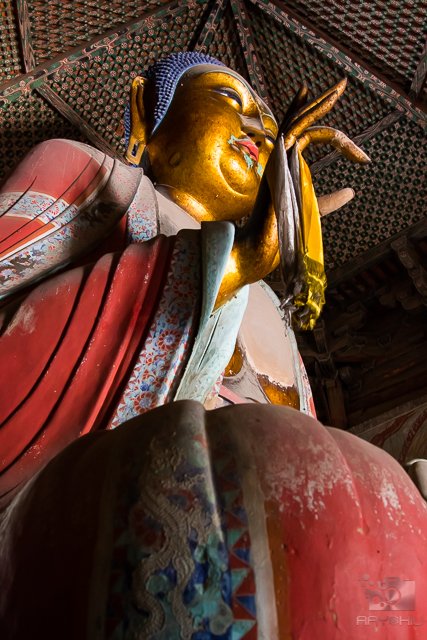 We entered the pagoda from the back because this temple complex is huge and there's a lot to see, so went and saw those first. So here I am firing off a couple of (test) shots making my way to the front of the statue, when in an urgent, hushed yet insistent tone, my daughter calls out, "Daddy!" I turn around and she's pointing at a sign, that I'm guessing read, "no photography" with a big camera icon with a big red X over it. I looked over at the security guard, gave him a sheepish grin and waved an apology. No harm no foul, Phew! The fourth floor is available to the public and was supposed to be open for viewing but at the time we were there it wasn't, or maybe it was, because I saw people on the balcony a little later. Maybe they wouldn't let us in because I was taking pictures! Just kidding, the lady at the ticket counter told us there was restoration works going on. Too bad for us!
Within the temple's complex, there are buildings and areas that were closed when we were there (maybe we were there too early)? One such building was the Buddha Tooth Relic Exhibition Hall, which looked like they were about to open, but we couldn't stay an longer, our taxi driver was already hollering at us. We were supposed to go back to the drop off point after an hour so he came to look for us. We had already took 2 hours and we were still walking around looking at stuff. Here are some shots around the complex:
Check out some of these details on this very, very old gateway arch called a Paifang, but also known as a Pailou:
Across the street from the temple is the rest of the town/city, here's a partial glimpse of it:
I really liked the vibe around this temple complex. Not only has it survived time and nature but a world war as well! The temple is said to have 200 or so bullet holes in it and finding some was like, WOW and saddening at the same time. The architecture was really interesting too and I"m sure I could easily spend 3 to 4 hours here if everything was open.
Next stop: Hanging Temples. Consider following me so you won't miss it!
All the photos (unless otherwise noted in the post) were taken by me and are available for sale. If you're interested in buying an image or three, 😃 please don't hesitate to contact me for more details. Thanks in advance!
Comments & Critiques are always welcome. As are upvotes and resteems, if you like what you see.
Thanks for viewing and best wishes,
Ray
PS. If you want to check out my other 'works', you can find them here: