The second stop on our one day excursion in Datong, China is the Hanging Monastery also called the Hanging Temple.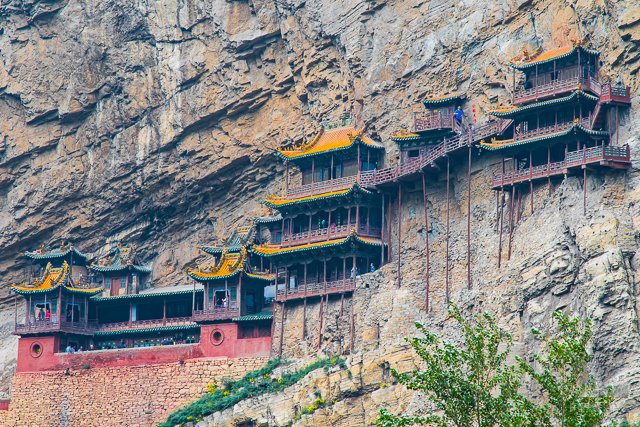 If you want to catch up on our Datong leg of this China trip, here's a list of the posts thus far:
Our experience at the Datong Hotel, the half day at the Yungang Grottoes, and our first stop on this one day excursion, the Yingxian Wooden Pagoda.
It took us nearly two hours by taxi to get to the Hanging Temple from the Wooden Pagoda. This taxi trip was an adventure in itself. There weren't many cars on the road which is probably why our driver carried on a video chat intermittently almost 3/4 of the way there. Not too shabby for in cab entertainment as we got to see an authentic Chinese kitchen, some local style cooking as well as some running shoes and blouse unboxing.
We started off mainly on the highways, then I'm guessing smaller highways, as either side of the road were corn fields. We pass through a few towns, one of which had some kind of traffic stoppage so our driver drove us through some corn fields. Apparently that's normal because after a ways there was another jam and cars were coming back on this supposed one lane path in someone's corn field. I could stick my hand out the window and start plucking corn! Unfortunately the corn was already starting to brown which I felt was unfortunate. I thought there was a food shortage in China. Anyways, we get to the cause of the jam and it's a cement wall, but only a foot or so off the ground. Our driver walks off to pee then goes to check this "wall." He comes back to the car and beckons us to get out of the car, so we did (there were other cars around so I wasn't too concerned with being stranded). Our driver apparently found a spot to drive over and needed the car as light as possible. Here's some shots of it:
A short time later, we're back on the roads but not for long because there's this shack on the road with a man motioning for us to stop, or driver rolled down the window, they exchanged a few words and we turned around. Our driver took the first corn field exit he could find we found ourselves surrounded by corn again, but not for long, the corn fields soon turned into melon fields. Again, the melons were left rotting, unharvested.
I have no idea how our driver was navigating, I wasn't even sure we were heading in the right direction anymore, maybe he was getting directions from his video chat partner. Here's a couple shots along the way:
Here we are! What a spectacular view! How did they manage to build this 1500 years ago? We're getting excited and can't wait to get in...
Let me start off by saying, if you're afraid of heights, this may not be for you. I'm not afraid of heights but mix in the creaking of the boards, the swaying of the walkways and the heavy foot fall of my daughter made me think twice. I actually had to ask her if she was stomping on purpose or just making sure it was safe to walk on and she said not on purpose and she's not that scared because I went first. If you're carrying gear like a backpack / big waist pack you may want to reconsider because going up and down the stairs you will snag on the floor/ceiling as it's just a square opening, much like a trap door without the door. The walkways are really narrow and two people cannot pass unless you don't mind rubbing up against each other. The guard rails aren't very high either maybe about mid thigh high. Check it out:
Here's some detail shots:
Lastly, the view looking down:
As you can see in that second image, there's construction (maybe restoration) work going on? Anyways, the entrances to those sections were closed off so we didn't get to check out anything in that area. The total time we spent here was an hour but we could have stretched it out to 2 especially if the other closed off areas were open. We were also trying to save time from going over our budget at the Wooden Pagoda.
Stay tuned for our next post, our third stop: Heng Mountain! Consider following me so you won't miss it!
All the photos (unless otherwise noted in the post) were taken by me and are available for sale. If you're interested in buying an image or three, 😃 please don't hesitate to contact me for more details. Thanks in advance!
Comments & Critiques are always welcome. As are upvotes and resteems, if you like what you see.
Thanks for viewing and best wishes,
Ray
PS. If you want to check out my other 'works', you can find them here: